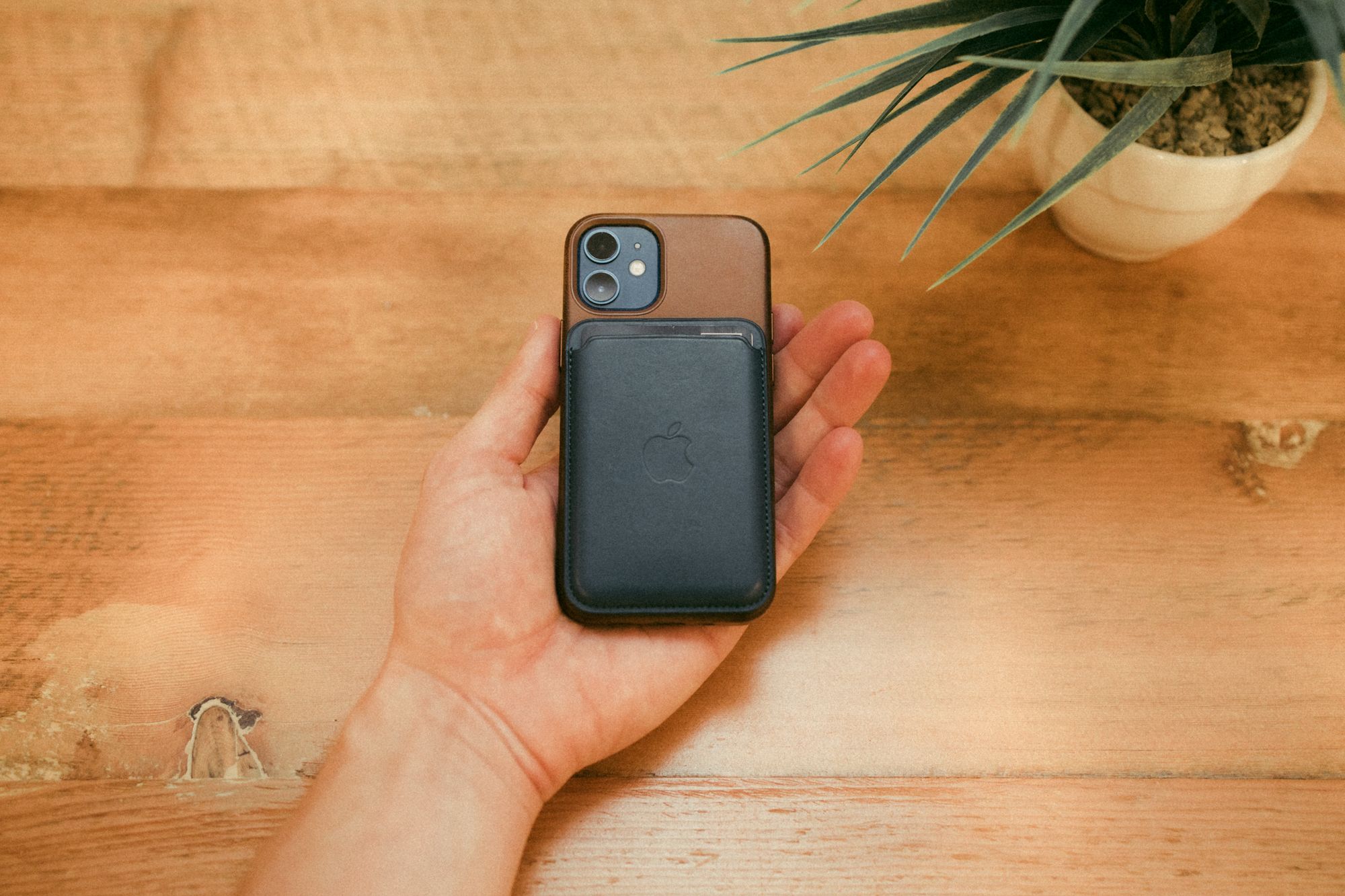 I ordered a MagSafe Wallet for my then-new iPhone 12 mini last year September sometime. I can't remember exactly why, but I ended up cancelling that order. So when all the reviews came out and most were lukewarm, I put the MagSafe Wallet off to the side and never once thought about it again.
In fact, I went so far as to go the opposite direction — I purchased a gently-used Bellroy Premium Note Sleeve off a friend. Bellroy's new Premium line may be the company's best wallet line yet. It's a wonderful function of high quality leather, function, and price.
But I digress. This is about Apple's MagSafe Wallet.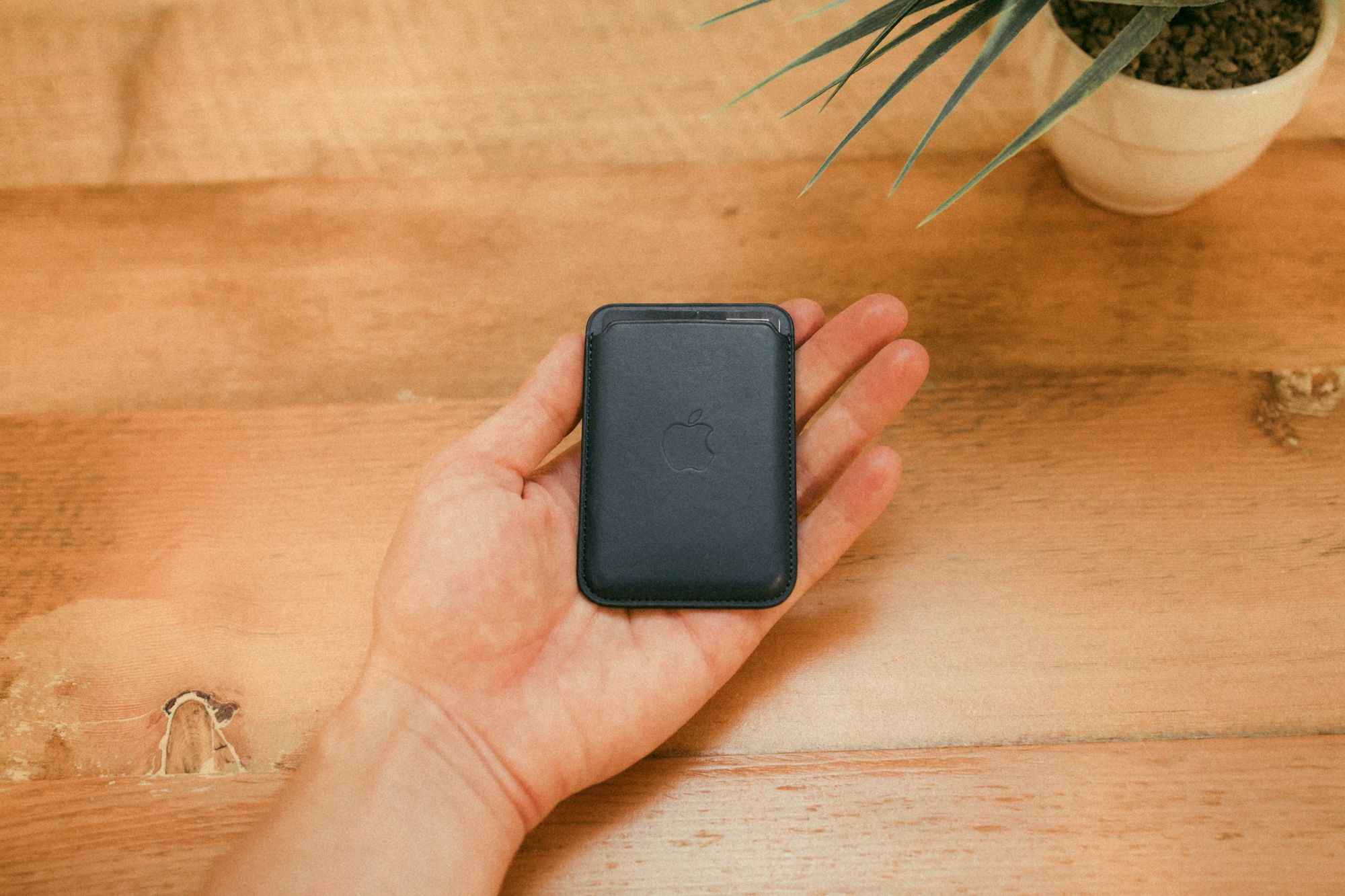 Another friend (I love having friends!) was kind enough to send me his unused-and-unloved MagSafe Wallet late last week. Though this is the non-Find My MagSafe Wallet, I was more than happy to give the MagSafe Wallet a go and see where I ended up.
Here are a few quick thoughts after a week of use.
Exceptional Utility
This is purely coincidental of course — a year ago, nobody had COVID-19 vaccination cards that needed to be carried around. Here though, this is a reality. And will likely be reality for a while to come.
So that's one card that needs to be carried.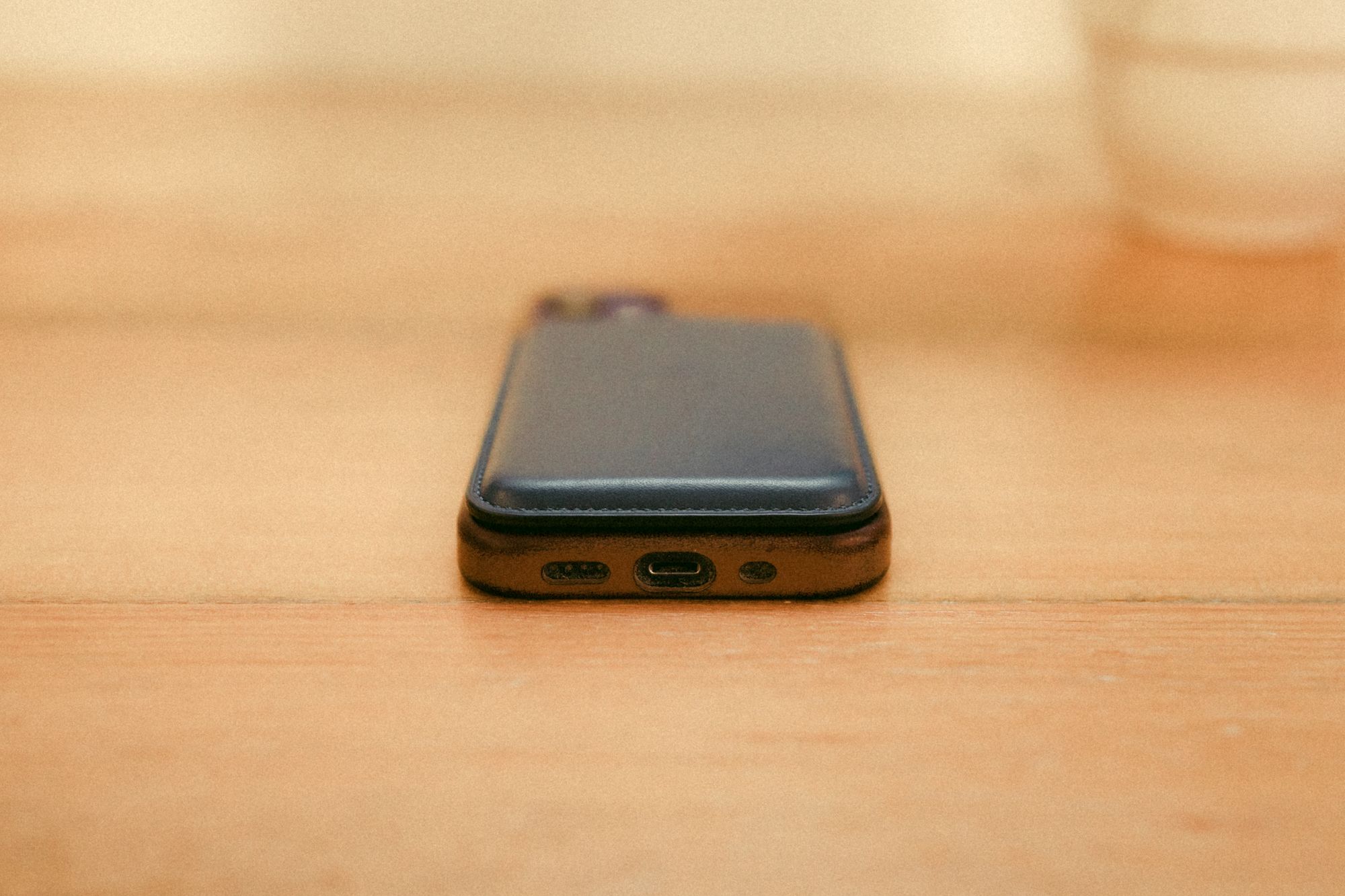 I live in a rural city. There's no public transportation system to be found. As far as I'm aware, there are no plans to create one.
So a drivers' license is a second card that needs to be carried around.
And though I haven't come across a credit card terminal in years that doesn't have tap-to-pay, a credit card has to be Card Numero Trois.
You can't put anything more inside the MagSafe Wallet. Three cards is the max.
You can put just a single card into the MagSafe Wallet thanks to the tapered card slot. The taper is so, so subtle, but you can feel the tension when you slide just a single card into the Wallet. The card grabs and you can't flip the Wallet upside down and shake out the single card. This is very well done, Apple.
Two cards is the same experience. Nothing falls out and all cards slide in and out with ease.
Three cards starts to get a bit snug, but it's more than easy enough to use in this manner. The only hiccup I've run into: all three cards have to slide out when you push up on the thumb hole on the back side of the Wallet, and then you have to pick the card you need.
Four cards just won't work. I've tried.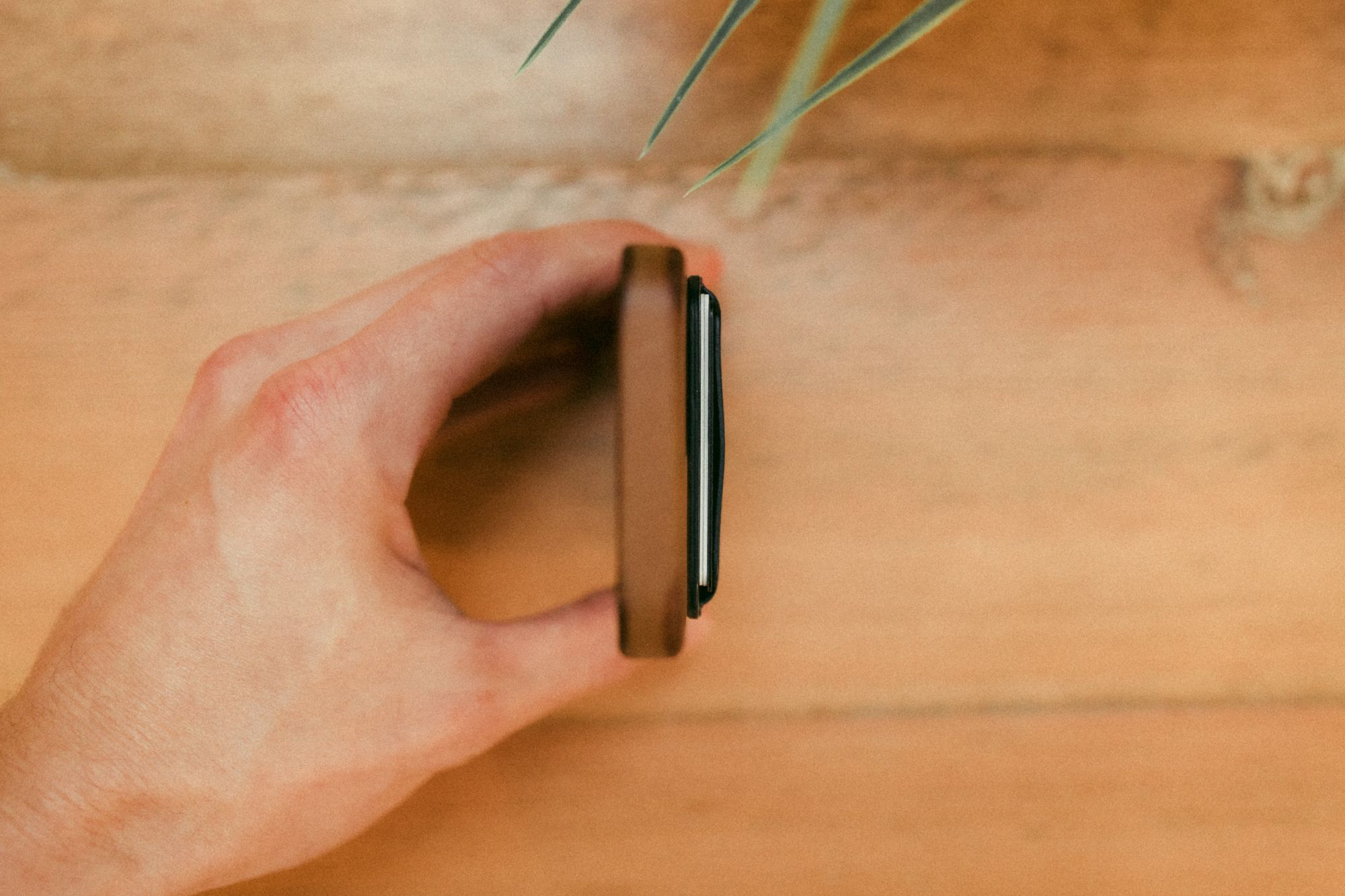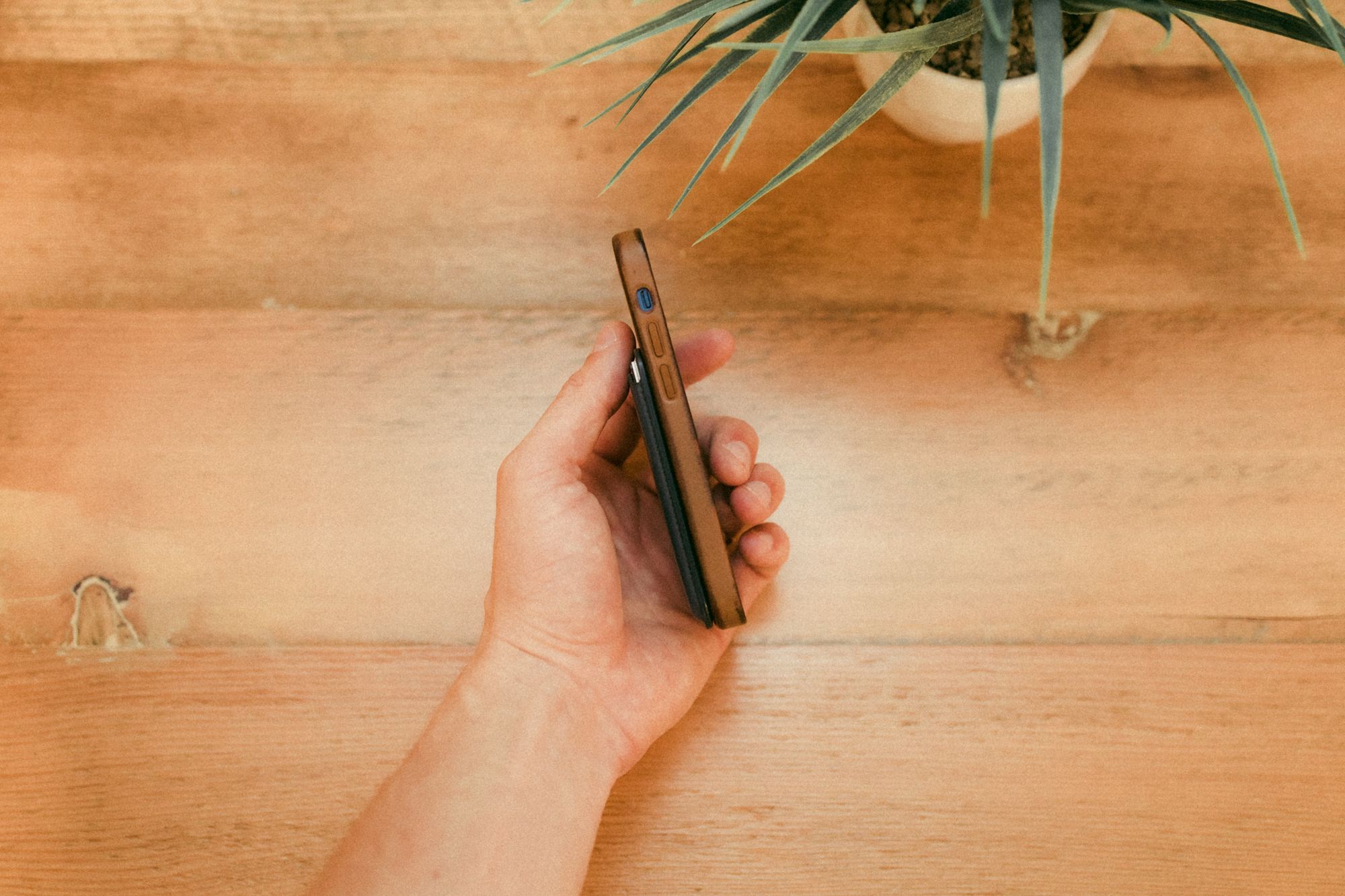 If I do need more cards, I've continued to carry my Bellroy Note Sleeve sans credit card, vaccine card, and drivers license in my messenger bag. I don't have this bag everywhere, but it is with me most days. If I need to swap a card, that Note Sleeve is rarely very far away.
The perfection of a three-card-capacity in the Apple MagSafe Wallet has provided exceptional utility in this first week of use. Retailers don't want to handle cash at all right now. You need to have your vaccine card and drivers license to get into any restaurant or recreation center right now. The MagSafe Wallet carries these three cards with extraordinary easy and has eliminated the contents of one of my pockets.
Using the MagSafe Wallet
I had every intention of writing about the MagSafe Wallet after testing it on an iPhone 12 mini, 12 Pro, and 13 Pro Max. I got tired of waiting for the 13 Pro Max to arrive, however. So I have hands on experience with the MagSafe Wallet on the 12 mini, 12 Pro, and 13 Pro.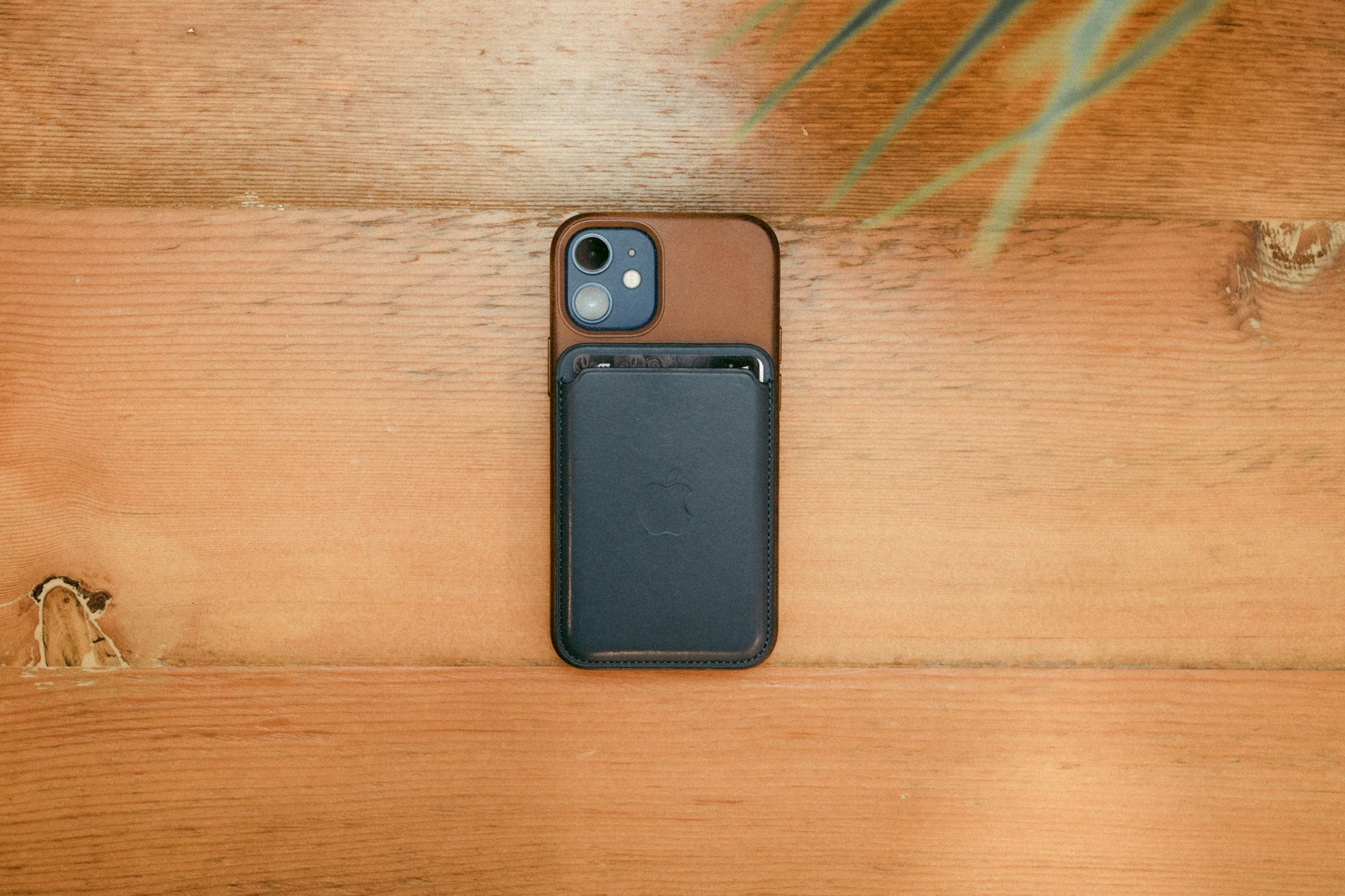 By and large, how the MagSafe Wallet feels on the back of the 12 Pro and 13 Pro is identical. However, there is a very large difference in how the Wallet works and feels on the back of a 12 mini.
Straight up, the MagSafe Wallet feels more secure on the back of the iPhone 12 mini. I'm unsure why this is. It could be the uniform edge of the Wallet and MagSafe Leather Case eliminates anything to grab onto to remove the Wallet. It could be that the magnet is more aligned in the 12 mini. It could be that the Leather Case on my 12 mini is worn down and much less smooth than a brand new MagSafe Leather Case.
Whatever it is, the MagSafe Wallet feels more secure on the 12 mini's back than the 13 Pro's back.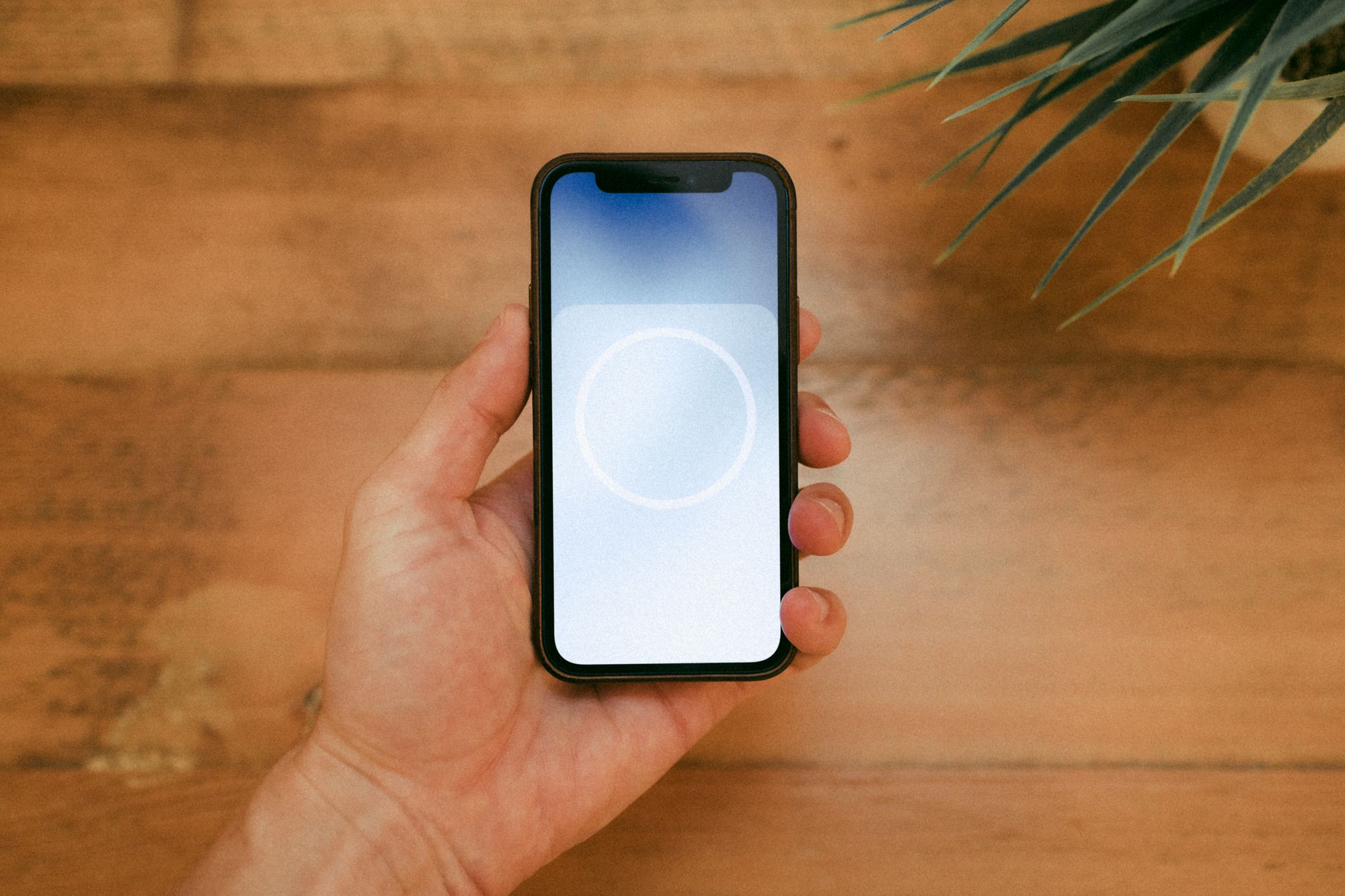 It's also much easier to keep the MagSafe Wallet straight on the 12 mini's back. A quick adjustment to line up the edge of the Wallet with the edge of the case is all it case. This is more difficult on the larger-backed 13 Pro.
The Wallet feels much like past Apple Battery Cases — the ones that looked like the iPhone was carrying a backpack. On the small iPhone 12 mini, the Wallet actually provides a nice holding grip. I found my hands a little less cramped when typing longer messages on the mini when the Wallet was attached.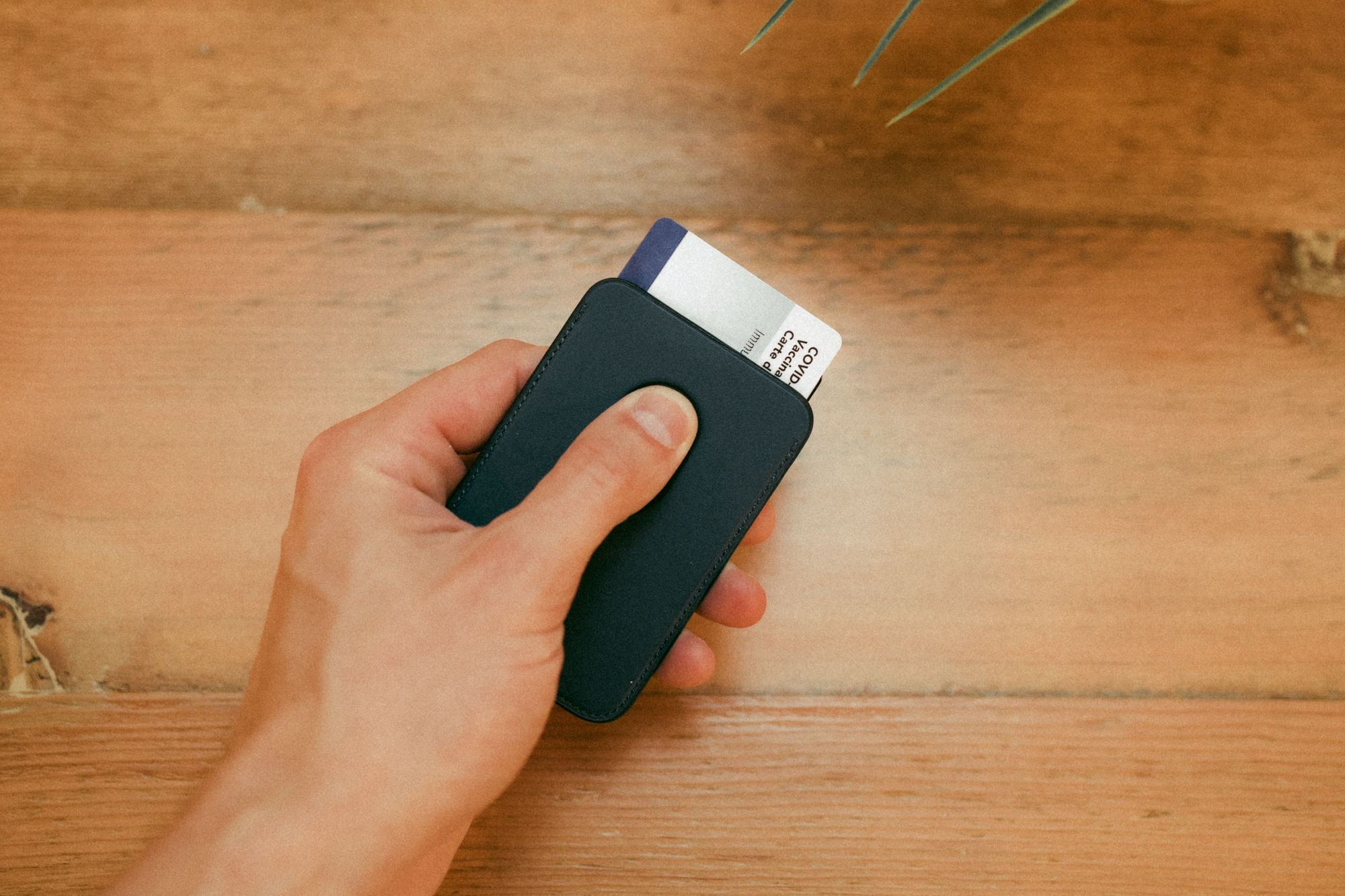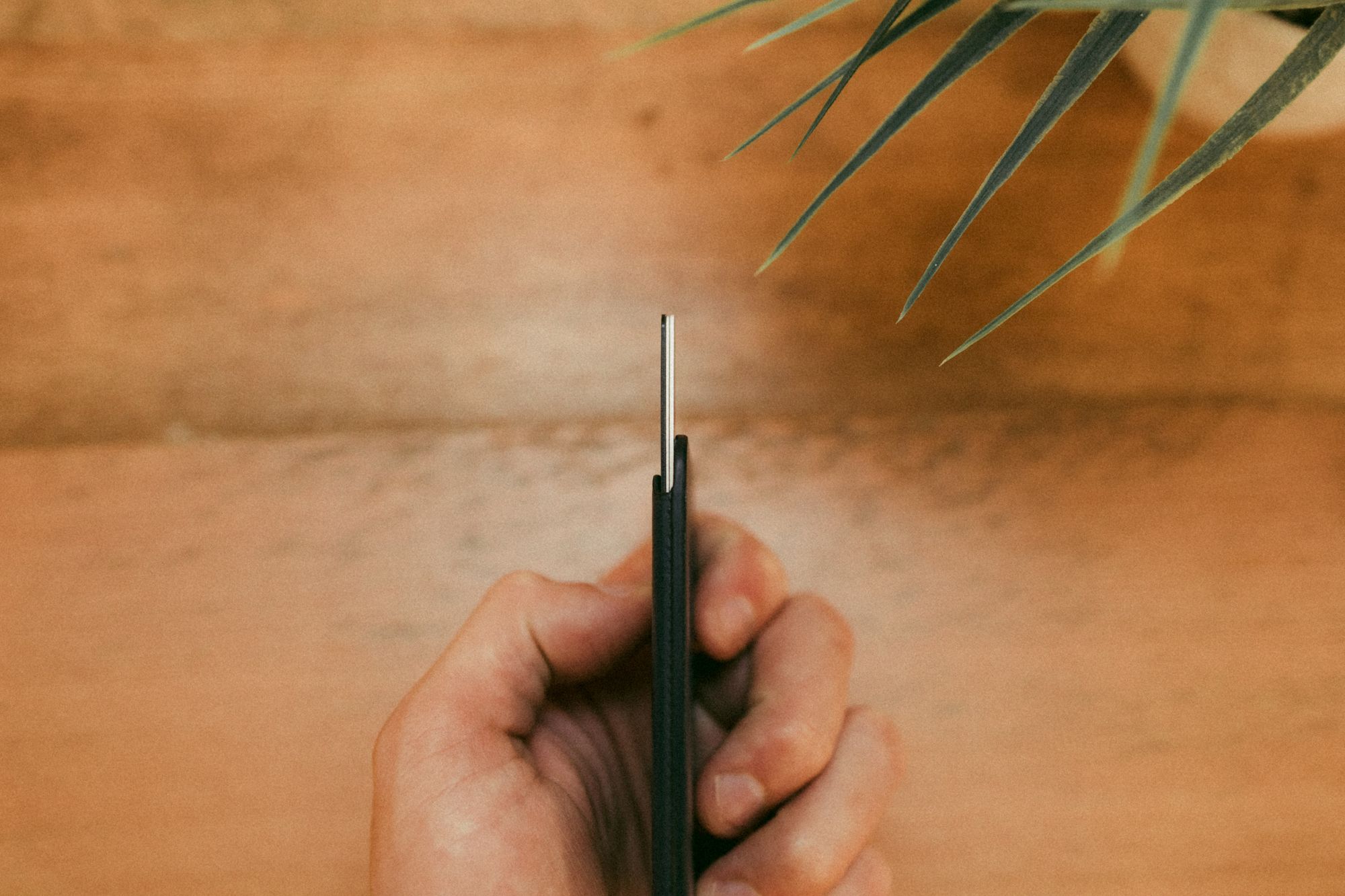 Sliding cards up and out from the back of the Wallet obviously requires two hands. First, it requires you remove the Wallet from the back of the iPhone. Then, you probably need to put your iPhone into your pocket, as you'll likely need your hand to pull the cards out of the Wallet. It's a bit cumbersome at times, especially if your hands are full — I haven't enjoyed this process while holding my 1.5 year old daughter.
But you also need two hands for a normal wallet, right? So I'm not sure if anything is lost here for the MagSafe Wallet.
Leather Quality
Really quickly: I'm extra impressed with the MagSafe Wallet's leather quality. The burnished edge is really nicely done. The stitching around the corners is clearly done by a machine, but it's well done nonetheless. And I have found the Wallet to be weightier and heftier than I expected.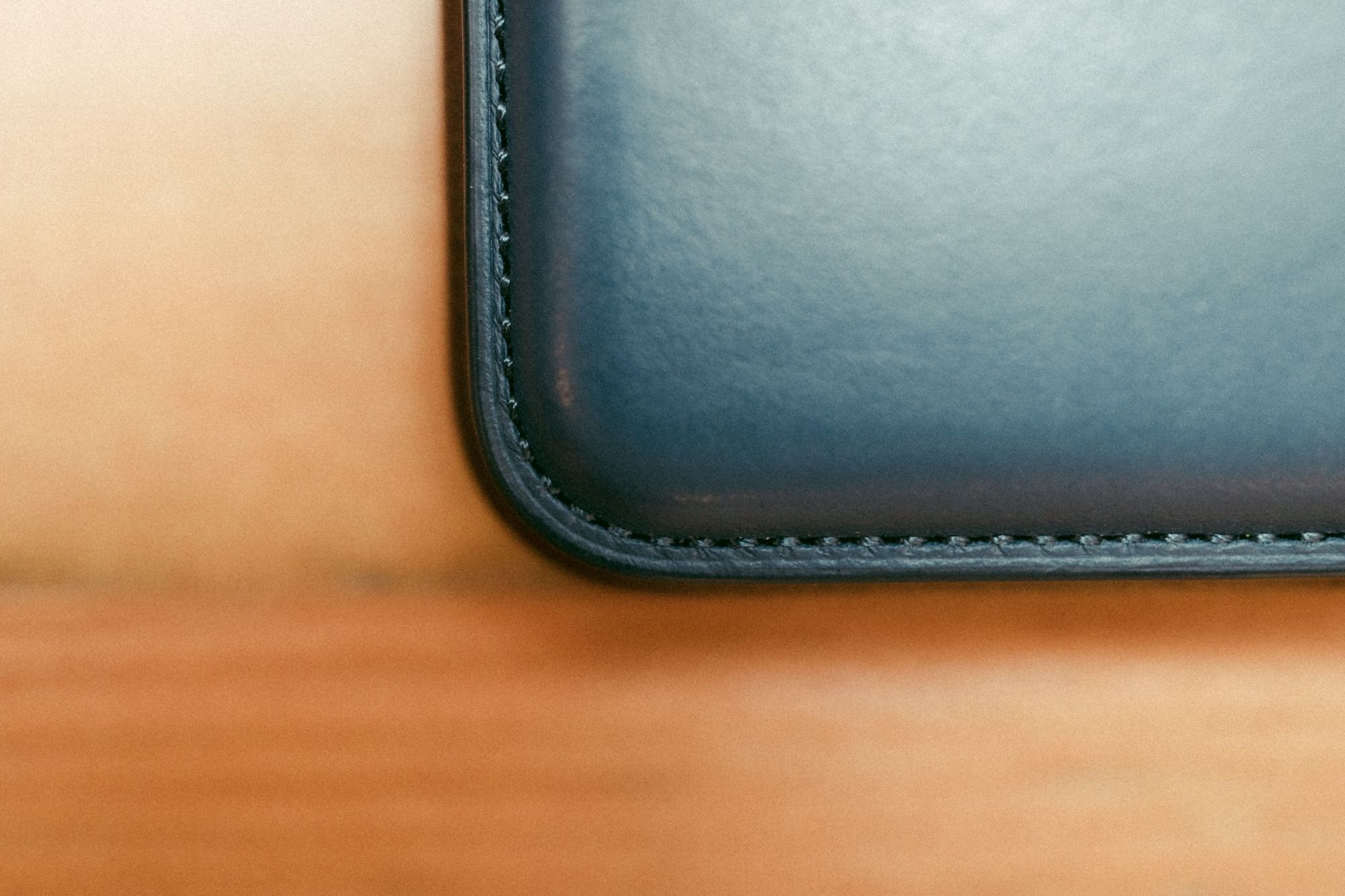 Apple's made more than a few leather products over the years. The MagSafe Wallet is some of their best leather work, in my opinion. I haven't had a chance to try the larger MacBook Air/Pro Leather Cases, but this Wallet certainly ranks higher than MagSafe Leather Cases for iPhones.
I'm Impressed with the MagSafe Wallet
The little digression at the top about the Bellroy Premium Note Sleeve was mostly to give an impression about where I'm coming from. The Note Sleeve feels like perfected wallet technology. The Premium Bellroy line has some of the company's best leather work in years.
I don't think the MagSafe Wallet will usurp the Bellroy Note Sleeve. If I'm going to an event, I think the Note Sleeve is both a more functional choice and a more stylish choice. If I'm moving around with extra pockets — specifically, during the winter with a winter coat — I think the Note Sleeve will be my sidekick.
But in the summer months where I'm shorter on pockets or when I'm more keen to head uptown for a quick jaunt, the MagSafe Wallet is an extraordinarily handy wallet to have in my arsenal. I'm thinking the MagSafe Wallet is the perfect golf-game wallet, the perfect quick-beer wallet, or the perfect quickly-get-a-jug-of-milk wallet.
I'm quite impressed with Apple's MagSafe Wallet. The Wallet will most certainly remain one of my most-used iPhone accessories going forward.