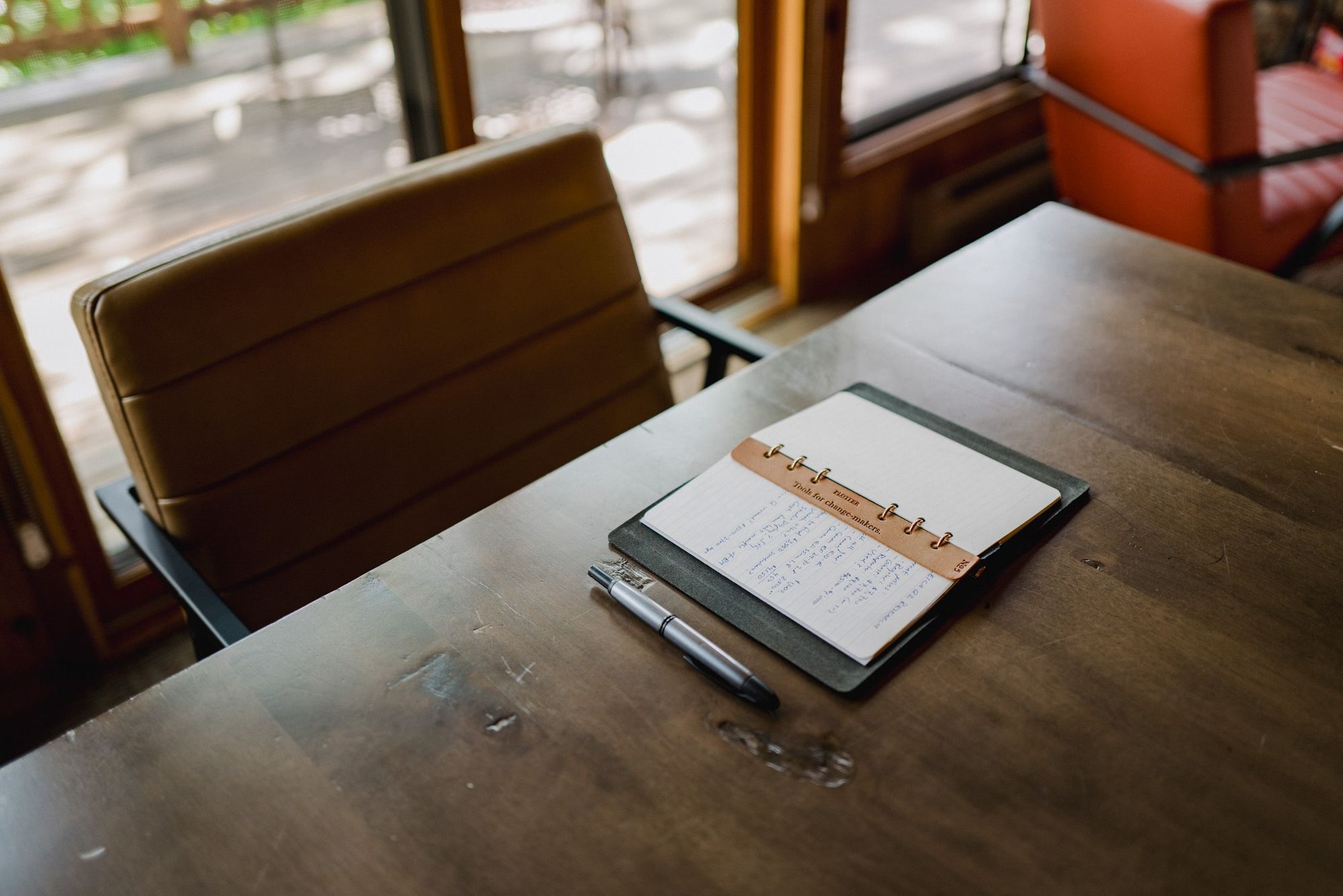 I used to write about each special Field Notes release, Field Notes covers, and special pens. It was a thing. It still is a thing. I still have a Pilot Vanishing Point, a Lamy 2000, and a Kaweco Brass Sport, all of which I received for purposes of review.
To an extent, I miss those days. They seemed simpler. It was easy to write about how a pen felt or the toothiness of a new paper. My first crack at Tomoe River paper inside a Hobonichi remains my favourite analog memory.
As time progressed, digital tools put pressure on analog tools. Writing out a to-do list — which, I'm well aware, works great for many people — was simply not as efficient as capturing tasks inside an app. Project management was (is?) better in a digital app. For me, the only true analog need has been the capture of handwritten notes. The iPad can do it, yes, but the iPad feels kneecapped in so many ways.
It's also been a long time since an analog tool really caught my attention. Between a bored skull and the avoidance of yet another notebook crowding my drawer, analog tools have largely been sunsetted for me.
Until Plotter.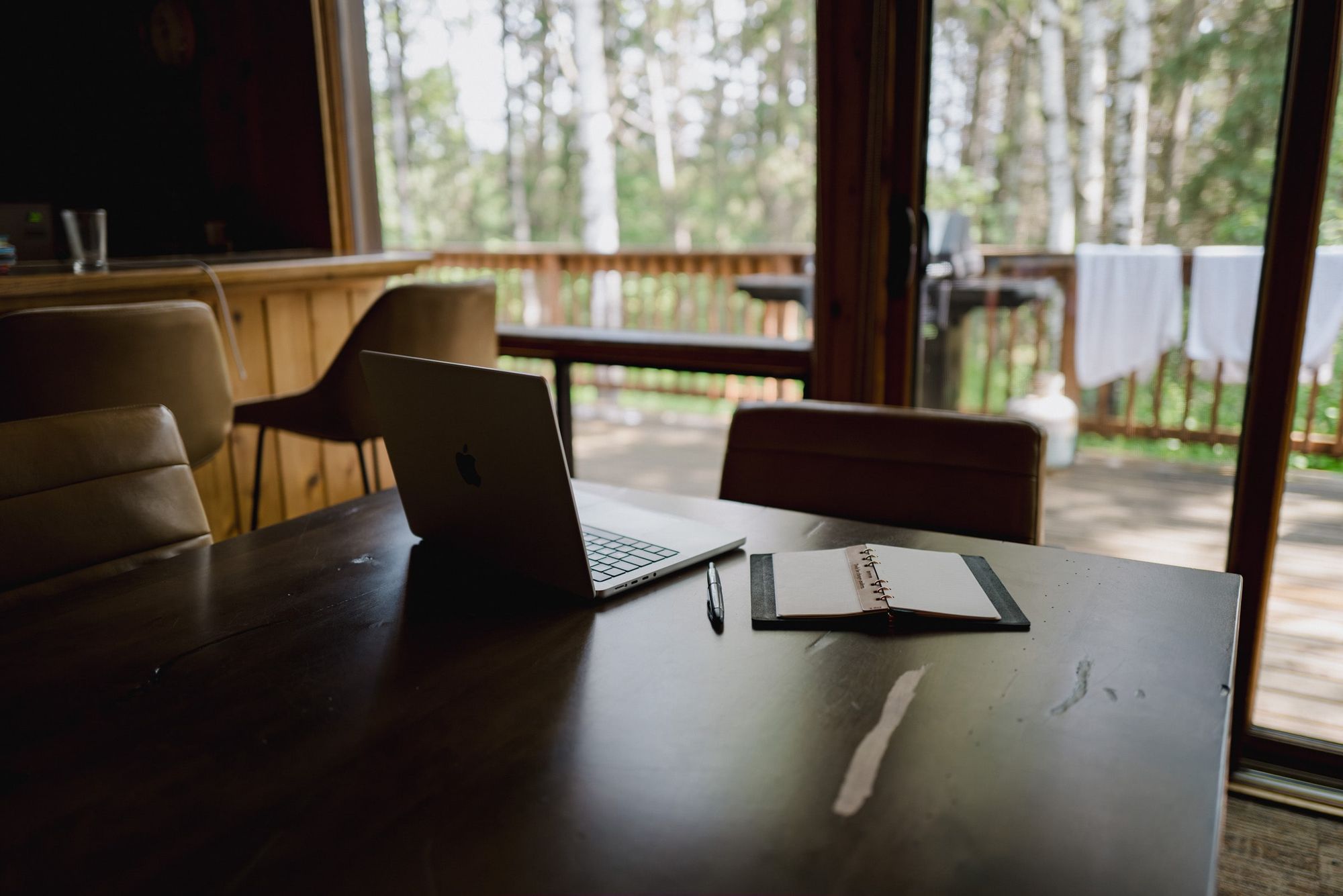 All you have to do is peruse the Plotter USA webpage for 10 minutes to experience the feeling. You'll want a Plotter in no time.
Fortunately, the cost will likely get in the way for many. Leather cover, add. Paper, add. Project manager, add. Archive binders, add.
Plotter gets expensive, fast.
Despite the cost, Plotter is my favourite notebook in years. It brings me back to that fresh, brave Author Josh who had no shame in writing about pens and paper.
Giggle all you want. You know you want a Plotter after viewing the website. And I bet you'll want to use a Plotter after only a couple minutes of setting one up.
The Leather Cover
There are all sorts of leather in the world. There's faux, nubuck, nappa, calfskin, sheepskin, goatskin, kangaroo, cowhide, shell cordovan, crocodile. There's more yet. And though I haven't tried them all, a glimpse at my home office shelving provides a number of good examples.
I have a few vegetable-tanned leather wallets from Bellroy which provide a baseline of "good quality". These wallets have aged reasonably well, though I don't expect they're going to last a lifetime. They feel great in the hand, largely haven't ripped (one has, but I think this is a glue issue and not a leather issue), and they also look great. They smell odour-free after a few years of use.
I have more than a couple goatskin Bibles. Goatskin leather is extra supple and flexible — you can curl the front cover of the Bible around in your hand for better one-handed reading without any permanent curvature to the cover. These Bibles are exquisitely made and I expect will last a lifetime. Unless I spill wine over one of them again.
I also have a Midori Traveler's Notebook. The Traveler's Notebook held the title of "best" leather of any analog tool in my collection. Handmade in Thailand, the leather smells wonderful for a long time. It's thick, durable, and sturdy, willingly taking bumps and bruises from all corners of your life. Those bumps and bruises generally stay for the lifetime of the leather as well. Traveler's Notebook is a true cream of the crop.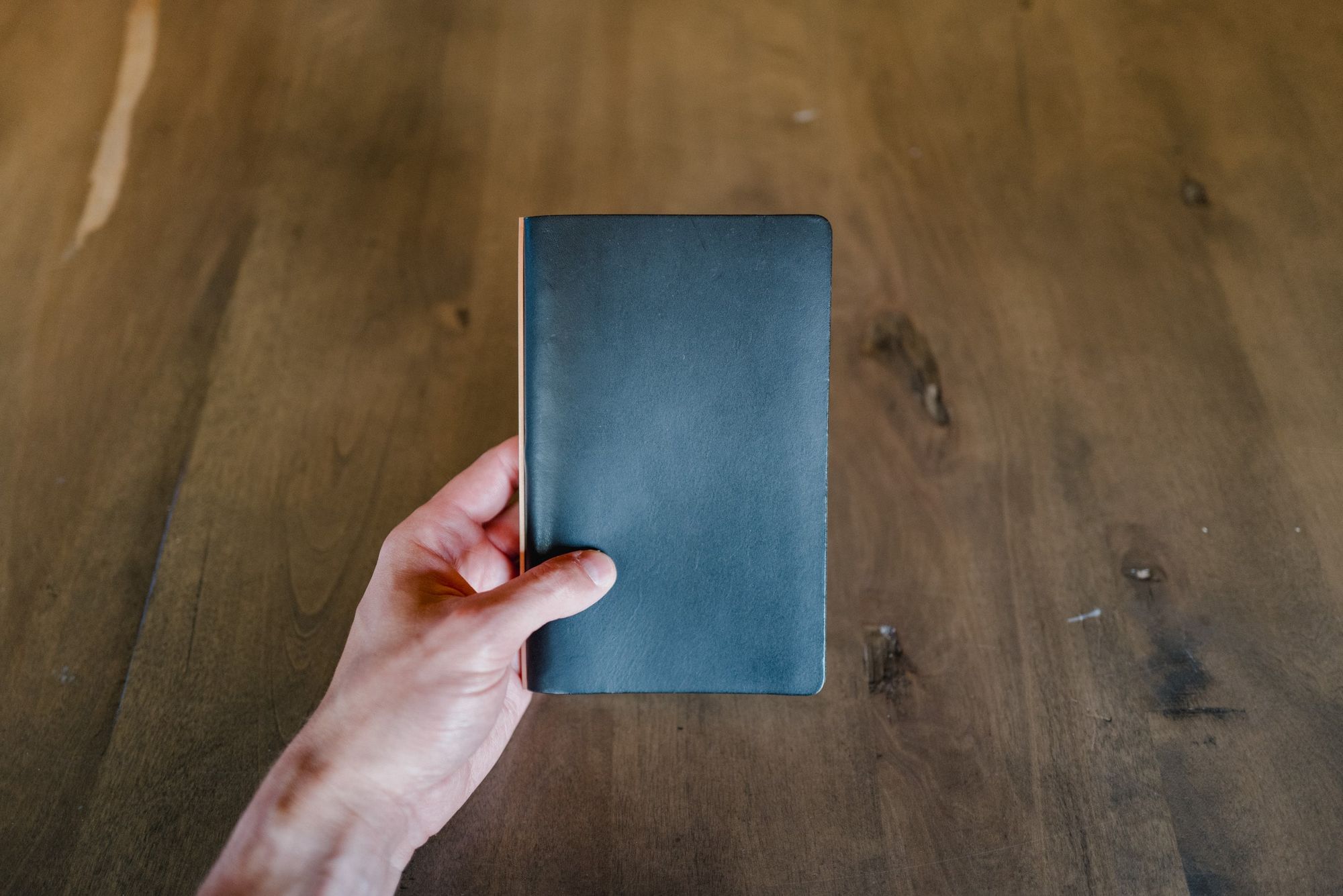 I would rank Plotter leather up near Traveler's Notebook leather. (Though, the products are made by the same company, so they may well be the same leather.) It's a tad thinner, but just barely. There's a strong out-of-the-box smell which hasn't gone away. Plotter leather is a tad more supple and doesn't feel as substantial as Traveler's Notebook leather, but it's more substantial than any other leather in my arsenal. There's some shine here as well, especially on the black variety.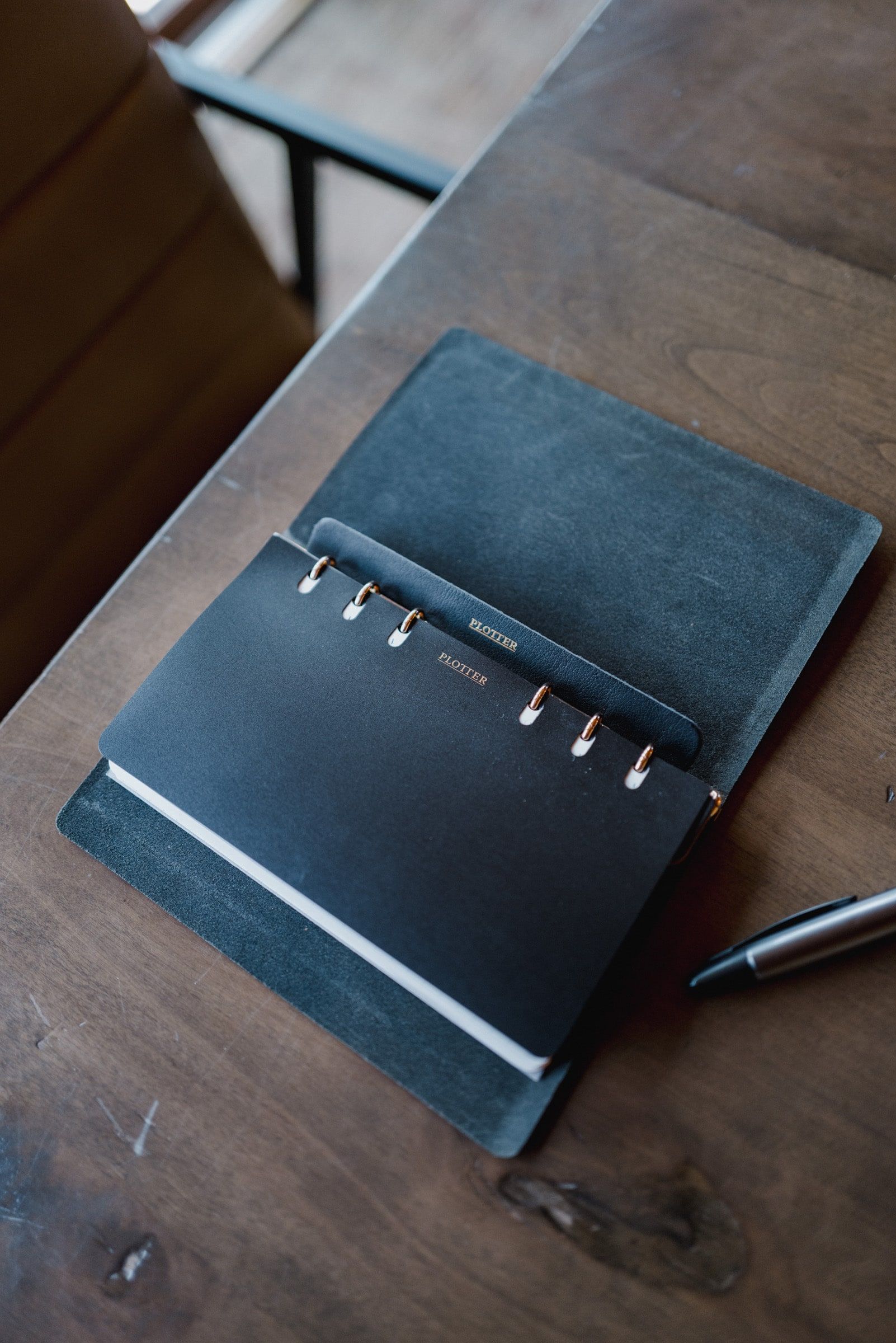 The Plotter's inside cover is softer, with more toothiness. This is nicely utilitarian — if you are writing on paper write up against this inside cover, it almost acts as a blotter and your paper doesn't slide around while writing.
On the inside back cover there's an inscription detailing some of the Plotter mission and vision. This is all done quite tastefully.
To be clear, I'm comparing Plotter leather to the very best Traveler's Notebook leather. To be a second-best to Traveler's Notebook is no small feat. Plotter feels and looks fantastic and I expect this notebook cover to be with me for decades to come.
The Paper
Plotter is part of the larger Designphil company, which owns well-known brands like Midori, Traveler's Company, and Knox. In fact, Plotter has been around for more than a few years already, only debuting in North America in the last two or three years. If it feels and looks like Plotter is familiar right out of the box, that's because it likely is. Inspiration appears to be floating over from Midori and Traveler's Company products.
Case in point: Plotter's paper. Inside Plotter refills are Designphil's own pocketbook paper, which is the same paper found in Midori notebooks. If you've written in a Midori notebook, you'll know what it's like to write on Plotter paper.
This is a good thing — Plotter's pocketbook paper is excellent for fountain pen writing, offering a smooth writing experience without major show-through or bleeding. Inks shine nicely on the paper, with very little feathering. The creamy colour is also easy on the eyes when reading and feels traditional in the best sense.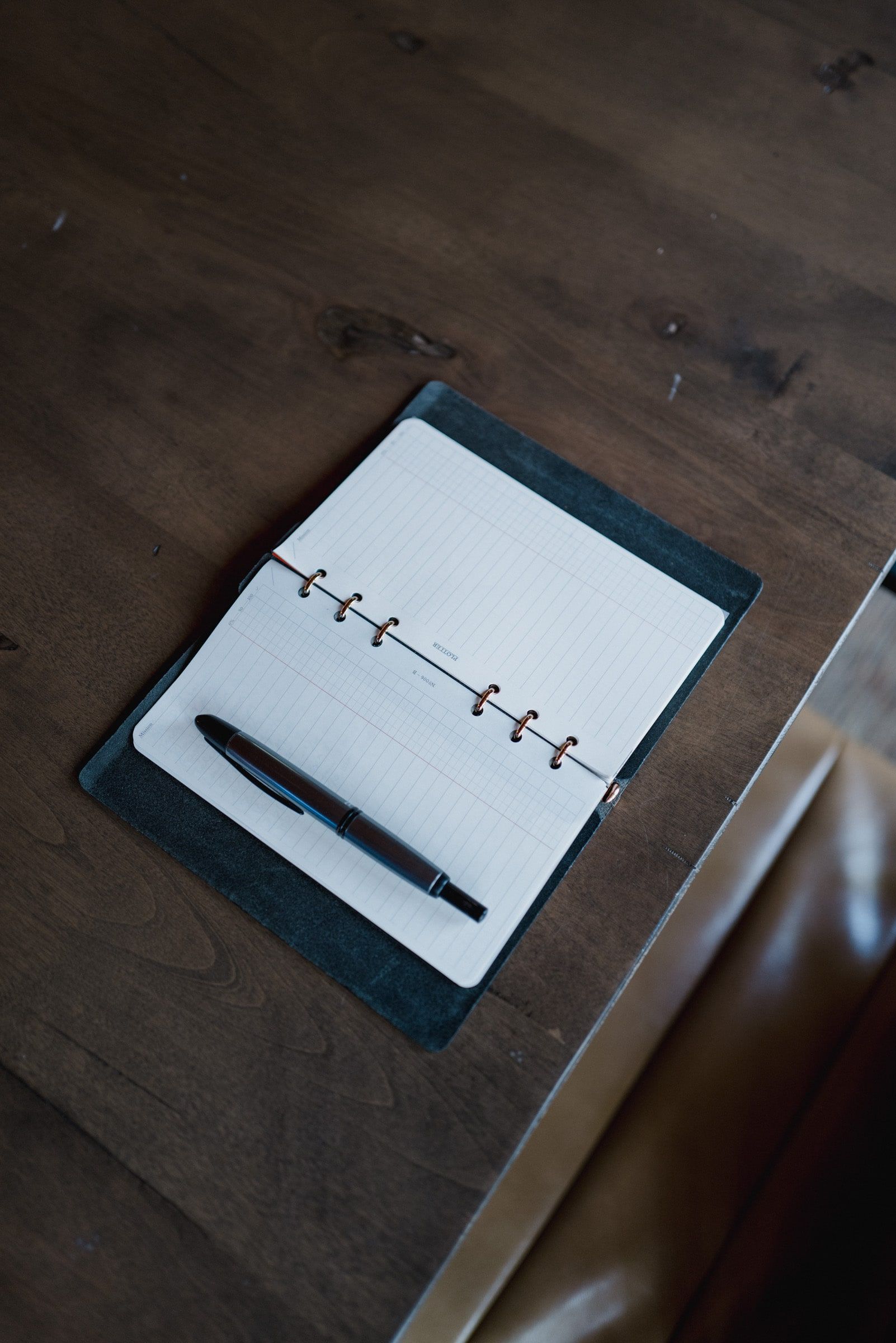 The same can't be said for rollerball pen writing, however. I have a Lamy Lx Rollerball, which shows through Designphil's paper far faster than I care to admit. In some spots, it has almost bled through to the other side. It's a weird phenomenon, one which sub-consciously limits my writing in this notebook to fountain pens only. I've recently taken to writing with the Lx Rollerball once more, but only because I'm getting to the end of the ink refill and it's writing drier than when I first pulled the pen out of the box.
I haven't tested pencils. I'm not a pencil guy. Though it's notable that a great deal of Plotter's marketing shows off pencil usage in the notebook. I'd bet it's excellent.
The paper itself is very thin and feels delicate. If you catch the paper inside one of the rings when rearranging your refills, you'll quickly note how easily the paper folds and rips. The thinness of the paper ensures you can fit a few more items inside your Plotter, though it surprised me when I first unboxed the refill paper — I find the paper thickness to be on the delicate side. It's not too thin, but we're right on the edge here.
All in all, the paper garners a fair "pretty good" assessment from me, especially if I stick to fountain pen considerations only. This is no Tomoe River paper. If you stick to fountain pens, regular ballpoint pens, and pencils, this paper will feel excellent for you.
The Inserts
Like every good notebook these days, there's an entire system to build out your Plotter. Plotter provides a variety of excellent refills specially designed for each notebook size and, due to the generic 6-ring system, you could also create some of your own refills if you choose. If you want to get adventurous, you could peruse the Knox website in search of more Plotter-like refills — Knox is more specifically Japanese, but some Knox inserts appear to work inside a Plotter quite well.
Plotter currently offers the following refills to build out your notebook:
Memo refills, including lined, grid (2mm), dot grid (5mm), and blank paper
To do list refills
Drawing paper refills, which are perforated and can be ripped out of the notebook
Diary refills, including monthly and weekly refills
Project manager refills, which can be used to separate out pages applicable to a specific project or subject and which you want to keep together
Lifter refills for providing harder surfaces for writing or to split apart sections in your notebook
Bookmark refills for quickly jumping to different sections in your notebook
Fastener cases for storing odds and ends in your notebook
The smallest Plotter sizes have a few additional inserts, including a leather card case for carrying credit cards and business cards.
The generic 6-ring system opens more doors for building out your Plotter in unique ways. You can use small, 3-hole punched memo pages in a larger Bible or A5-sized Plotter, for instance. The ability to mix and match paper sizes to notebook sizes makes for a world of organizational opportunities.
A few additional anecdotes about inserts: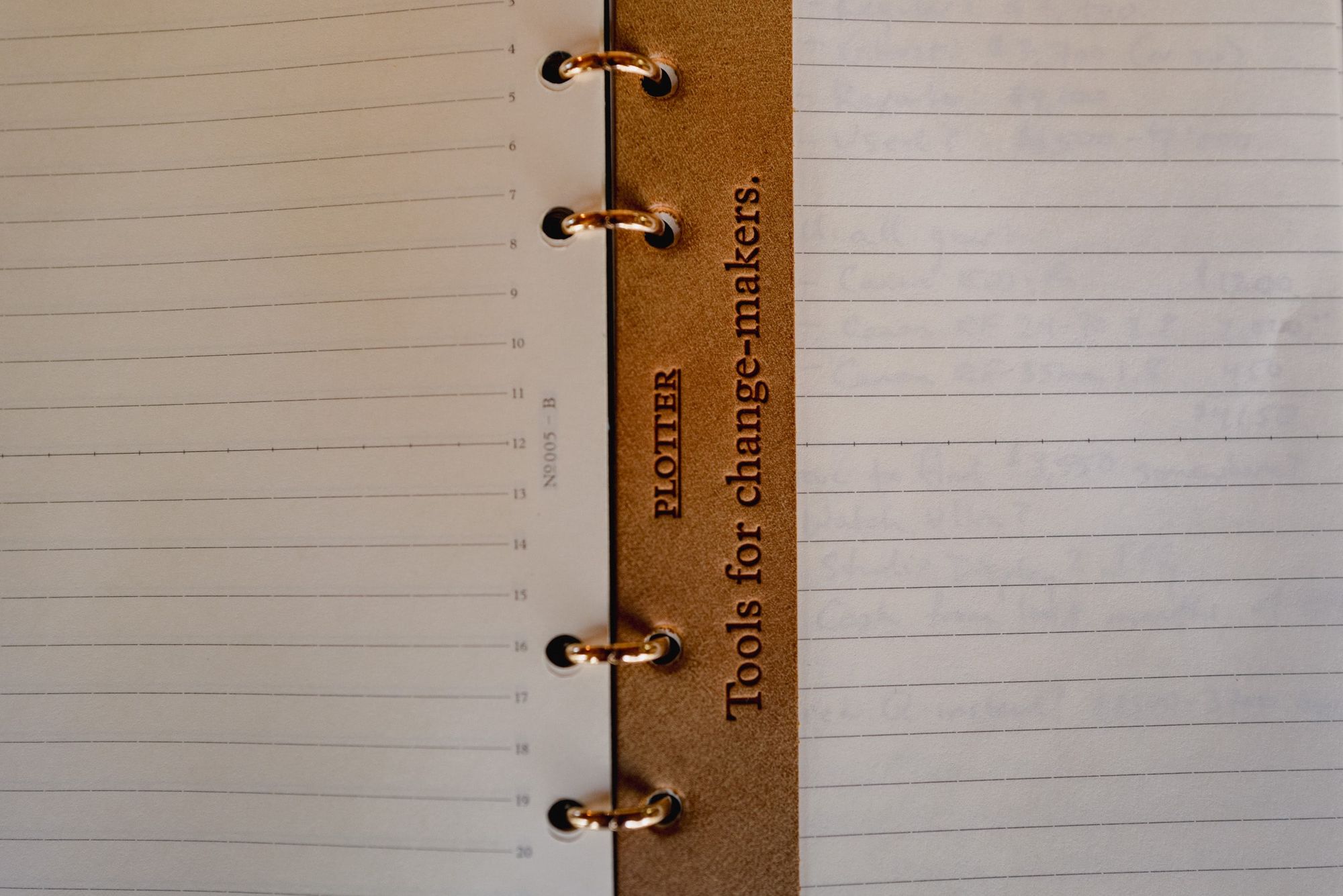 Plotter seems to sell out of annually-released monthly and weekly diary refills very quickly. I picked up a 2024 monthly refill back in late August and they were sold out by early September. This isn't conducive for those wanting to use this as a calendar.
The to-do list refill has a unique layout for tracking the percent completion of a task. You can draw a line inside the right column to denote your percent complete and then check off the item in the far-right column when done. This is a great layout if you're into tracking your to do list in an analog format.
Lined memo refills come with some very handy niceties, including small lines on the bottom, middle, and top lines for using a ruler and creating your own columns on the page. There's also a per-line numbering system on each page if you want to track exactly where you wrote something (think something like "Page #-Line #" as part of an index). The top right corner also has a slash for marking the date or page number.
Monthly refills come with an annual calendar and monthly spreads printed on a 2mm grid. There are some extra pages in the back of the refill for personal information and a few extra 2mm grid sheets for note-taking.
The most important consideration when purchasing Plotter refills is the inherent limitations of the small 6-ring binder system. Plotter notebooks are very specifically not designed to carry lots of refill paper. If I could double-bold those comments, I would. You will not be able to fit a monthly calendar, a weekly calendar, ample notes, and a fastener case like you do inside a Traveler's Notebook. Plotter is designed to keep your current and latest projects only, with older notes destined for archival in one of Plotter's own larger archiving binders.
This is especially notable if you want to build out your Plotter with the leather bookmarks or extra lifters between sections of your notebook. I use lifters to separate sections and bookmarks to jump to the next page in each section. Four bookmarks and four lifters quickly diminishes the amount of paper notes that can be kept in each section. Overloading the notebook results in pages not sitting flat when writing.
I'm not sure yet where I stand on the size limitations here. In one sense, I like that I can archive the old notes faster than I would with other notebook systems. In another, this means I don't necessarily have my older notes all the time for referencing and I can't keep everything I want inside the Plotter either. I get the premise of keeping only current work inside Plotter, but some folks will find themselves looking elsewhere because of this.
This is also the part which makes Plotter so expensive. A Plotter notebook cover is far from cheap, but adding each refill and accessory to your order will skyrocket the price of this notebook system in an instant. You could easily spend $350 USD on a Plotter notebook system by the time all is said and done.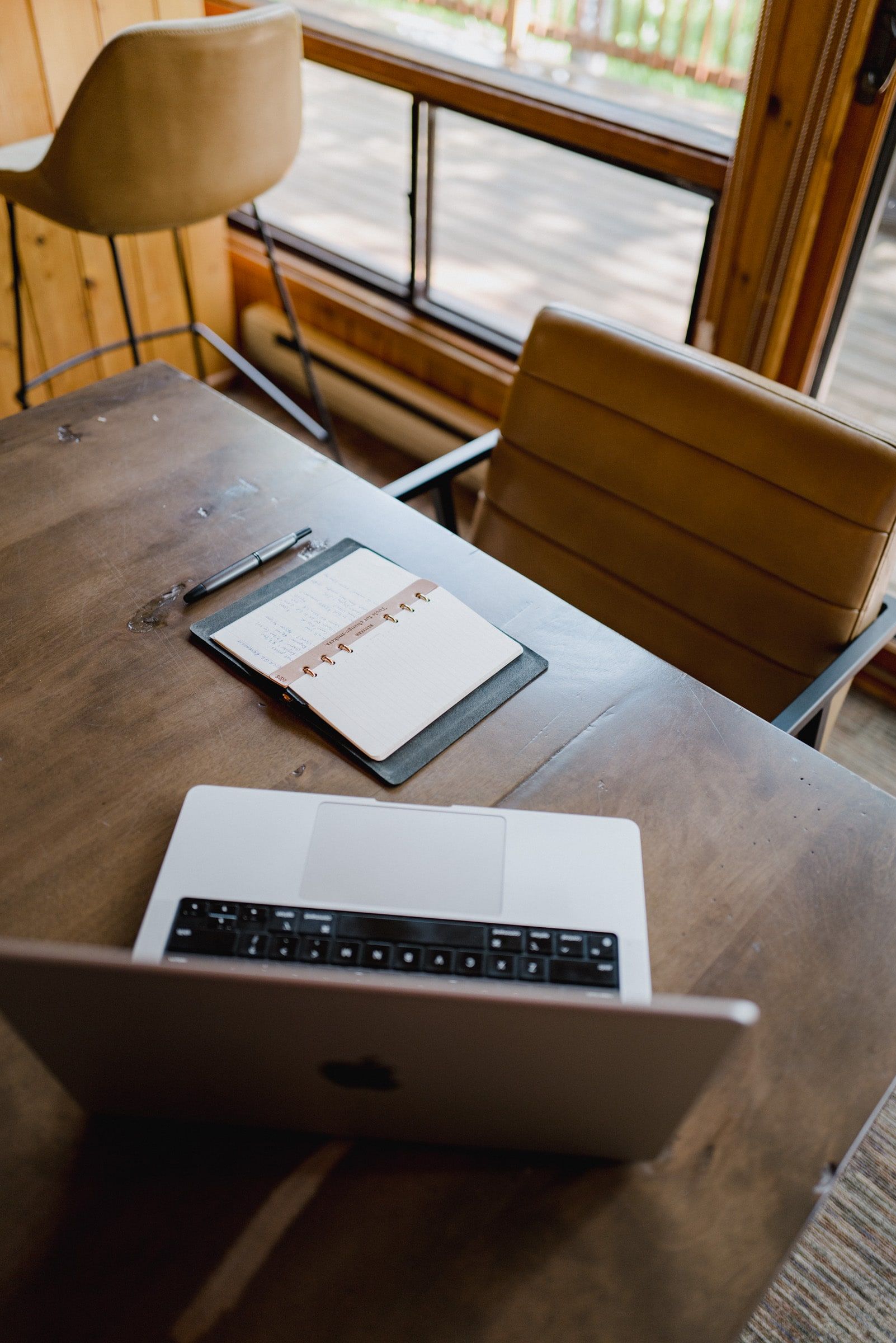 Having a 6-ring binder system is very handy and the most customizable notebook option on the planet. The ability to add and remove items is perfect for tinkerers or for those who are more into ephemeral note-taking rather than permanence. The limitations of the system do cause some strife though, as does the price of the system at large. There should be numerous considerations to what you want your Plotter to be before diving in head first.
The Use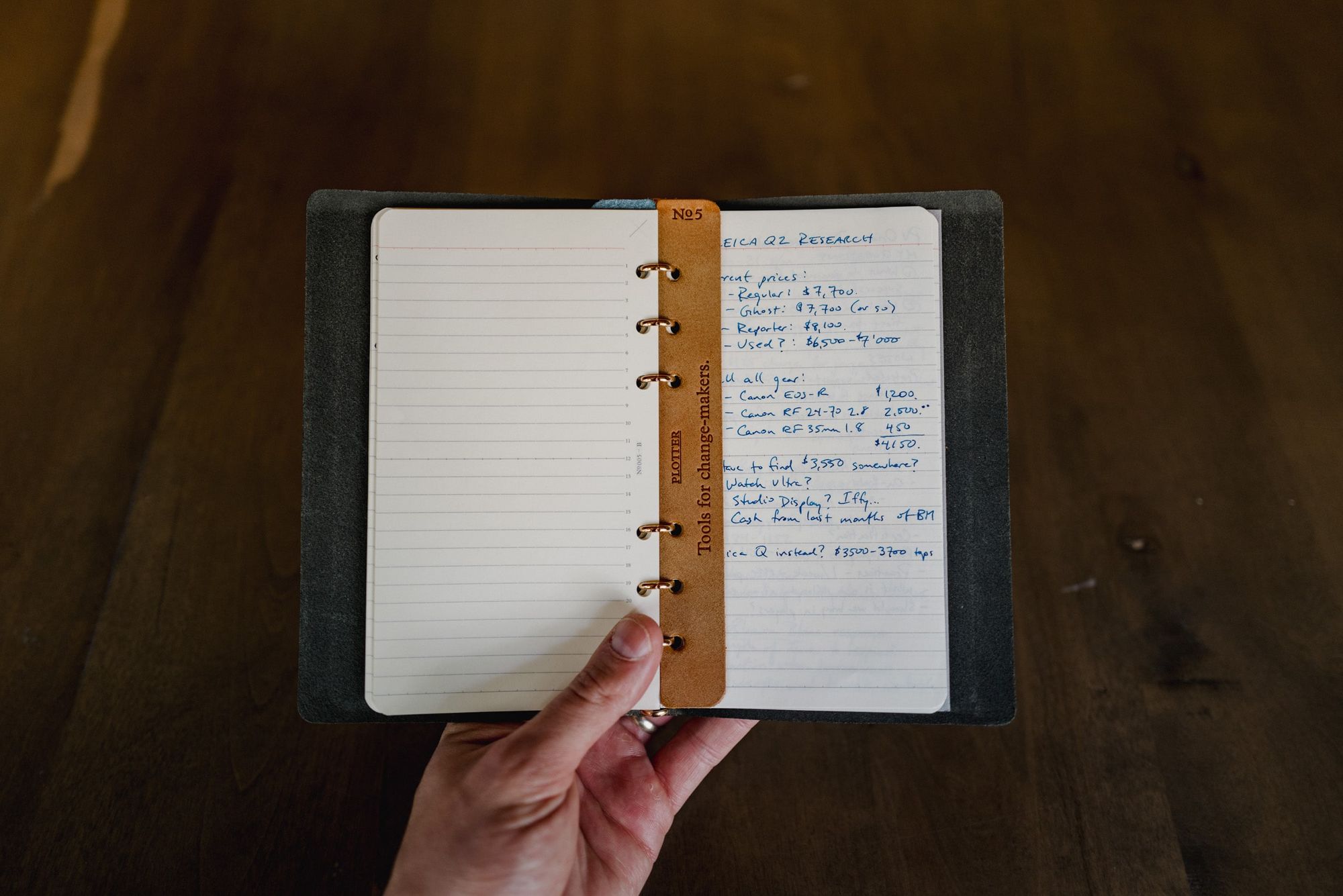 Here is my current Plotter setup:
Leather ring supporter for limiting the rings from wearing away the inside front and back leather cover.
Four lifters for:
  – Front cover– Back cover (this ensures you're met with a black lifter page when you first open the cover; I think this looks best)– Separating my to do list section from my notes section– Separating my notes section from my calendar section
To do list refill pages for tracking lists of items
Lined refill pages for work and personal notes, which are separated by two different leather bookmarks
Monthly calendar refill pages in the back for tracking specific activities on dates in the past; mainly this has become a mileage log.
Leather bookmarks are positioned at my most recent note pages for quickly jumping to where I need to be. I use three leather bookmarks in total — one for my most recent work note, another for my most recent personal note, and another for my most recent to do list page. Leather bookmarks take up valuable thickness space inside the Plotter, so I've found less bookmarks is better.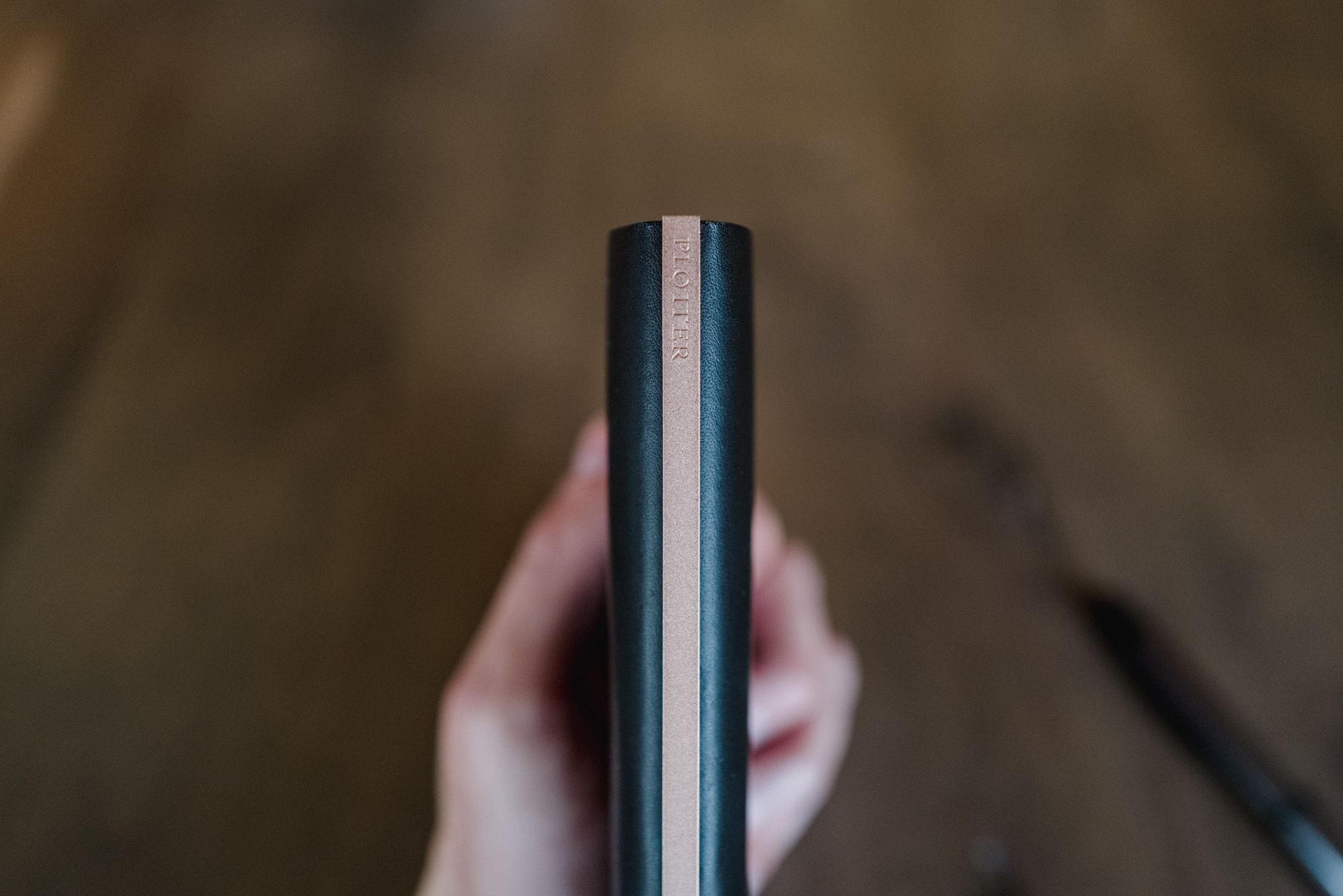 The binder system itself is made of a metal spine that runs down the spine of the Plotter leather cover. The spine clearly shouldn't be bent or applied pressure to. This of course limits your ability to throw a small Plotter in your back pocket or any place where you may apply awkward pressure to the binder system. I would say this limits some of the Plotter's ability to be an everyday-carry item, though folks are likely to quickly throw this into a messenger bag or briefcase on a whim.
I really appreciate a few things about my Plotter notebook: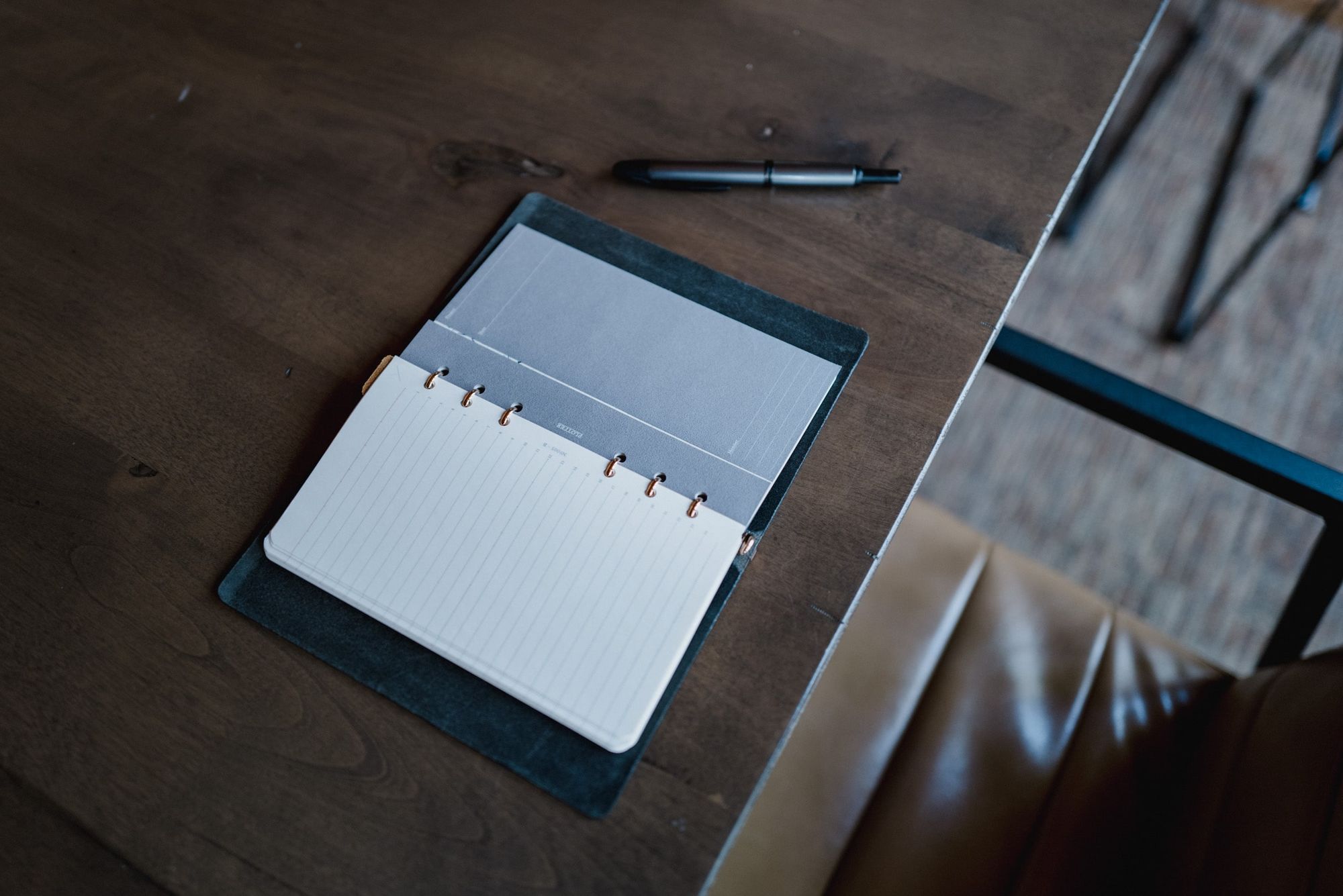 The ability to add and remove refill pages with ease makes for my favourite notebook experience. There's nothing locking you into any particular section of Plotter. You can take notes for a while if you want, then switch over to a monthly calendar setup if you'd prefer, or move all of these things around in a different order. I love the lack of permanence in Plotter.
The requirement to keep less paper inside Plotter makes for a thinner notebook with less cruft to carry around. I appreciate this and I haven't yet not found a note I needed in a flash. I have an archival binder in my office which stores notebook pages (the archival binder is not worth the money, I'd add; this is one of the most disappointing accessories I've ever purchased) and which is easy enough to flip through to find past notes.
I really like the ability to add small memo pages to the top or bottom three holes. They can act like reminders or even section dividers. The ability to add these sorts of things makes for a new level of customization that I appreciate more and more.
Perhaps my favourite aspect of Plotter is the true lay flat nature of the notebook. Each page lays perfectly flat (assuming you haven't overloaded your Plotter), making for the best writing and referencing experience of any notebook I've tried. You don't need any page holders like you do for a Traveler's Notebook. You don't need any elastics for holding things in place. This is excellent.
I love how easy it is to remove the pages and run them through a scanner for digital storage. This is probably one of the best parts of a ring binder system.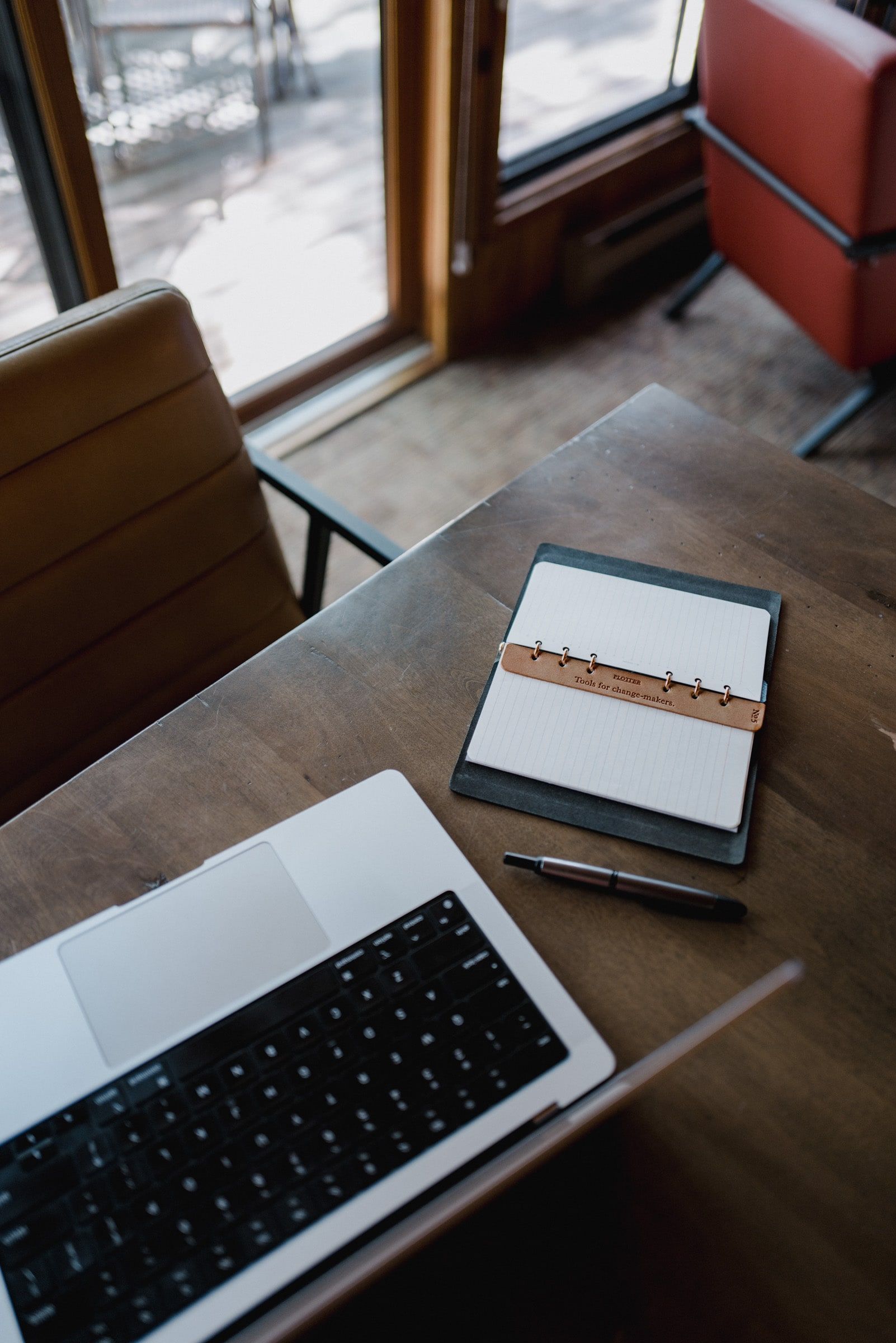 And, of course, a few things I'm not so happy with:
Ring binder systems are notorious for the rings getting in the way when writing across the notebook (right-handers when writing on the left side page and left-handers when righting on the right side page). It's a pain in the butt to write any words up tight to the rings. I often resort to removing the page from the binder entirely and just writing on the page on the right side of the notebook instead.
If the Plotter is too full, the pages catch in the rings, bending the page and not allowing the notebook to lay flat. This drives me nuts, especially the bending part.
Plotter is very expensive. The notebook itself. The refills. The shipping. Everything about this system is expensive. This isn't a complaint really, it just limits the number of folks who will take the chance on an otherwise great notebook system.
Wrap Up
I've now had my Plotter notebook for the better part of a year. It's the longest serving notebook I've had in years. I like the smaller Bible size for discreetly taking notes during meetings. I like the paper. I love the ability to reorganize and scan pages by removing things from the binder system.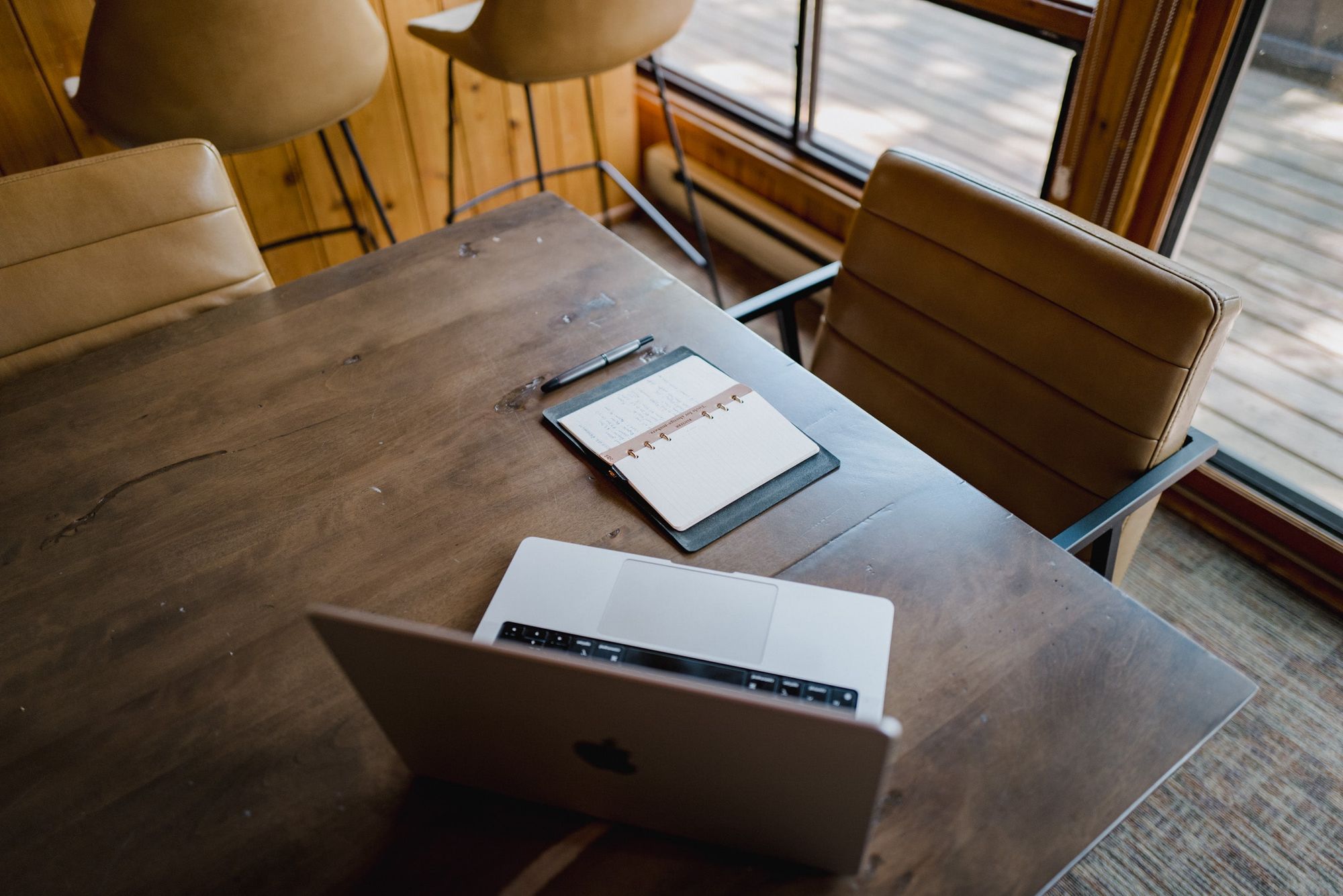 There's something particularly inspiring and fun about using such a beautiful analog product. I really, really love the way the Plotter notebook looks. It looks amazing in photographs. It looks awesome when sitting on a conference room table during a meeting. It looks great spread out on my desk for school or simple personal notes. Add in the special leather bookmarks and this may well be the best looking notebook available today.
That extra dash of pizzazz always provides some inspiration for getting back into the Plotter and jotting through some thoughts, lists, or something to move your day forward. This is a net win, in all regards.
Plotter is expensive, but it may well be the best notebook system I've tried to date. If you're eyeing one up, take the plunge. Do your due diligence first. Determine what you're looking for in a notebook. Once you're finished that due diligence, take the plunge.