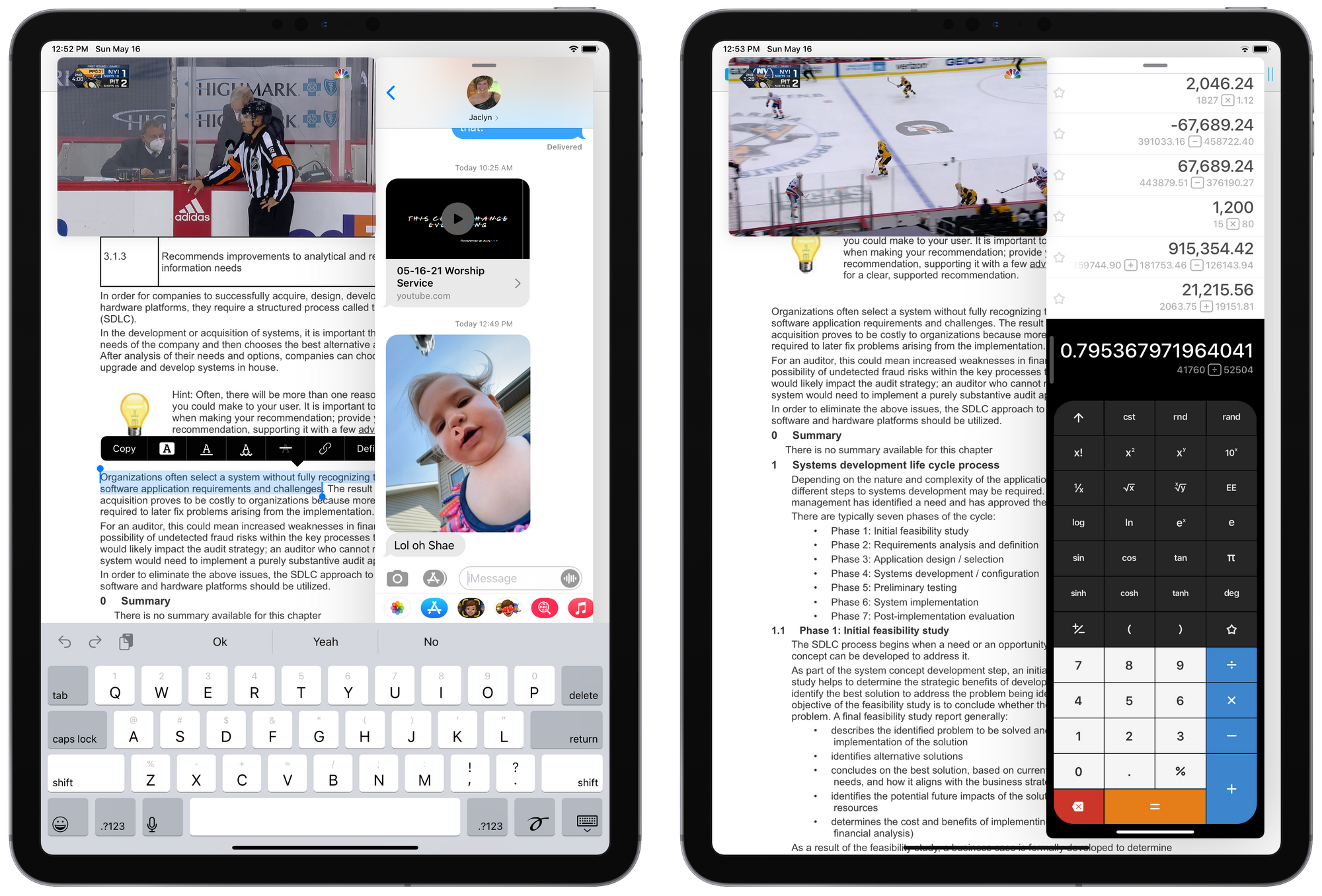 I can't sit in my armchair and tell iPad users they're using the iPad wrong. There's no right or wrong, of course — just how. "You're just holding it wrong!" they said.
There are many, many complaints about iPad multitasking. And rightfully so — perhaps my biggest complaint is the fact you can't import photos into Lightroom in the background. Background operation and app-switch speed has to be top of mind of any semi-power iPad user.
I'm not in the right frame of mind to conclude on whether the frustrations with iPad multitasking are due to the entrenchment of traditional computing behaviour or because traditional app-to-app multitasking is actually superior.
Either way, iPadOS's multitasking paradigm has its own benefits, which I feel are often overlooked.
First, picture-in-picture on iPad is just plain awesome. You can put the video in any corner, swipe it off screen, resize it, swipe it on screen — P-I-P is incredibly flexible in iPadOS.
Second, iPadOS has actual multitasking — as in, you can complete two tasks at the exact same time. Just look at the screenshots above. In those screenshots, a hockey game is playing while typing a message while highlighting text inside a PDF. Again, all at the same time. If you had three hands, you could do even more.
Third, Slide Over is genuinely convenient. Certain apps work better than others inside the Slide Over deck, and when they're optimized, their convenience is unmatched. I keep a calculator app in Slide Over at all times, I keep an iteration of all messaging apps in Slide Over, and I like to keep an iteration of the Files app available at all times. These kinds of "in-and-out" apps are exceptional for Slide Over.
Obviously iPadOS's multitasking capabilities aren't without fault. Importing photos or files in the background while browsing in Safari should be the lowest hanging fruit.
But in many ways, I think many people are just using iPadOS wrong. When used as intended, iPadOS multitasking is the most genuine multitasking computing experience there is.