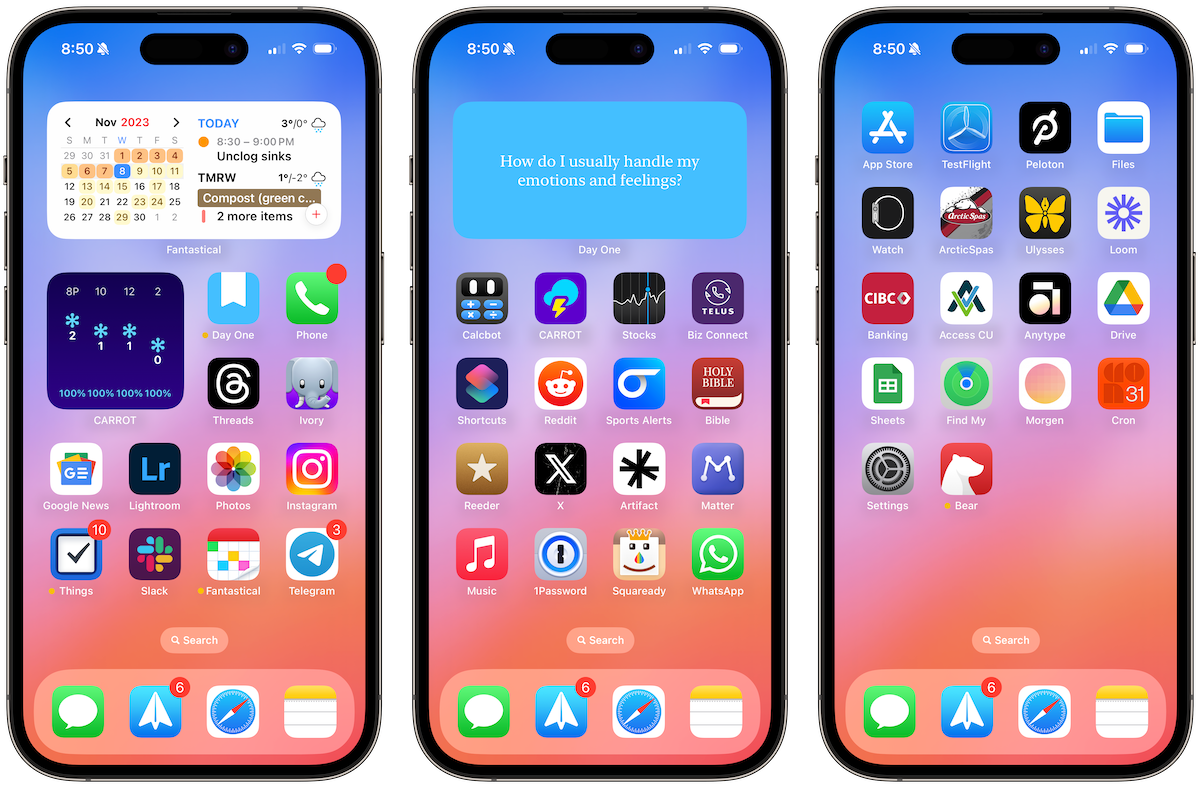 There's nothing more fun than joining the latest blogging trend. Once every year or two, we bloggers are allowed to be part of a group. And I'm not missing my chance to wear the jacket.
Before getting into the list though — I do find myself in the middle of my annual app audit. In that this is the only time of year where I'm allowed to experiment with new apps and I question any and every app on my devices. Generally, I end up in the exact same spot as where I started. But I do usually find a few new intriguing apps.
Case in point, weather apps: I've long loved CARROT Weather, opting for the highest end subscription option because of the beautiful radar widgets you can put on your Home Screen. After discovering RadarScope though, I may well end up going with a combination of the built-in Weather app on iPhone and using Radarscope to track weather patterns in the region. This one is up in the air at the time of writing.
Same goes for calendar apps. I'm 98% certain I'll stick things out with Fantastical, but I recently discovered Morgen. Morgen is a beautiful time-blocking app with a gorgeous task view and an even better calendar view. It also has one of the most generous free tiers on the internet I think, basically providing 99% of the features anyone would need to get into a time-blocking habit for free.
Oh, and note-taking apps! I've been banging Apple Notes' drum the last few months, but I'm back to being bored. Instead, I'm revisiting Bear 2. The app is so pretty and feels rock solid these days. I'm not 98% certain I'll be sticking things out with Apple Notes.
Sorry for getting sidetracked. My list:
Mail service: Microsoft Exchange
Mail client(s): Spark
Tasks: Things 3
Office CRM: Notion
Work: Parallels and Windows 11
Messaging: Messages, Telegram, WhatsApp, Slack, LinkedIn, and Loom
RSS service: Feedly
RSS client: Reeder
Launcher: Alfred 5
Cloud storage: iCloud (personal), OneDrive and Google Drive (work)
Photo library: iCloud (iPhone), Adobe Lightroom CC (Leica/Canon photos)
Photo editing: Adobe Lightroom CC
Web browser: Arc on Mac, Safari on iPhone and iPad
Calendar: Fantastical
Reading: Matter
Writing: Ulysses
Journaling: Day One
News: News or Google News
PDF Reader: PDF Expert
Weather: Carrot Weather
Current experiment: RadarScope for radar tracking and the built-in Weather app for general forecast tracking
Music: Apple Music
Clipboard manager: Pastebot
Passwords: 1Password
Budgeting: Banktivity
Calculator: Microsoft Excel on Mac, Calcbot on iPhone and iPad
Mastodon: Ivory
Social Networking
Technology circles: Mastodon
Photography circles: Threads and Instagram
News: X and Artifact
Personal finance, sports, and other general topics: X
Finding cool setups, amazing keyboards, and Leica photos: Reddit
Professional: LinkedIn
Screenshots: CleanShot X
Notes: Apple Notes (general)
Clearly I'm not here trying to skim down my app list. I've not had any luck with trying to combine specific uses into an app. I tried this with Texts and almost immediately bounced off the idea of having all my messaging apps in one place. Same goes for Notion — we use the heck out of Notion as a CRM-type app in the office, but no matter how hard I try, I can't use it for personal notes.