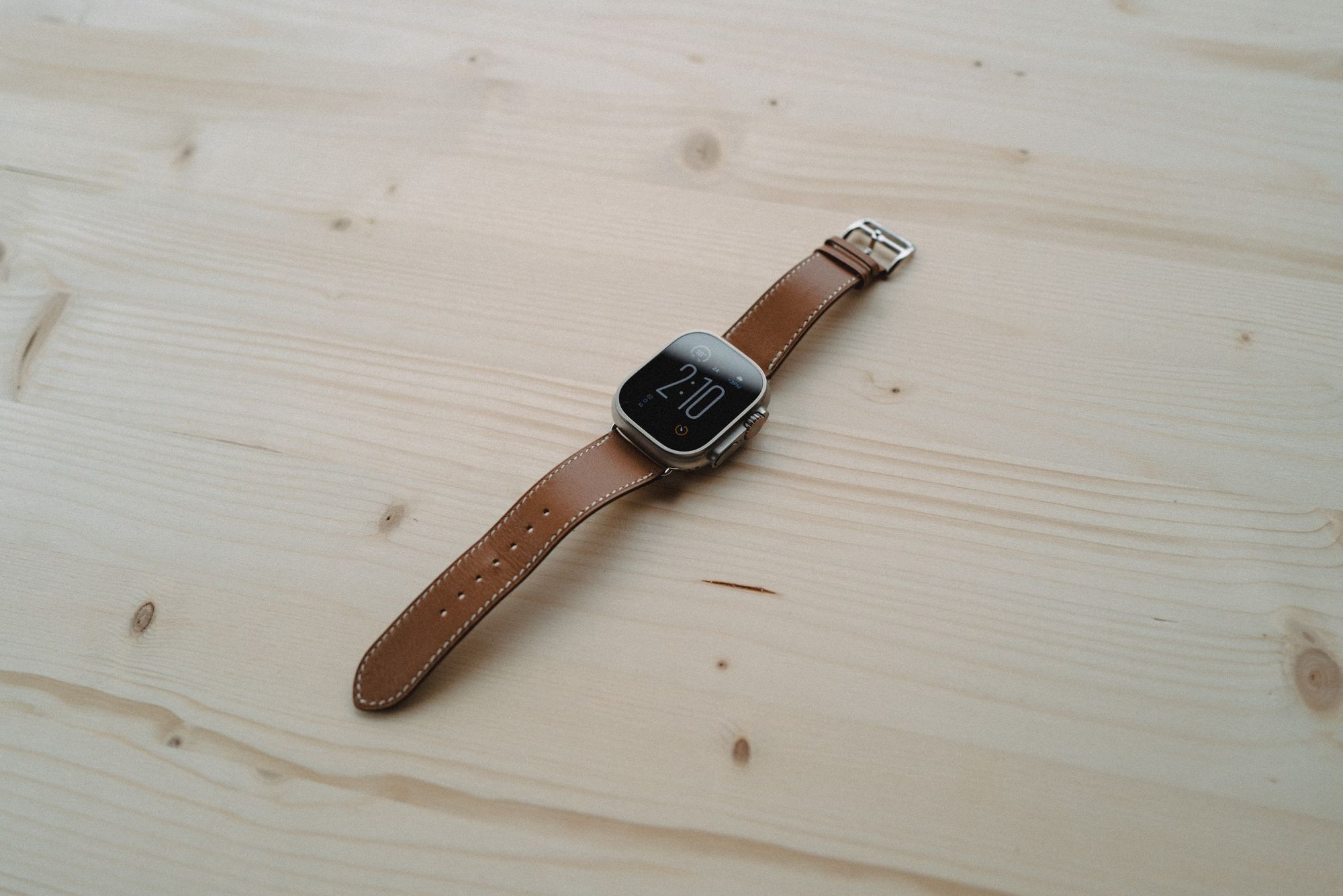 In most folks' ideal fantasy world, it's likely they can afford to purchase luxury goods. Expensive sport coats, sports cars, exotic travel — somewhere deep inside 99% of people is a dream of living luxuriously for at least a short period of time.
Then there are the luxury good producers, who successfully find ways to charge astronomical prices for their goods. To an extent, those astronomical prices are pushed up thanks to higher quality materials, laborious production processes, and delivery experiences no rival could match.
But there's always that "name brand" effect we all so curiously ponder. Don't we all wonder how much a Yeti cooler would cost if it didn't have the Yeti name plastered on the side?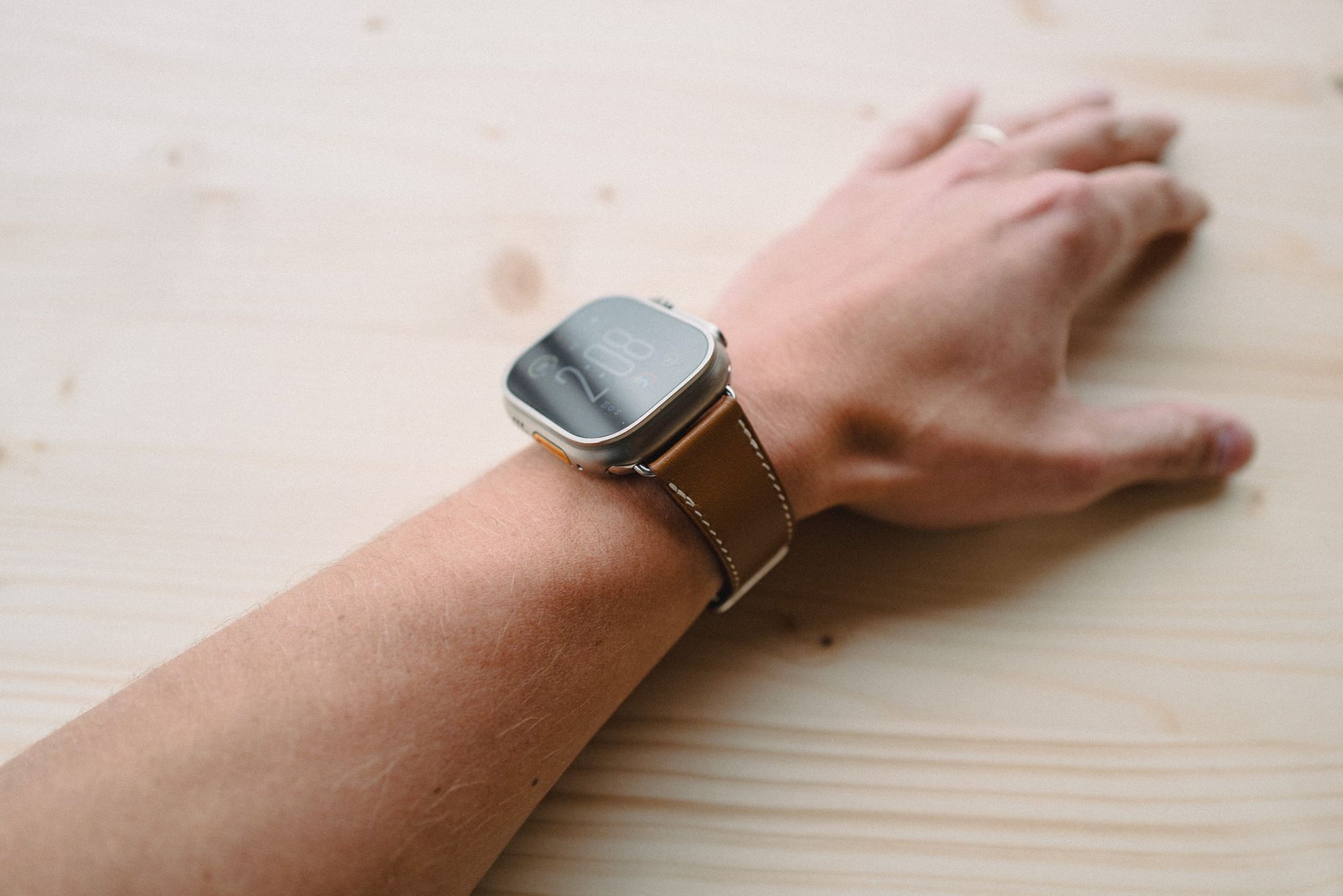 The Infinity Loops Honeymoon Suite leather Apple Watch band (bit of a rough name, but as you'll see, the quality speaks for itself) provides a small sneak peek into this dichotomous world of luxury brand and actual cost to produce. This isn't just a knock-off Hermès Apple Watch band — it truly seems to be an actual Hermès band that, perhaps, didn't make it through quality control.
The band comes complete with all the markings, debossings, and engravings you'd expect to see on an actual Hermès Watch band. The leather quality is phenomenal. The buckle is smooth and metal. The Watch connectors slide into the Watch with perfect ease.
The only thing seemingly missing: the Hermès price tag.
I asked the owner of Infinity Loops to give me the context for how these Watch bands came to be. His answer was that these bands are not official Hermès bands but are produced at the same factory as actual Hermès bands. Speculation will ensue, of course. Whether the band didn't meet quality control standards or not is beyond me.
One thing's for certain though: My wallet is a whole lot thicker as a result.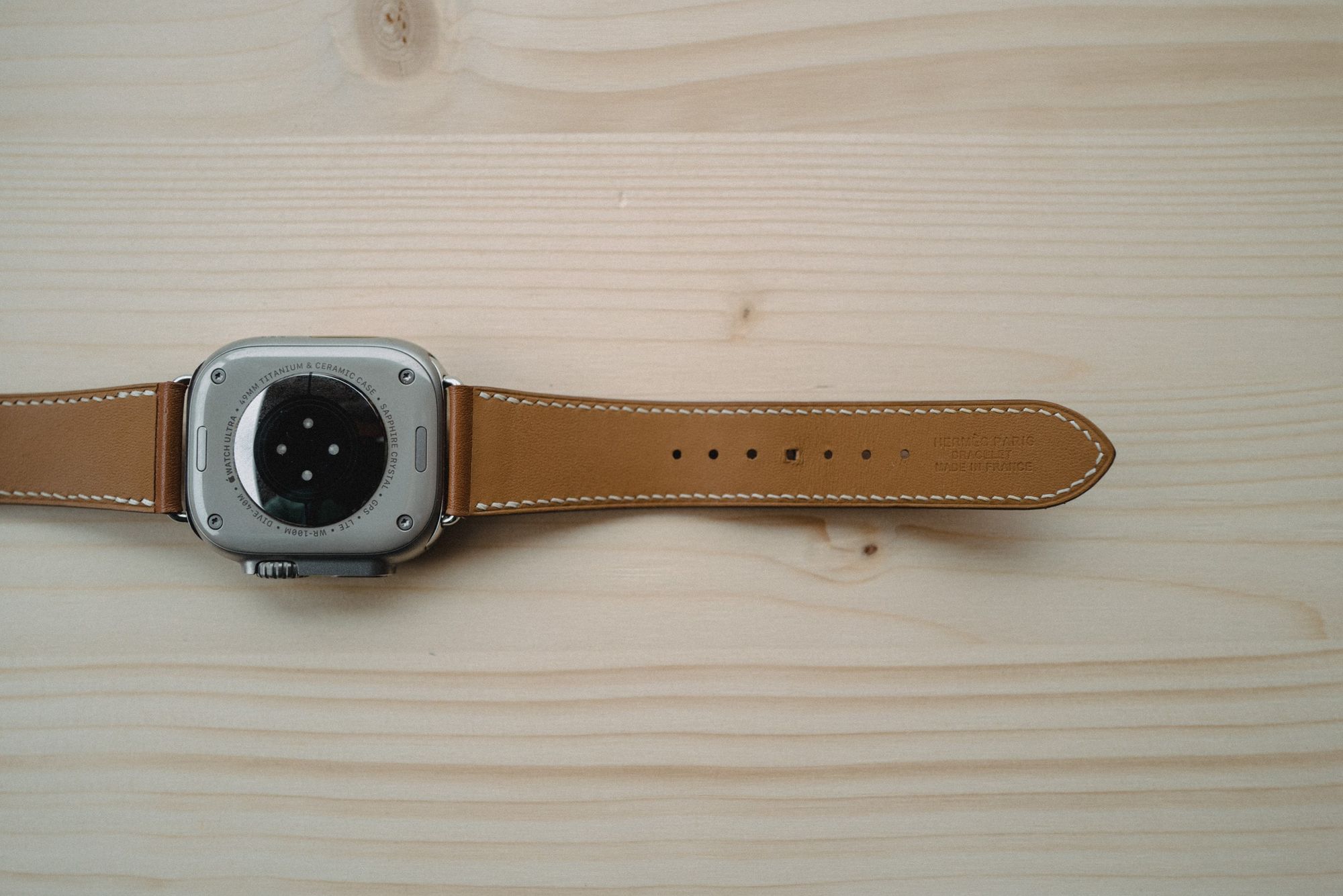 Throughout the rest of this review, I'm assuming one thing: that this Infinity Loops Leather Apple Watch Band is indeed not a genuine Hermès band, but is also not a knock-off band either. I'm assuming it didn't meet a quality control standard. The fit and finish of this band is far too good to be considered a knock-off. Or, flip-side, I don't believe luxury goods can be that much better than this Infinity Loop Watch band.
---
Update: I wrote the entirety of this review a few weeks before Apple's Wonderlust keynote on September 12, 2023. Apple discontinued its production of leather cases and Apple Watch bands at the keynote event. This review may well serve folks with a great leather alternative now that Apple is no longer selling any of its own leather products.
The Leather
The first thing I'd point at when determining whether this Watch band is a knock-off is the quality of the leather. It'd be one thing if the leather began to discolour, felt incredibly light, or didn't patina the way other genuine leathers do. It's another when the leather performs better than other, actual name brand Watch bands.
Out of the box, this Infinity Loop's Watch band is immediately reminiscent of Apple's own Classic Buckle Watch bands they stopped producing a few years ago. You can find the occasional Classic Buckle band on eBay still today, though their prices are very, very high. I had a beautiful brown Classic Buckle band for the Series 4 watch a few years back and this Infinity Loop leather band is reminiscent of that leather.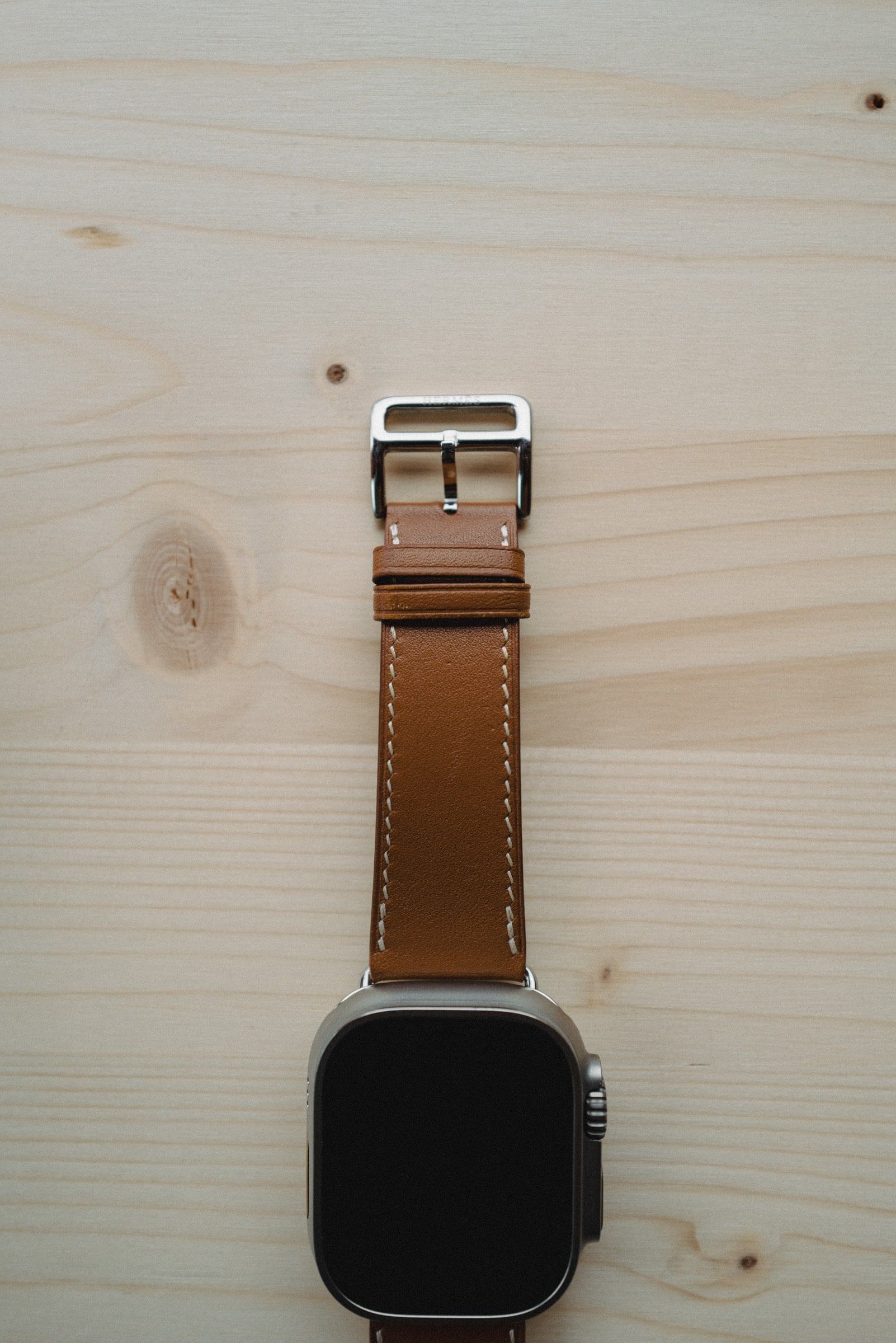 I'm going off of pure memory here, but if my memory serves correctly:
The edges of the Infinity Loop band and that Classic Buckle band are burnished identically.
The backside of the Infinity Loop band (the part that touches your skin) is of the same fit and finish as the Classic Buckle band.
The Infinity Loop buckle itself has that same sort of shimmer, not to mention the buckle feels much the same as that older Classic Buckle band.
The Infinity Loop leather seems to wear the same as well, with the same sort of genuine leather patina and wear starting to take shape in the most used buckle holes. This is the "Gold" colour way — evidently taken directly from the new Hermès Gold colour which replaced "Fauve" — though it doesn't stay that original "gold" colour for long. Even after two or three weeks of daily use, the brown has patina'ed nicely into a darker, richer brown.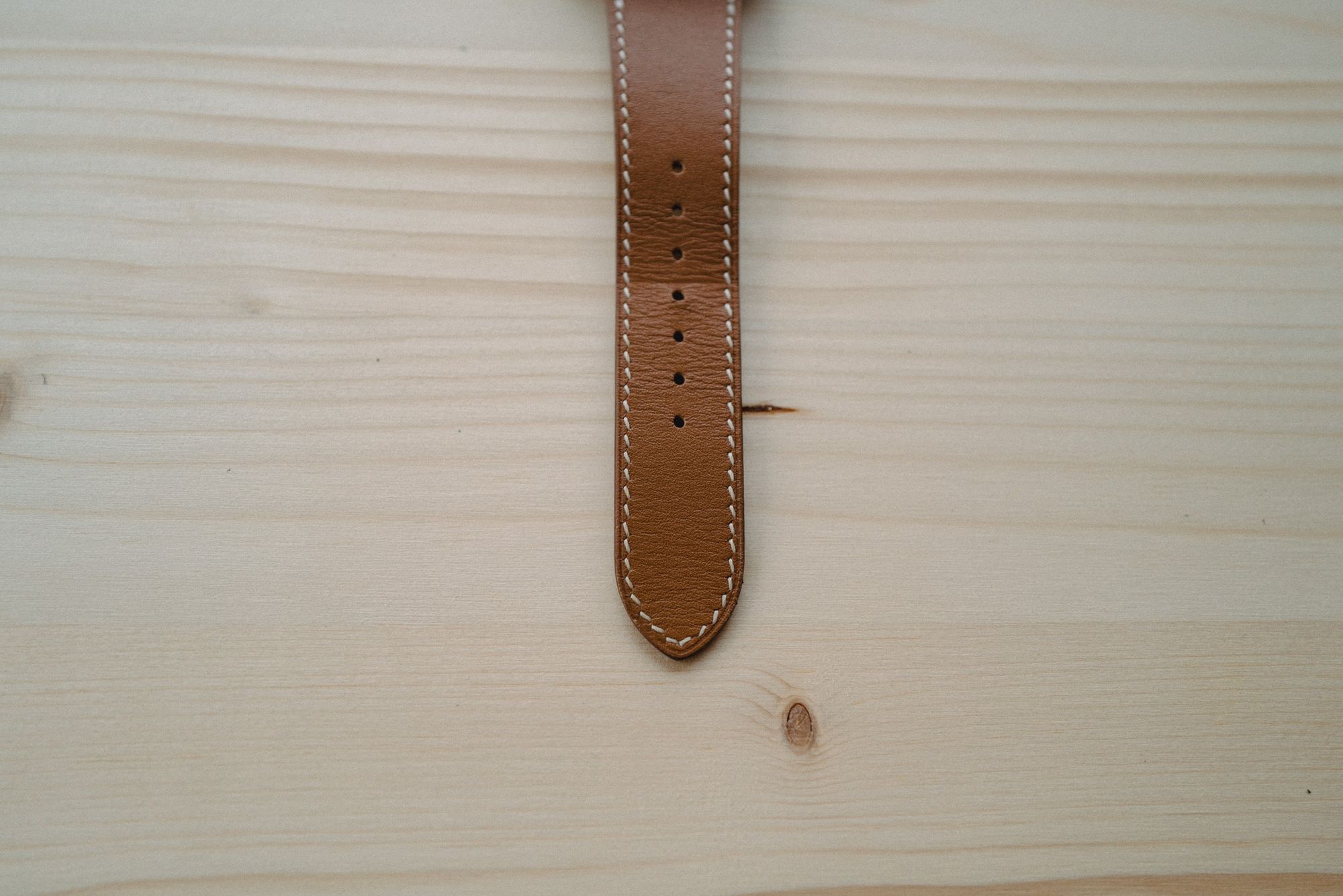 Lastly, I'd point at the stitching in the Watch band to determine if this band was a knock-off. And again, the stitching on this Infinity Loop band is perfect — there don't appear to be any odd misses or issues, save perhaps for a very slight difference in stitching angle on the underside of one of the band loops. Perhaps this is the quality control issue I assumed earlier.
All this to say, this Infinity Loop premium leather Watch band is sublime. The leather is buttery smooth and patinas beautifully. The off-white stitching is my favourite watch band look, period, across all smartwatches and mechanical watches. And the burnished edges remind me heavily of those early-Apple Watch days when Apple actually made nice Watch bands.
If quality leather Watch bands are what you're looking for, the leather here may well be the best of the best.
The Buckle and Connectors
You can quickly tell if you've purchased a third-party Watch band and it isn't using genuine materials: If the Watch band connectors don't fluidly slide into the Apple Watch itself, you can bet the producer chintsed and went away from genuine options.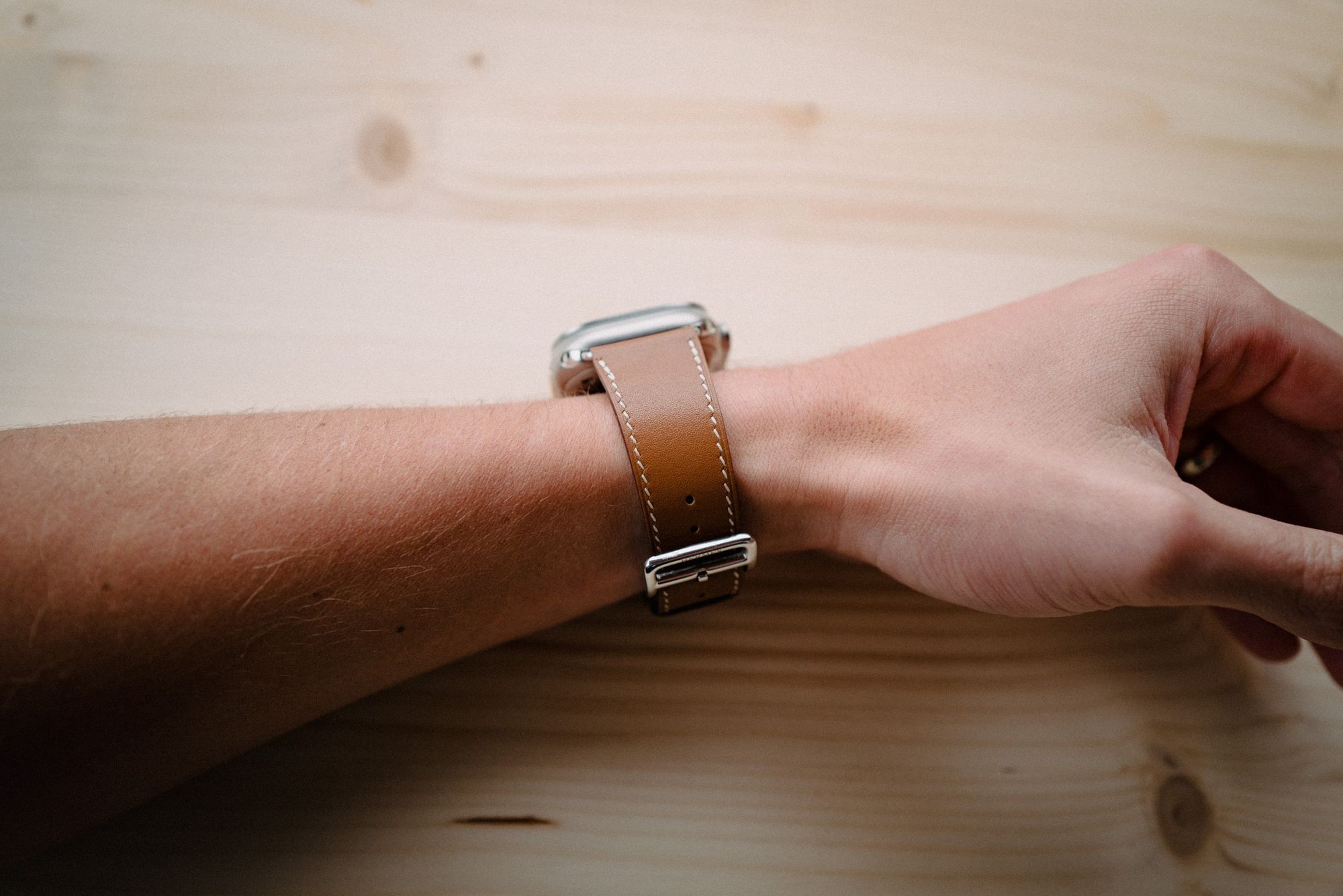 This has been perhaps the biggest difference between the SANDMARC leather band I reviewed a few months ago and this new Infinity Loops premium Watch band — the connectors are night and day different. One band, sliding the connector into the Watch band produces a scratchy feeling where I start to worry about the Apple Watch itself. The other band, sliding in feels like someone dabbed some oil in the process. You can instantly feel the Infinity Loop band has genuine Apple Watch connectors.
The connectors are of the shiny variety, clearly meant for stainless steel Apple Watches. There's zero chance anyone notices this difference with the titanium-bodied Watch Ultra unless they're looking to be picky.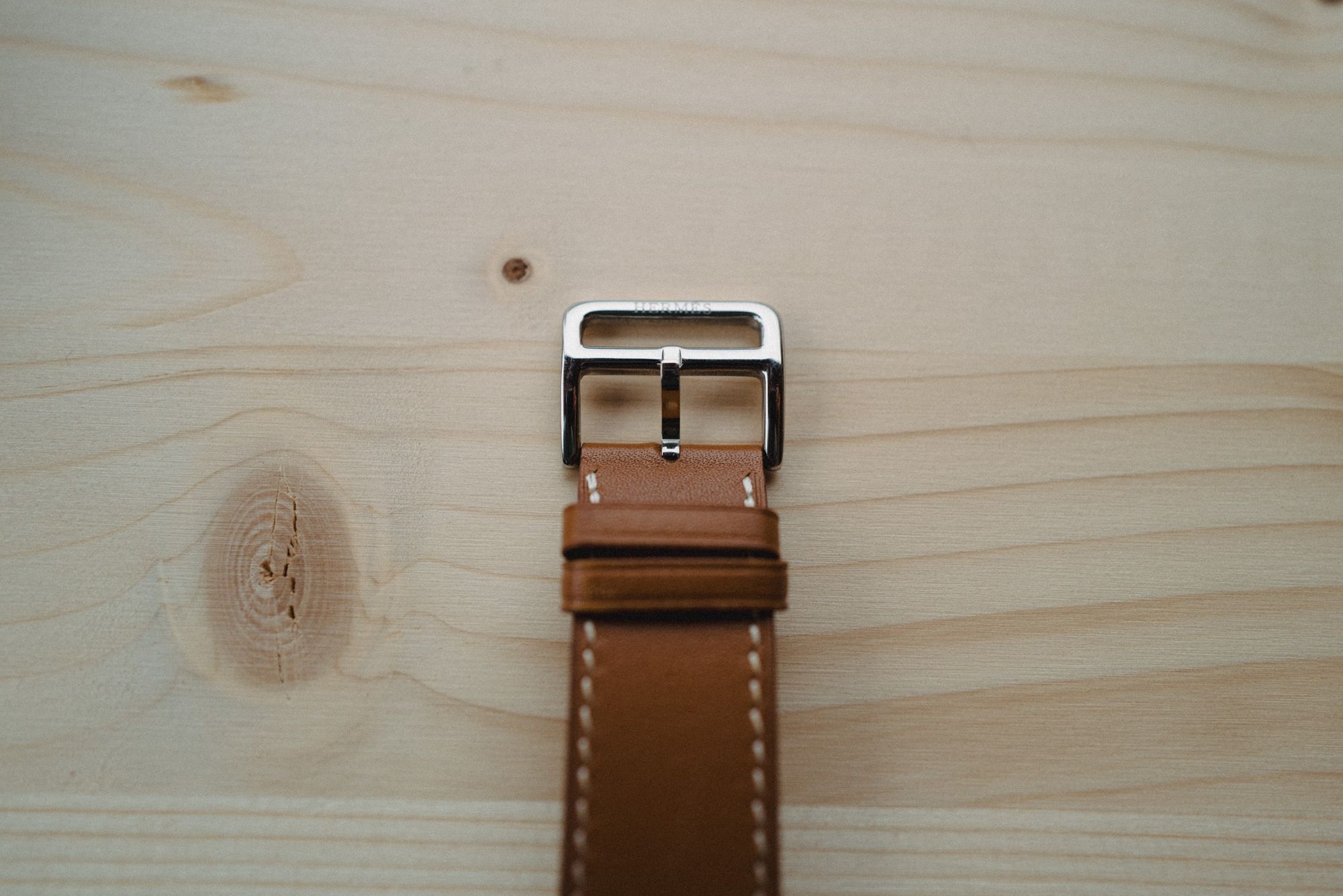 The buckle is the same story. The buckle moves back and forth freely with no major points of friction with the leather. The buckle is also noticeable in weight — not so noticeable that I would consider it "heavy", but noticeable in that it isn't a featherweight that would cause you to question the material selection.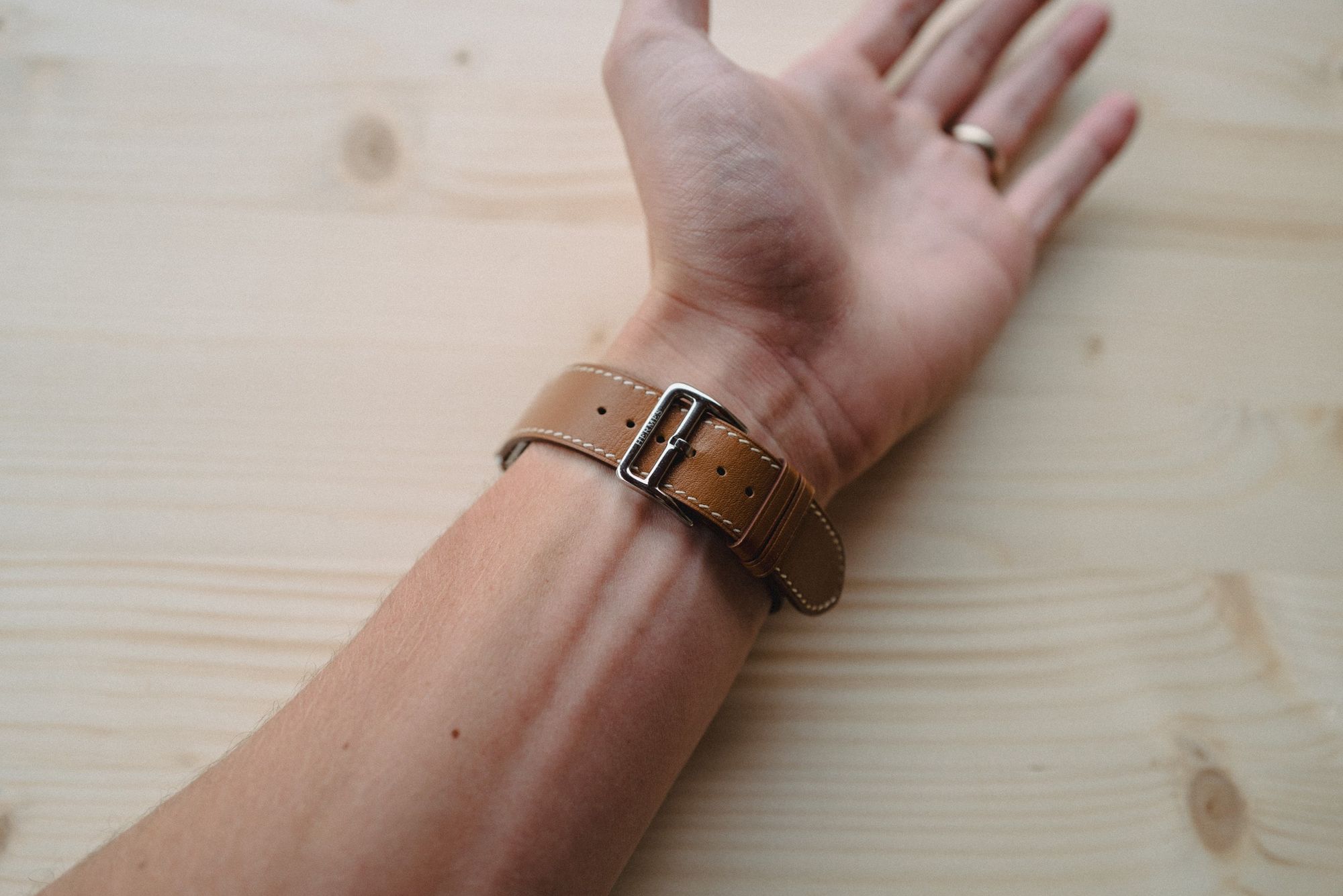 Like the leather, every metallic element of the Infinity Loop Watch band is of the highest quality and finish. If judging on material quality alone, I'm left wondering if this Watch band isn't too good to be true.
In Use
As time continues to pass and as smartwatches continue to entrench themselves as the norm, so too does that sense of Apple Watch style. Now, I'm no watch connoisseur or a bespoke men's stylist. I know a few things, like that double-breasted sport jackets are suddenly back in style, or the difference between an Italian-cut and an American-cut jacket, or when to wear navy shoes. I think watch — and Watch — bands certainly fall in this category somewhere.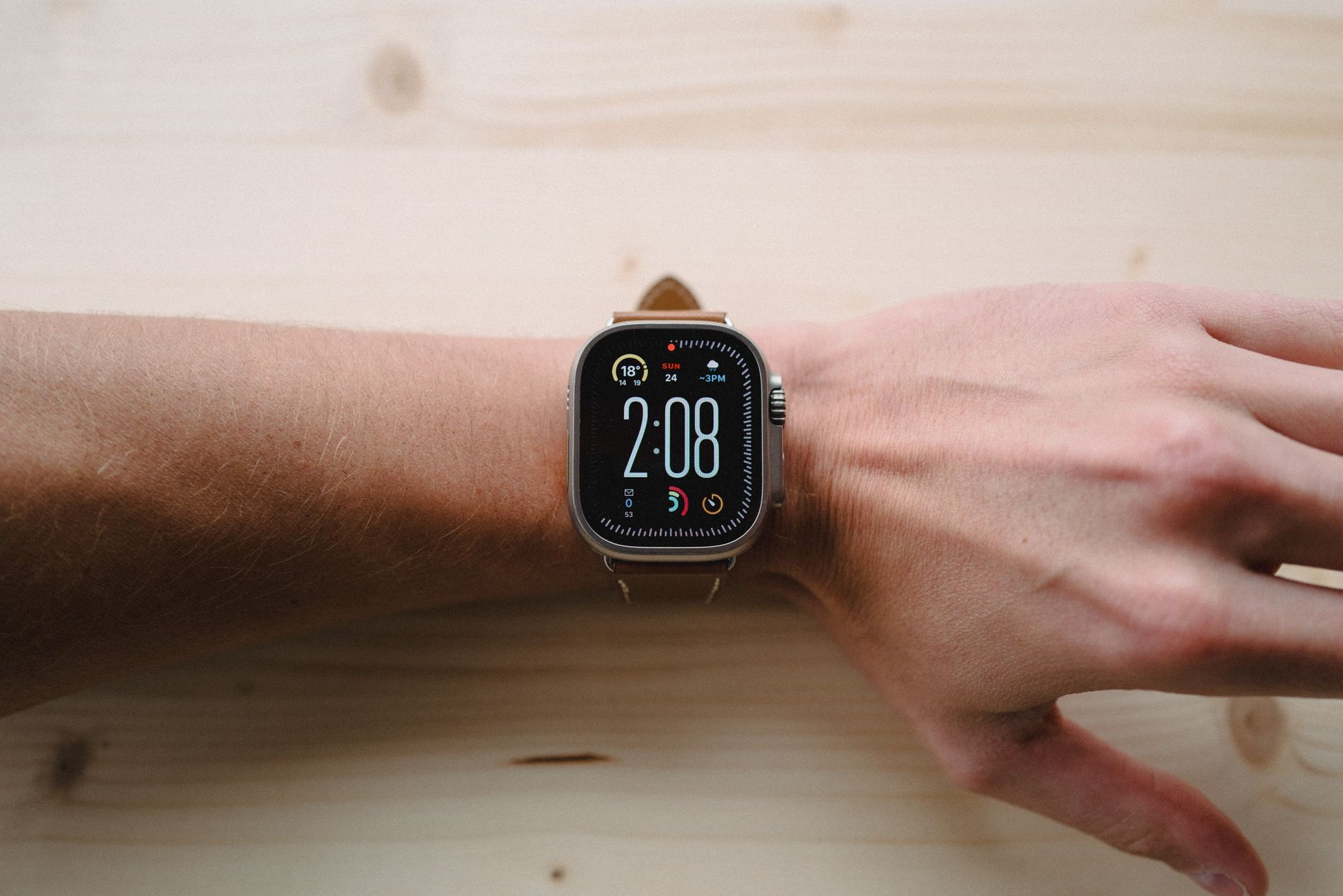 The Infinity Loop Premium Leather Watch band ups the Apple Watch ante at least three or four notches. The brown leather band should be worn with a brown belt and brown shoes, though you can likely get away with a slightly different off-brown shoe in all likelihood. You can also wear this band casually, with a nice polo shirt, shorts, and loafers. You can likely also wear it with a properly fitting t-shirt, jeans, and casual jacket for drinks.
You probably shouldn't wear it with a suit to a wedding, and you should never wear it with a black suit, period. You probably also shouldn't wear this while working out, or when golfing, or when doing anything physical. Not that you can't in these scenarios, but it's best to keep the leather looking better for longer by keeping it relatively sweat-free.
Other than these few scenarios though, this Apple Watch band from Infinity Loops can be worn almost anywhere. It's the most versatile Apple Watch band I own.
I do think the band would go better with the Stainless Steel Series Apple Watch, mind you. It certainly works with the Watch Ultra, but this band is dressy enough that you should be going with a slimmer Watch more of the time. This screams "everyday office attire" more than it does "going for a rugged hike" — the latter of which is more aligned with the Apple Watch Ultra.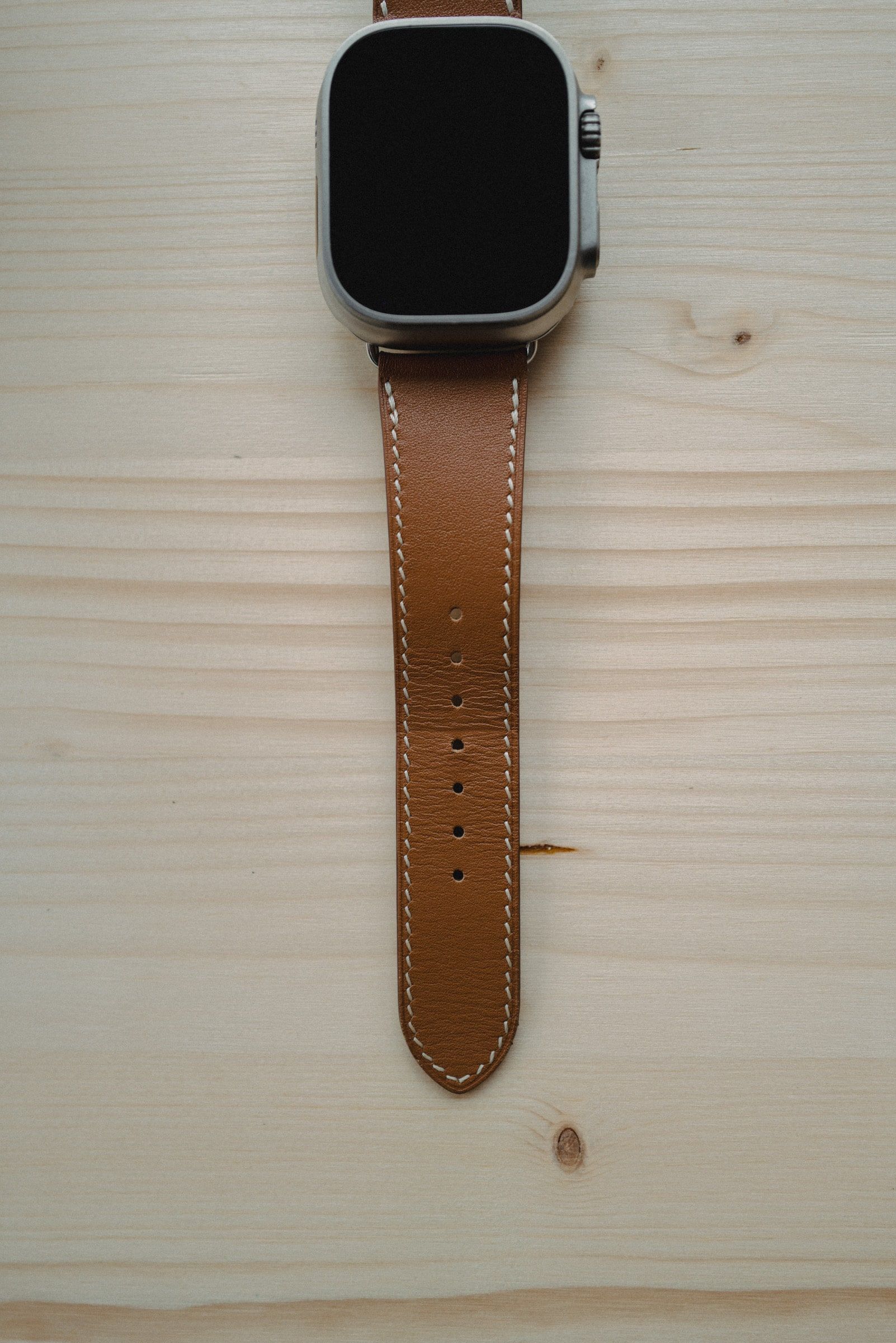 On a durability front, I've worked with the Infinity Loop Premium Leather Band in a few different scenarios, from office environment to cutting the grass to family travel. I've gotten the band wet (but not too wet), though I've obviously never jumped in the hot tub with it. Again, it works best in an office environment where it fits in stylishly. It does a great a job breathing when you undergo some physical activity or when your body temperature heats up and your wrist expands slightly. I think if I were travelling, I'd bring this band along as a separate option for nights out and for more stylish events. It's just a tad too nice to be an all-day, every-single-day, no-matter-the-circumstance sort of Watch band.
Wrap Up
The Honeymoon Suite Premium Leather Watch Band from Infinity Loops feels like a cheat code. This band provides all the niceties of the very best leather band you can find on the internet today for an absolute fraction of the price. Regular Hermès bands retail for $430 CAD. The Infinity Loop, for about $130 CAD ($99 USD). That's about 1/4 of the price for the whole ball of wax.
Now I can't tell anyone I purchased an actual Hermès band. Which is perhaps the entire purpose of that extra $300. If I were to say that, I'd actually be cheating.
But given the poor leather band options available for the Apple Watch Series and Ultra Watches, I stand by this Infinity Loops option being a cheat code. You come away with the best leather Watch band on the market for a down-to-earth price and you can wear the band in a vast array of daily life scenarios. It's win-win-win.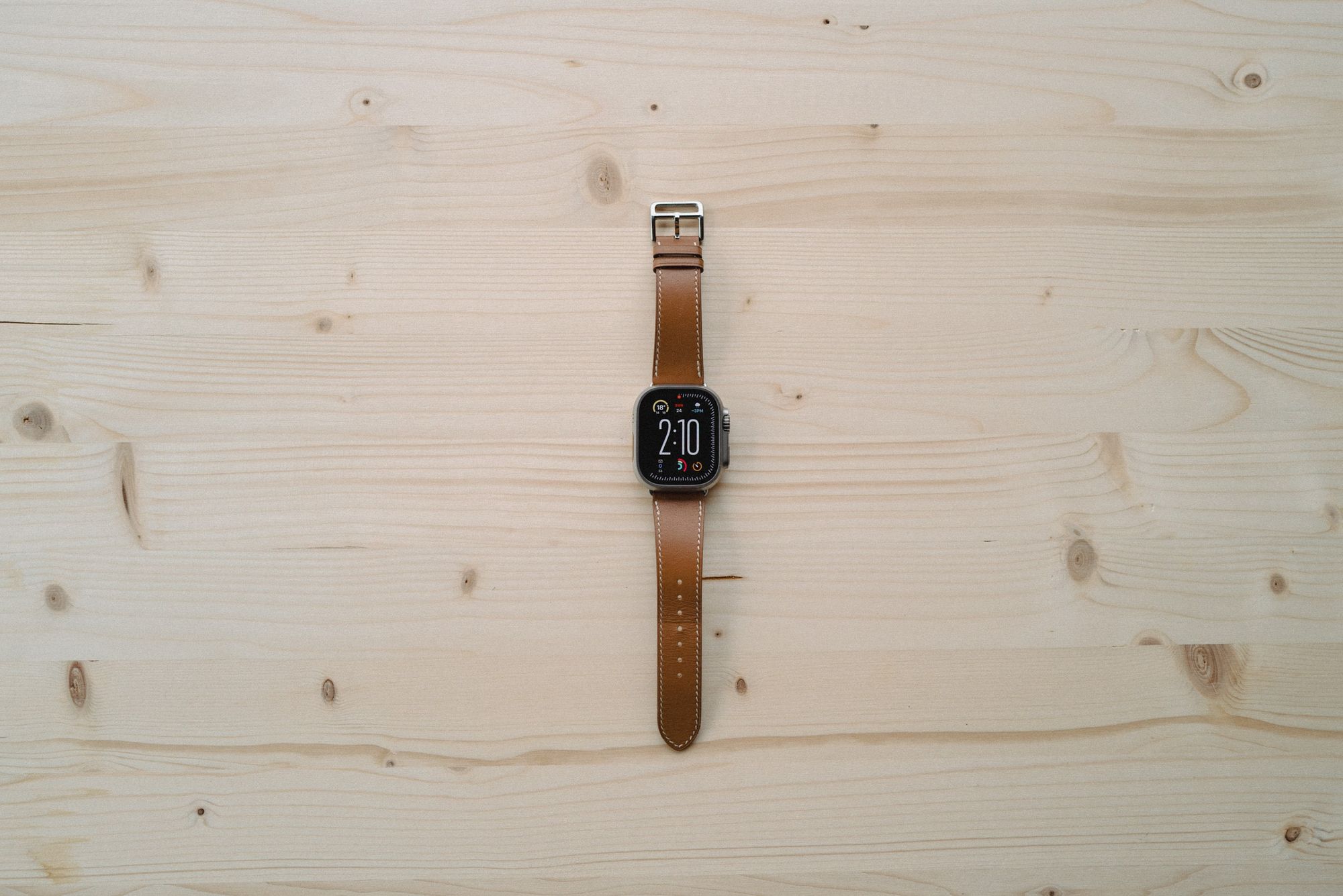 I think the only real consideration now is whether you should load up on as many of these Infinity Loops bands as you can before we can no longer get them or before Apple goes ahead and changes the Watch connector. Based on rumours, the current Watch connector is likely to stay for at least another year, ensuring any Infinity Loop purchase is sure to make you happy for at least a few years to come.
Infinity Loops sent me this Apple Watch band free of charge for purposes of review. I've worked as hard as I can to ensure I provide an honest review. In fact, I'm thinking I'll be ordering a grey and black Infinity Loop band here shortly. I'm attempting to put my money where my mouth is.