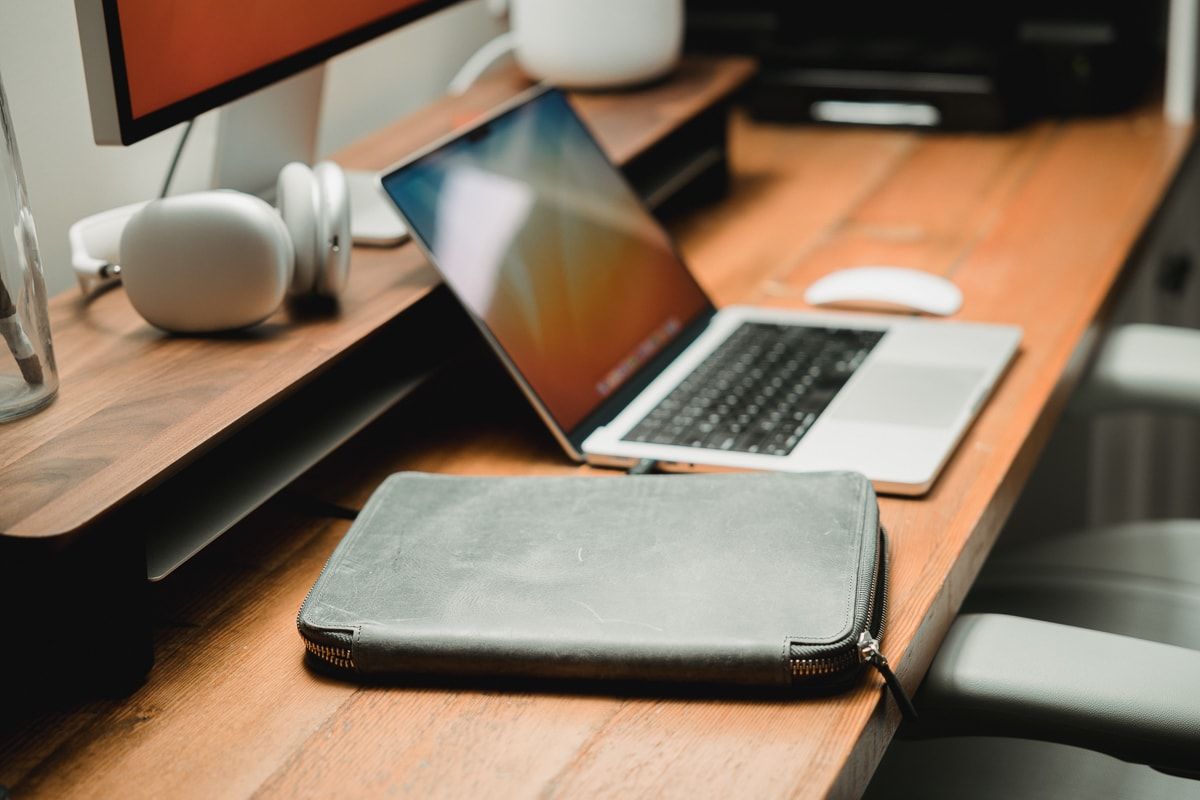 I've had the chance to try out a couple folios over the last few years. They've never ended up sticking. To me, folios are best suited for toting oft-used items between home, office, and on-site. They provide instant access to trinkets like business cards and pens, a pad of paper, and perhaps the mail you need to bring to the office.
What they don't tend to do is become part of my everyday carry. And it's usually because they aren't able to carry enough stuff.
I admit, I carry more stuff than I rightly should back and forth between the office and home. I tote my MacBook Pro, AirPods Max, Plotter notebook, and a few pens and cables to and from the office. They all fit nicely inside the Bellroy messenger bag I received years ago, which all fits nicely in the front seat of the car I drive to work most mornings (in the summer, I have the same carry, but inside a Côte et Ciel bag Jaclyn and I purchased years ago as I ride my bike to work more often).
Putting a folio inside a messenger bag is double trouble. It doesn't make a ton of sense in my mind to stuff things inside something that's just going to be stuffed inside something else.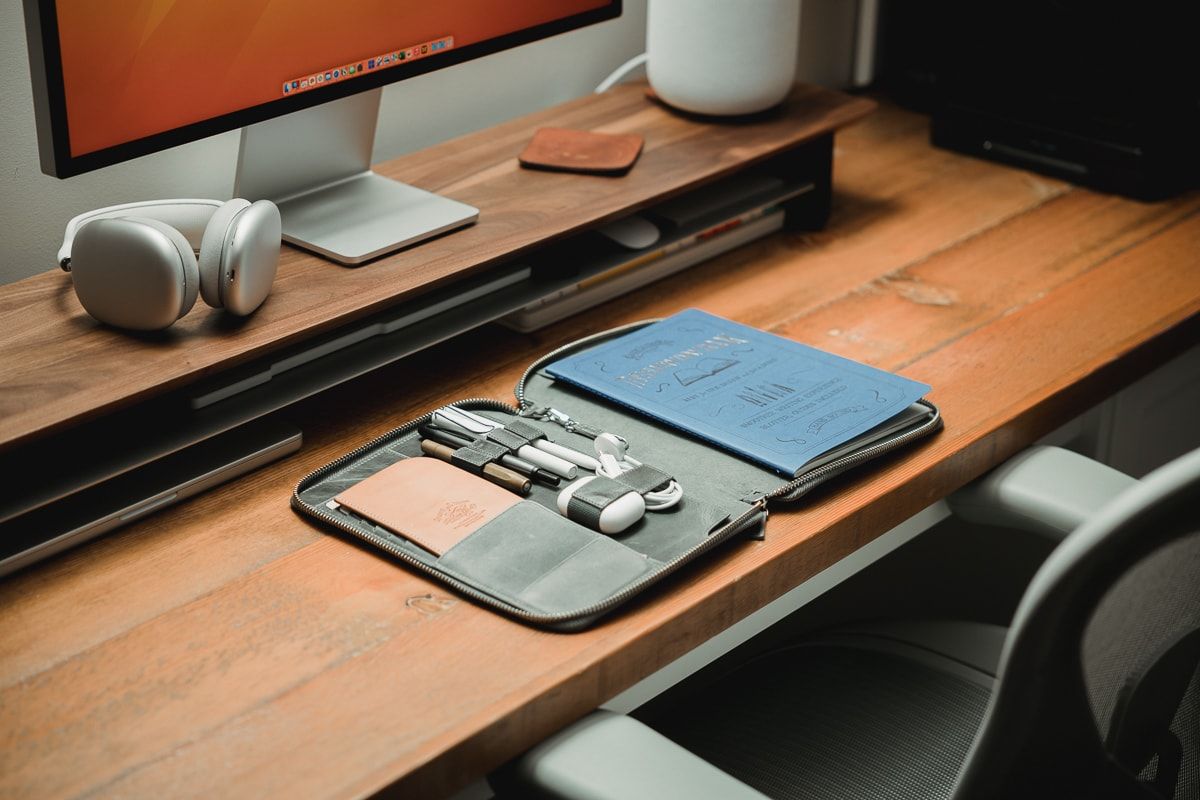 So all in all, folios end up being more of a thing I take with to a client's office or into an off-site meeting. If it's simply between home and the office — which is most of the travel I do — then the folio gets left behind.
Right off the bat, the Galen Leather Zip Folio had its back up against the wall. I had tried my share of folios and none of them ever stuck. And ultimately, I don't think the Galen Leather Zip Folio is going to become my everyday carry either.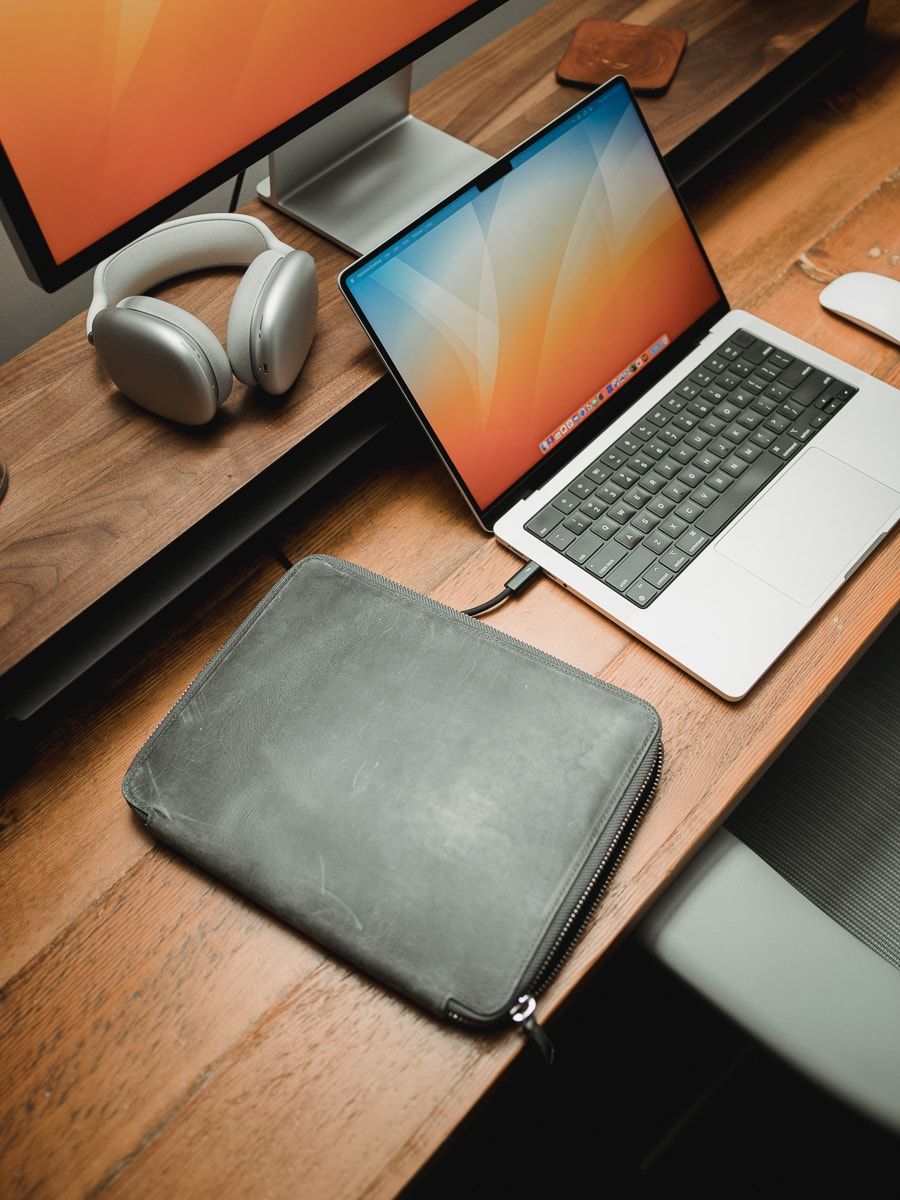 But if I keep the Galen Leather Folio nestled inside the folio category in my life, then it's going to become the most used folio I've ever received. The Galen Leather Zip Folio — this one is a B5 extra-large size — is a wonderful tool for carrying a nice writing pad, various business credit cards or business cards, a couple pens, one or two wound cables, your keys, and some mail.
It's a near perfect version of a folio I'd want to take into a client's office.
Leather, Build, and Organization Features
I had to do a double-take when I saw the B5 Zip Folio's purchase price on the Galen Leather site. At $200, this isn't a cheap folio, but it is also much less expensive than other folios you'll find on other sites. I've reviewed more expensive folios by a mile — specifically, the Bellroy Work Folio — and the Galen Leather Zip Folio feels better made for a third of the price.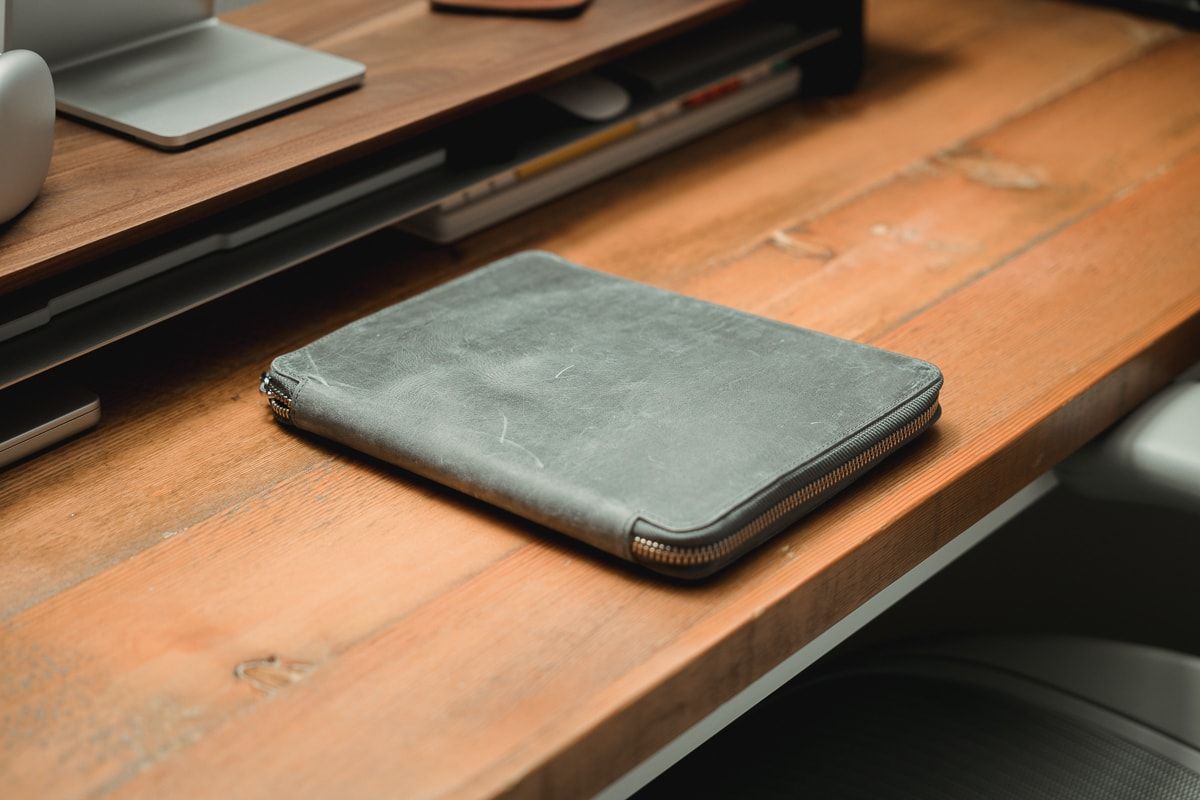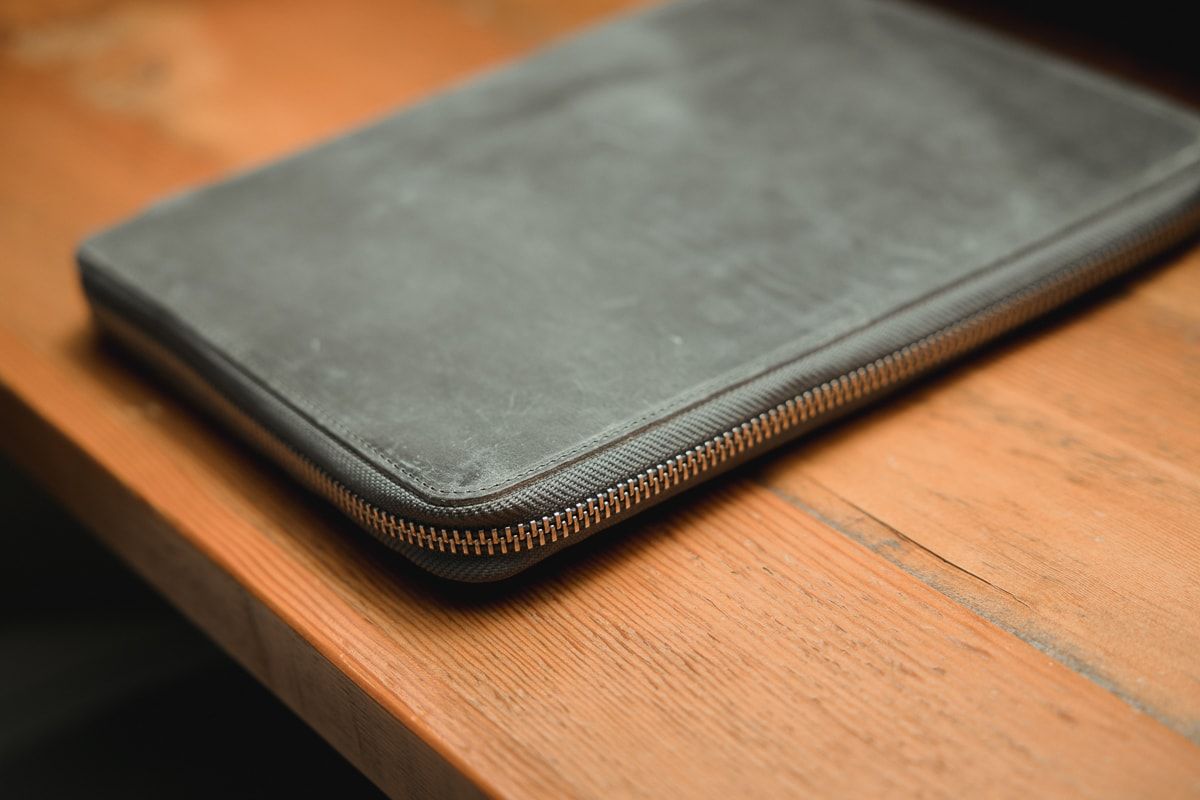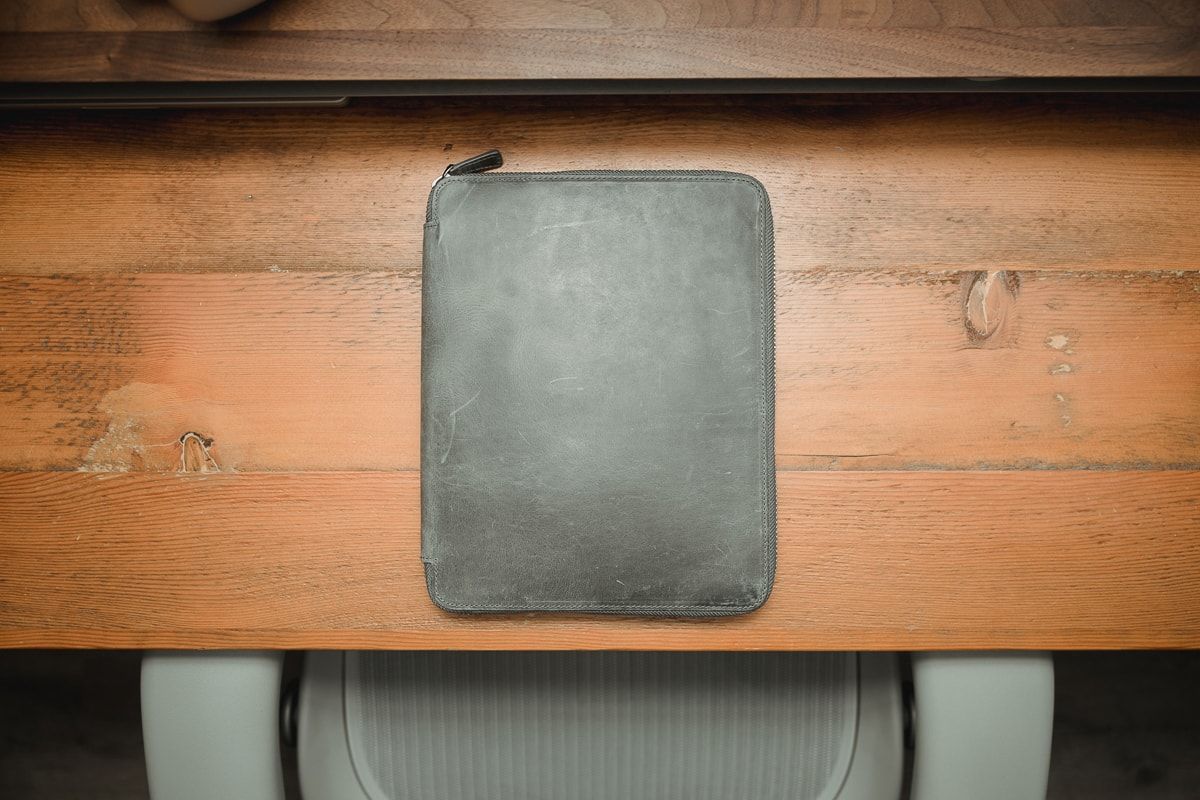 One of my favourite pieces of the Galen Leather Zip Folio is the flat back and front. There's no puffiness to the leather covers; it feels flat, firm, and smooth, ensuring any writing you do inside the folio is provided a more solid surface.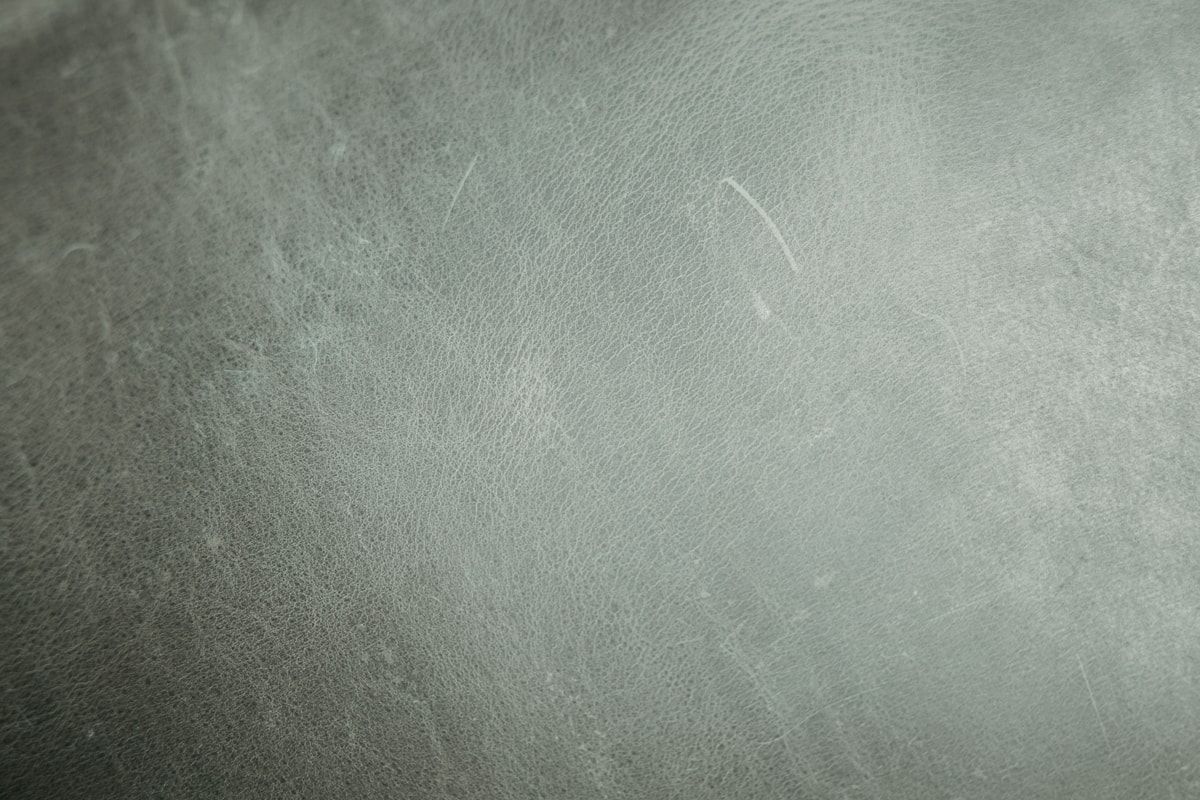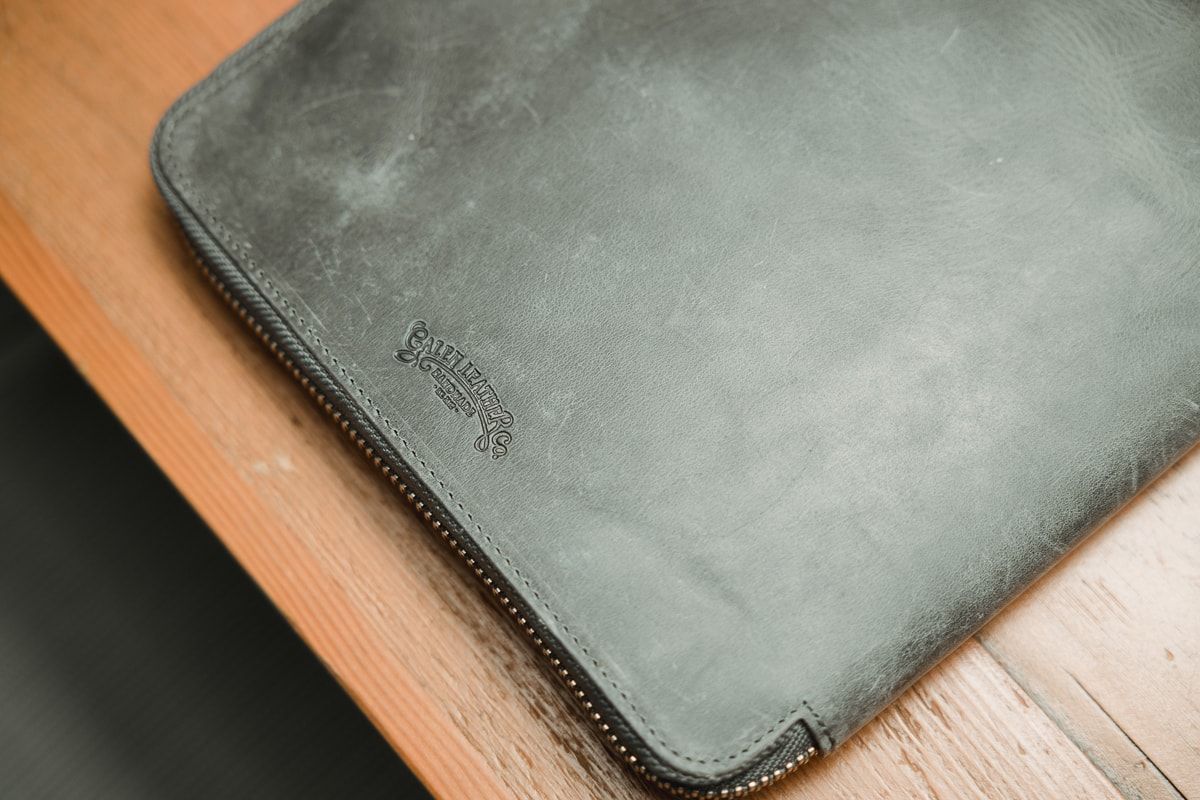 This leather is firm. Really firm. And I have all sorts of leather around to compare:
Compared to the Traveler's Notebook: Zip Folio has less flex, feels smother, but feels slightly thinner.
Compared to Plotter with Liscio leather: Plotter is significantly more flexible; the Plotter also smells better, has about the same thickness as the Zip Folio, but feels of higher quality than the Zip Folio as well.
Compared to any Bible goat leather: Goat leather is on the ultra-flexible and ultra-soft end of the spectrum, whereas the Zip Folio is on the ultra-firm, ultra-sturdy opposite end of the spectrum. Of course, one is goat leather and the other cow leather.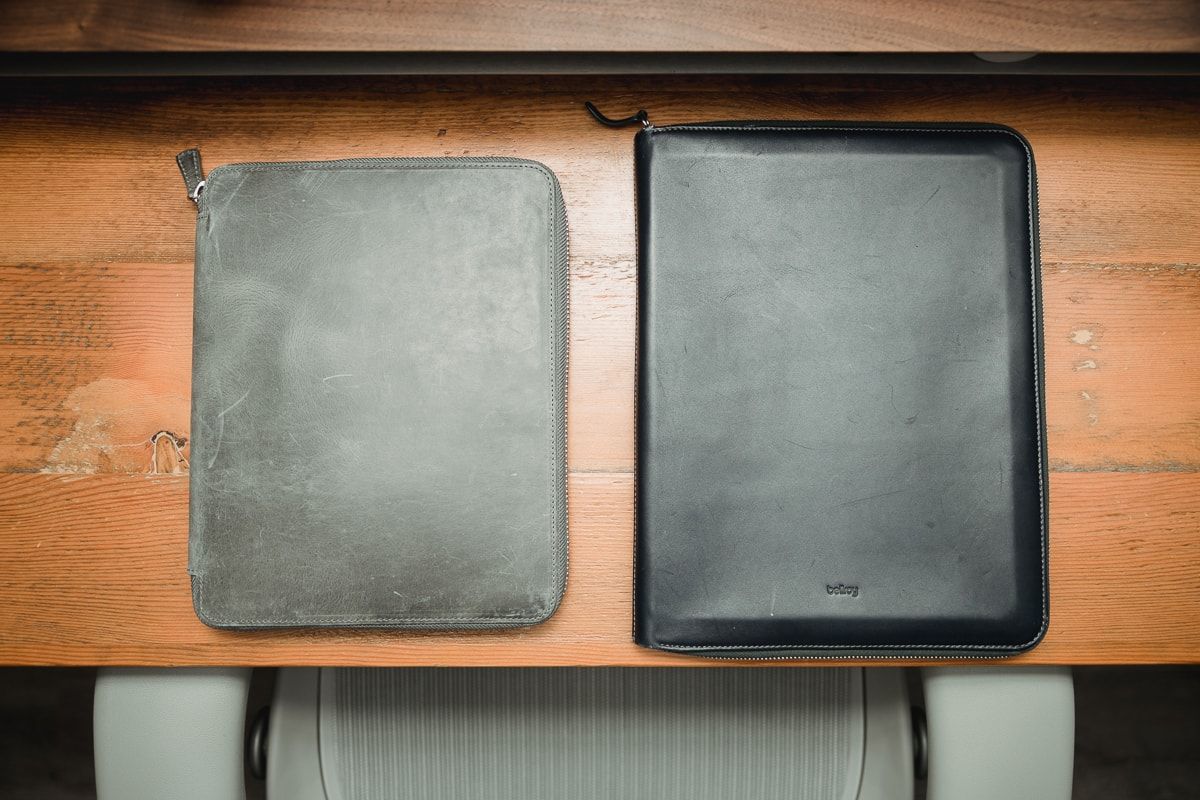 Compared to the Bellroy Work Folio: The differences here are more nuanced, but Bellroy's leather is slightly softer to the touch with slightly more friction. It's softer and more flexible. The Zip Folio is sturdier again, smoother again, and for whatever reason, the Zip Folio feels heavier and beefier despite the difference in size between the Work Folio's A5-sizing and the Zip Folio's B5 sizing.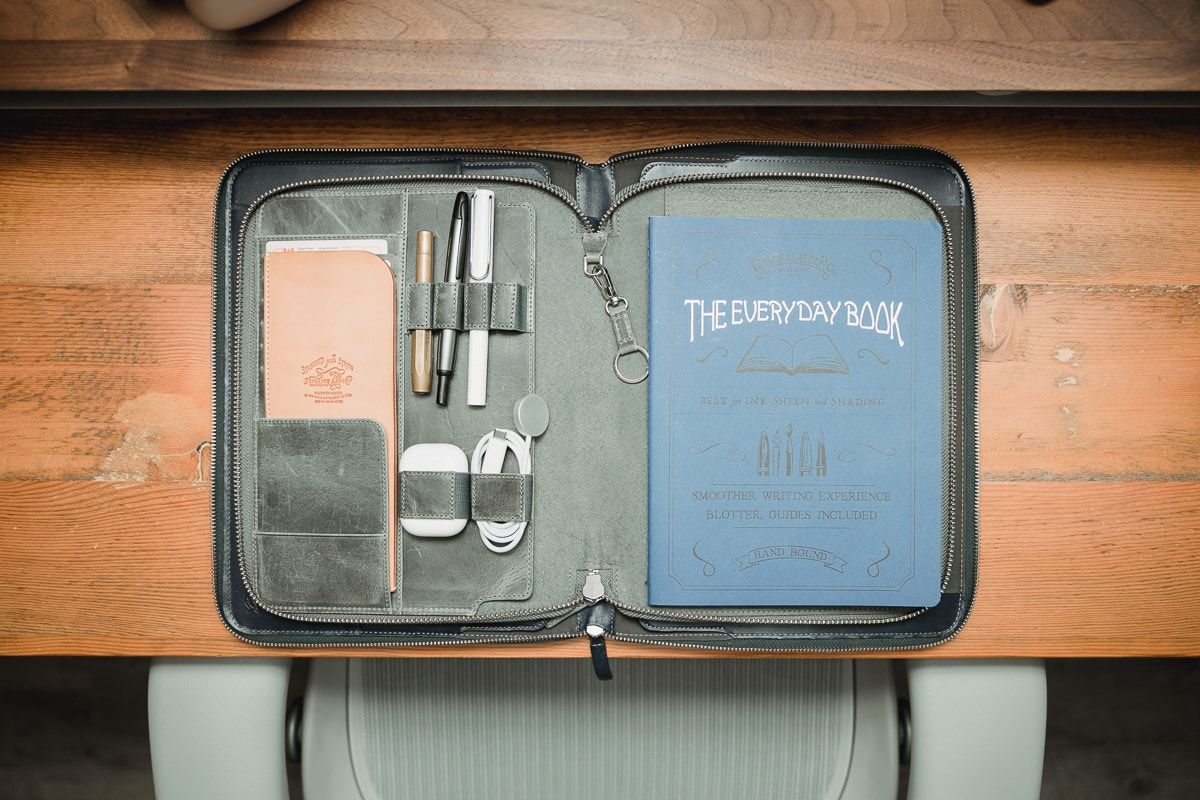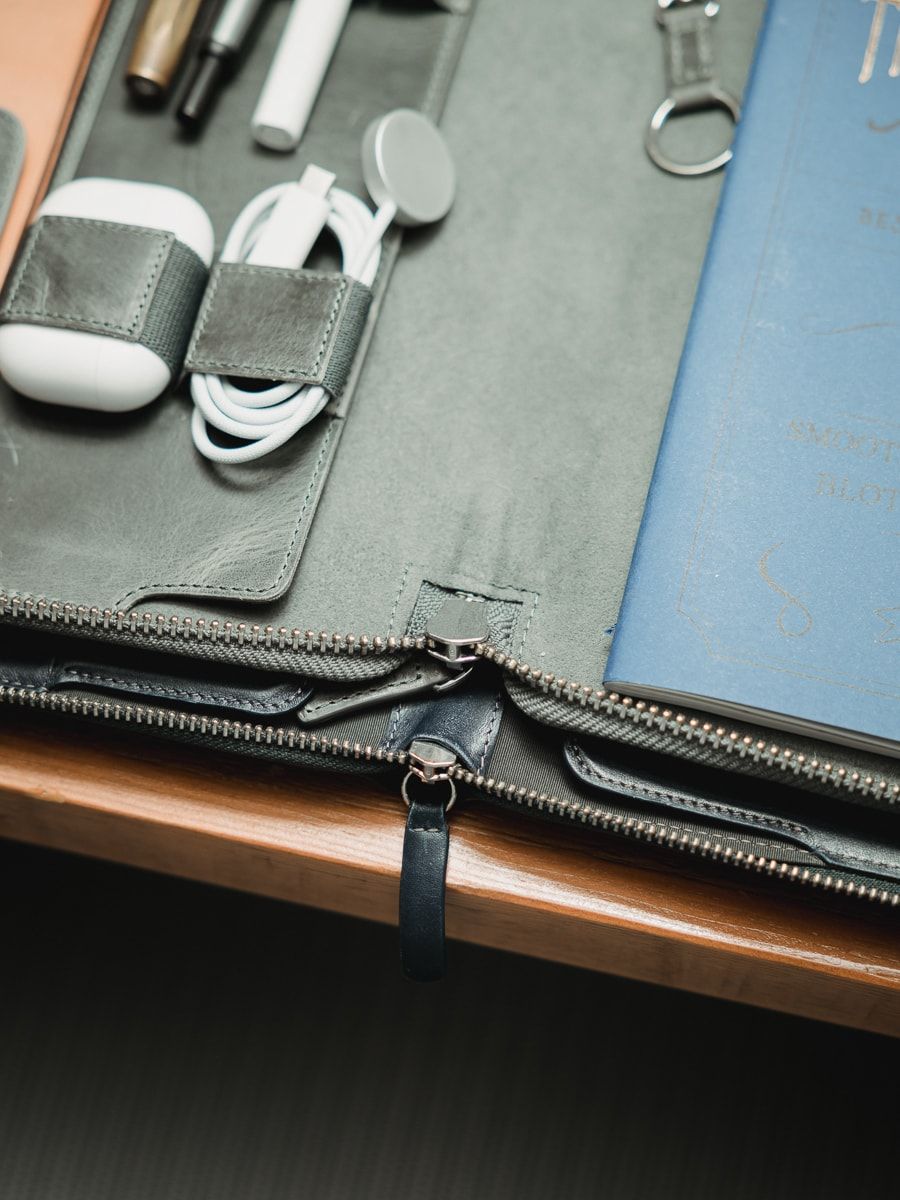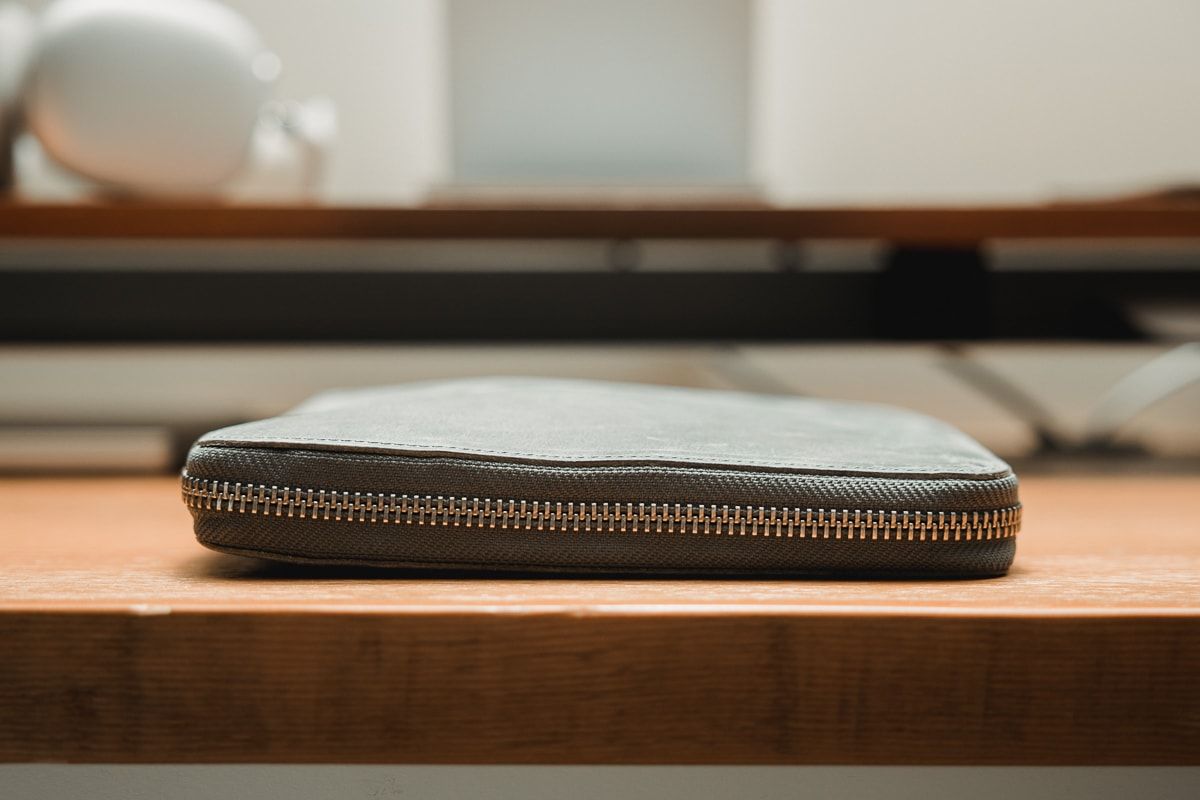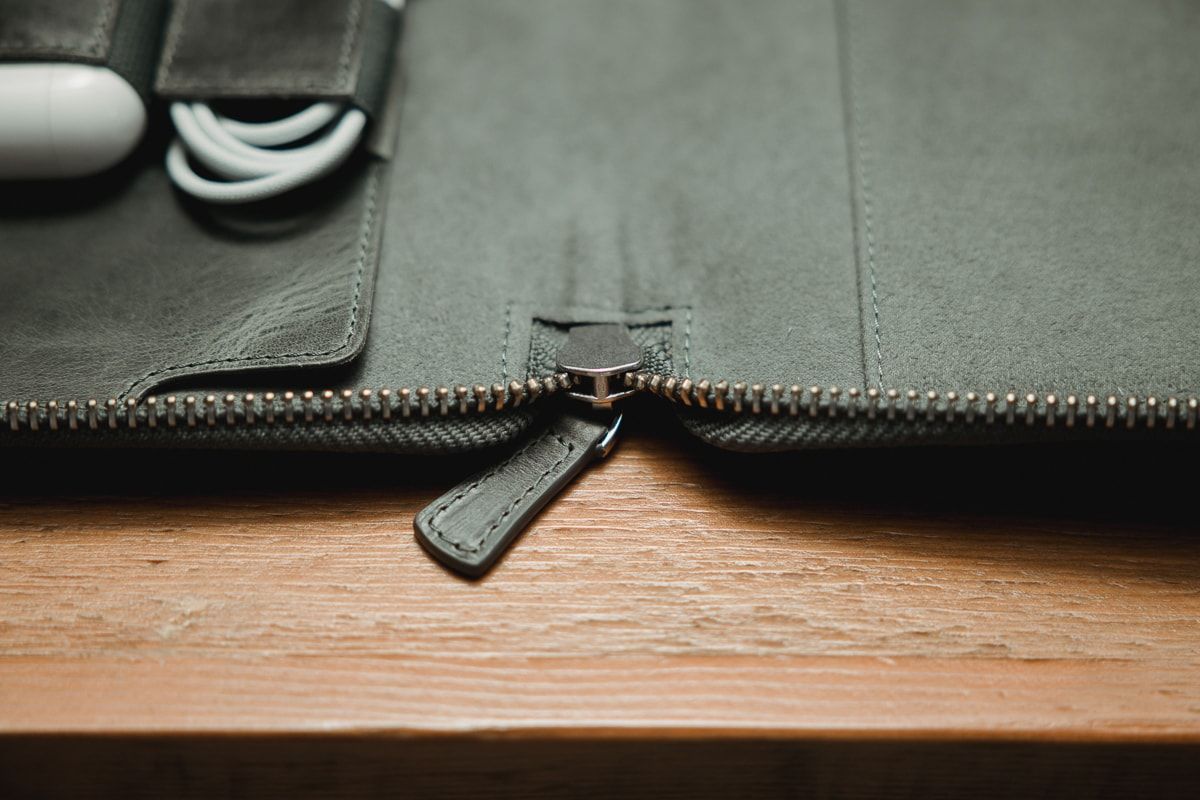 Almost the same words can be spoken about the Bellroy Work Folio's and Galen Leather Zip Folio's zippers — the Work Folio's zipper is more flexible and the Zip Folio's is larger and sturdier. It could be because I've had my Work Folio for longer, but the zipper also tends to catch much more often than the newer Galen Leather zipper. As of this moment, the Galen Leather zipper is one of the unsung qualities of this folio.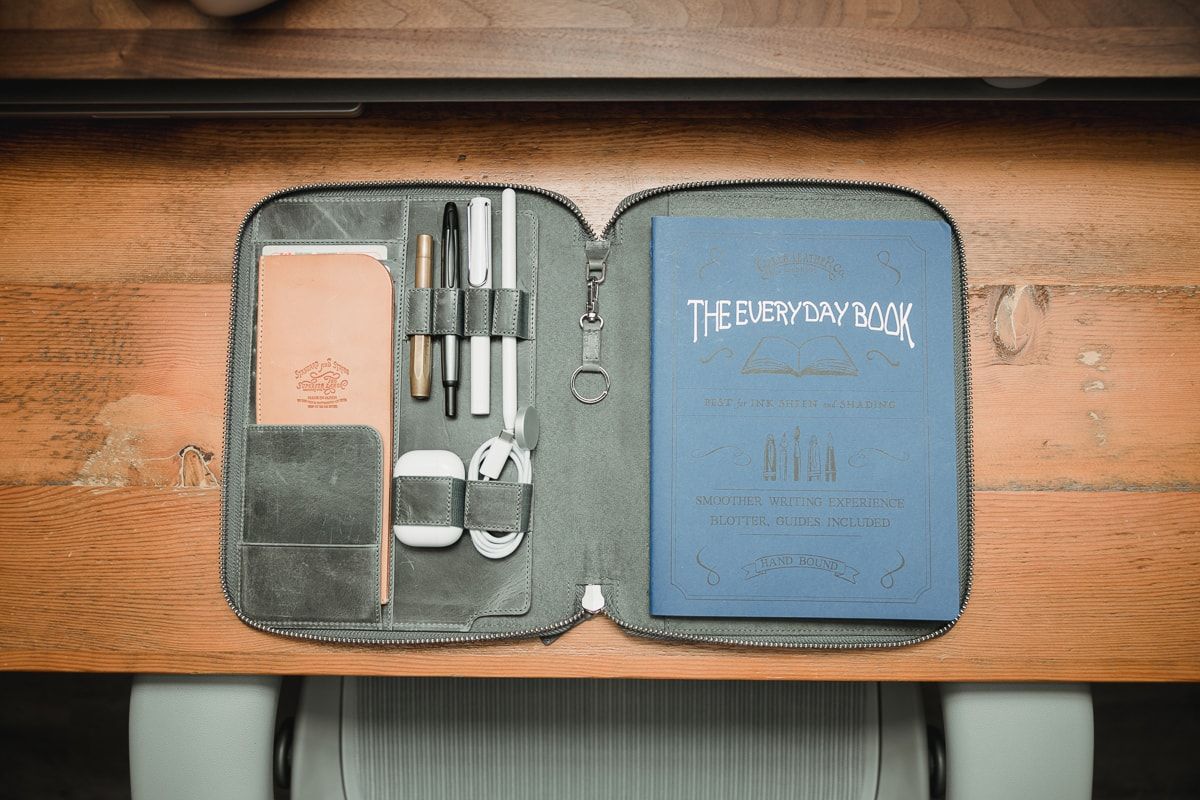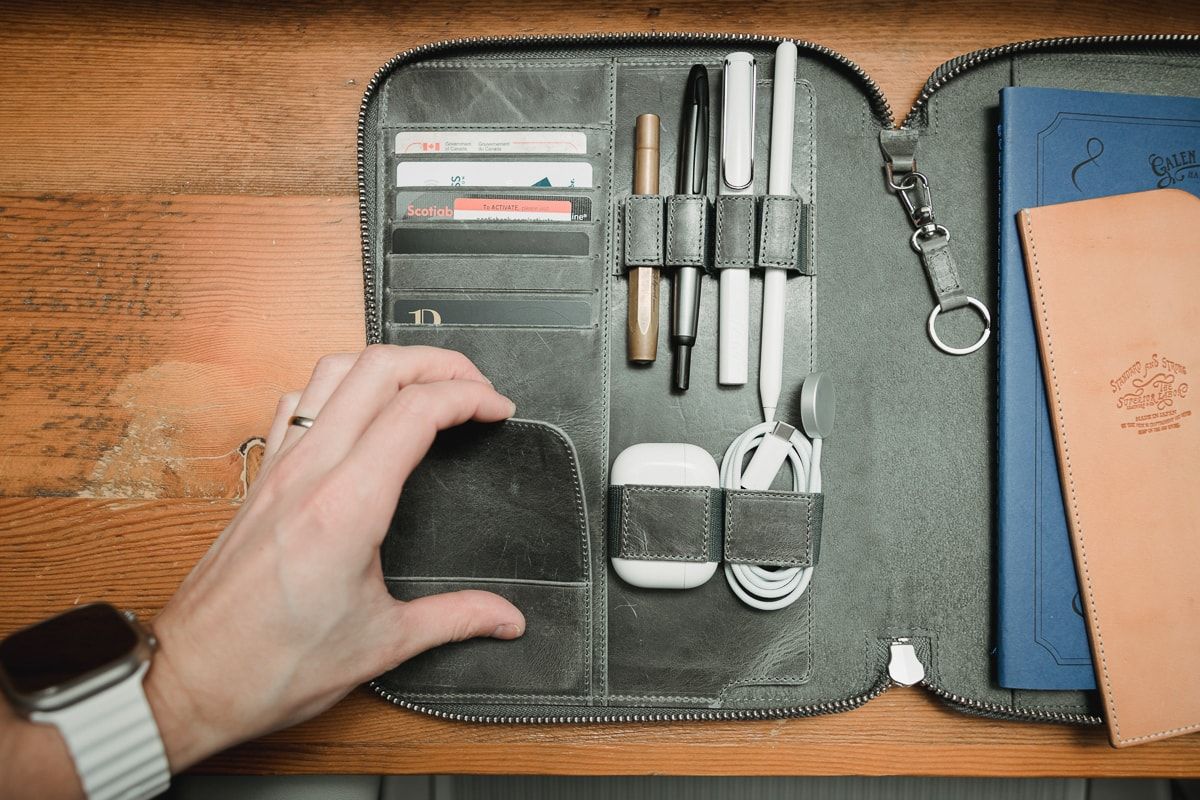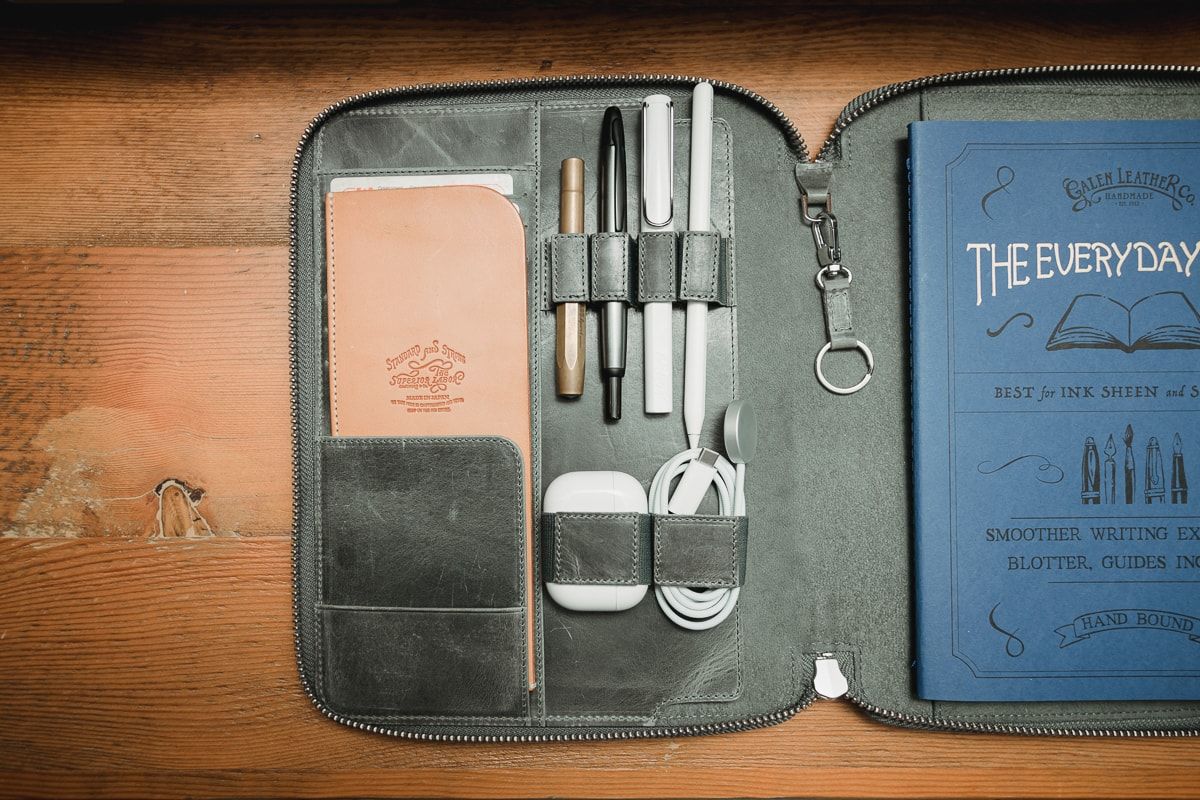 Inside are a smattering of organization options. You have card slots vertically lining the left side with an extra large slot for carrying third-folded paper. This slot is normally for the removable 4-pen slot holder, but I've removed the holder and tend to fold letters and mail into a Superior Labour Leather Folder, which still fits in the extra large slot. It's tight, but it fits.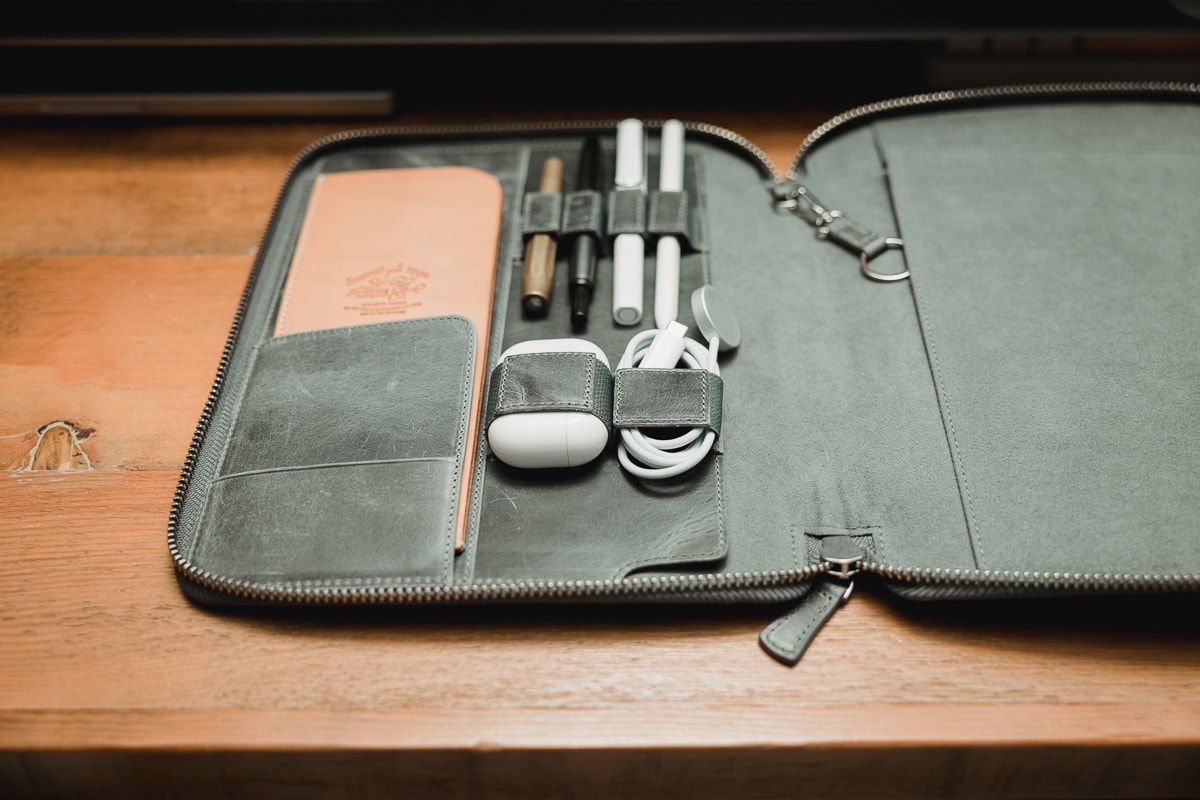 There are four more large pen slots (these are clearly designed for fountain pens, so smaller Bic-pens will just slide right through), two holders for AirPods and cables, and a removable keychain in the middle of the Zip Folio's spine.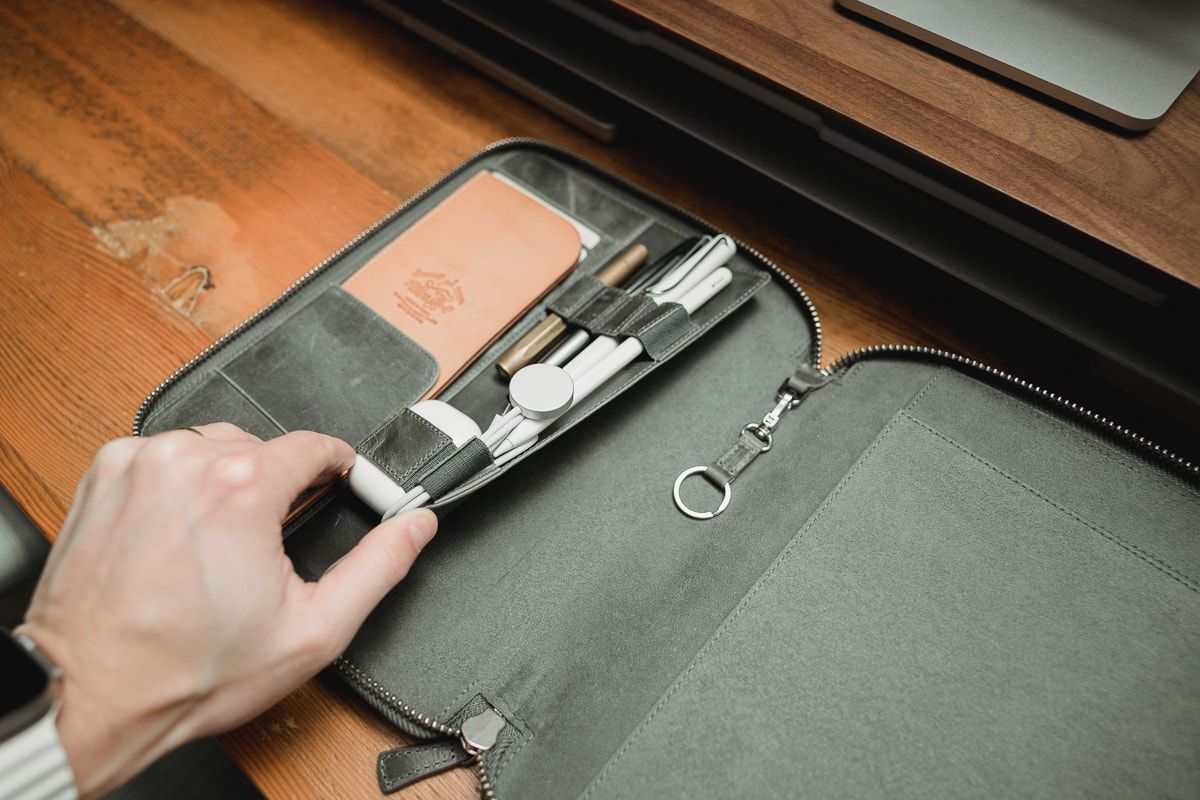 Underneath the left organizational holder is a large slot for holding an iPad. This slot is a bit tight for my 11-inch iPad Pro with an Apple Folio case, but naked the iPad slides right in. I see this working best with an iPad mini.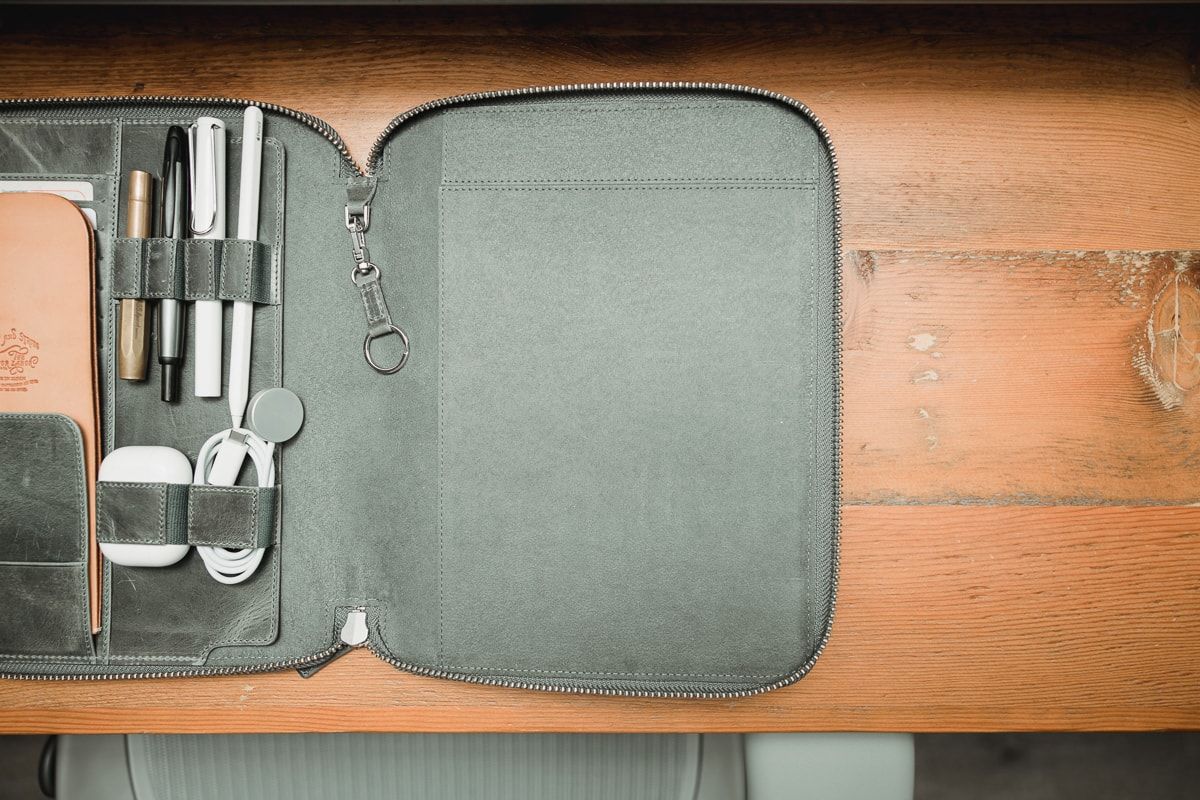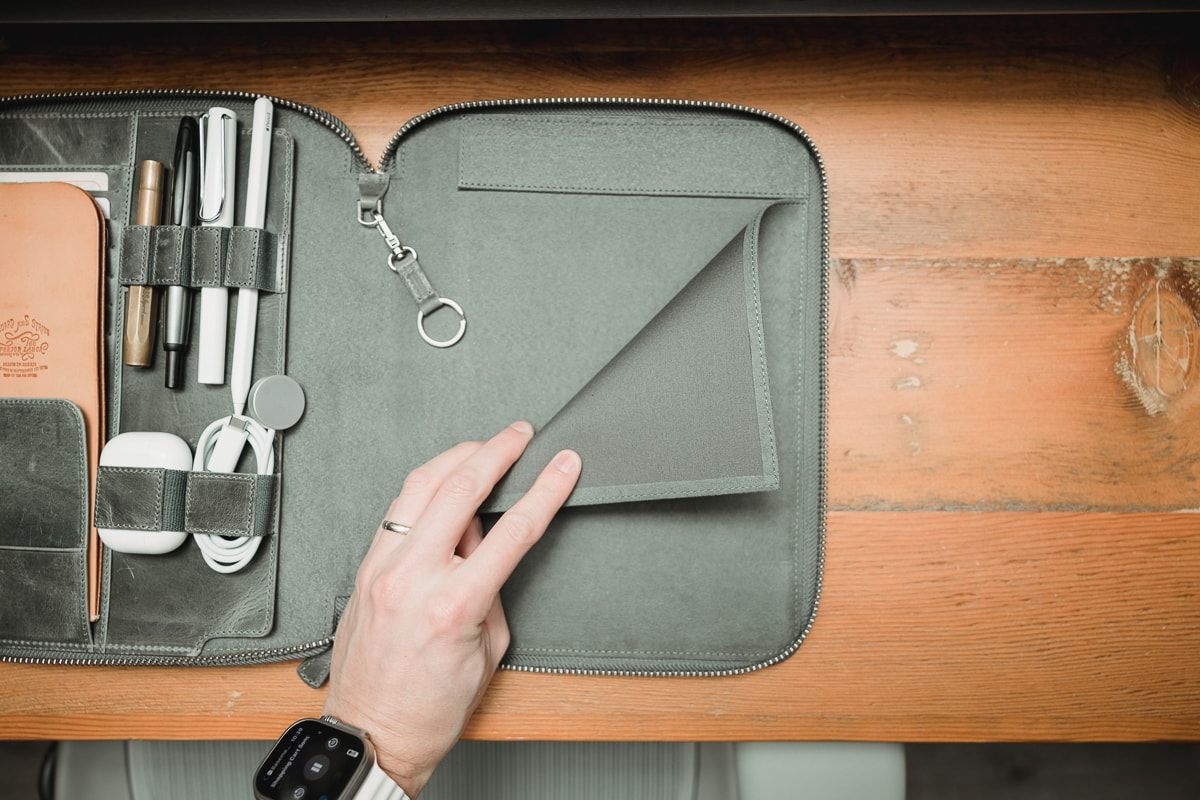 On the right side is a B5 notebook slot, which Galen Leather graciously filled for me with their own B5 Tomoe River Everyday Notebook. I'll discuss the notebook down below. This slot is likely best filled with a paper pad from the likes of Rhodia which allows for writing on the right side only — the Zip Folio's organizational options on the left side hinder any writing on the left side of a notebook, so a letter pad is a much better option.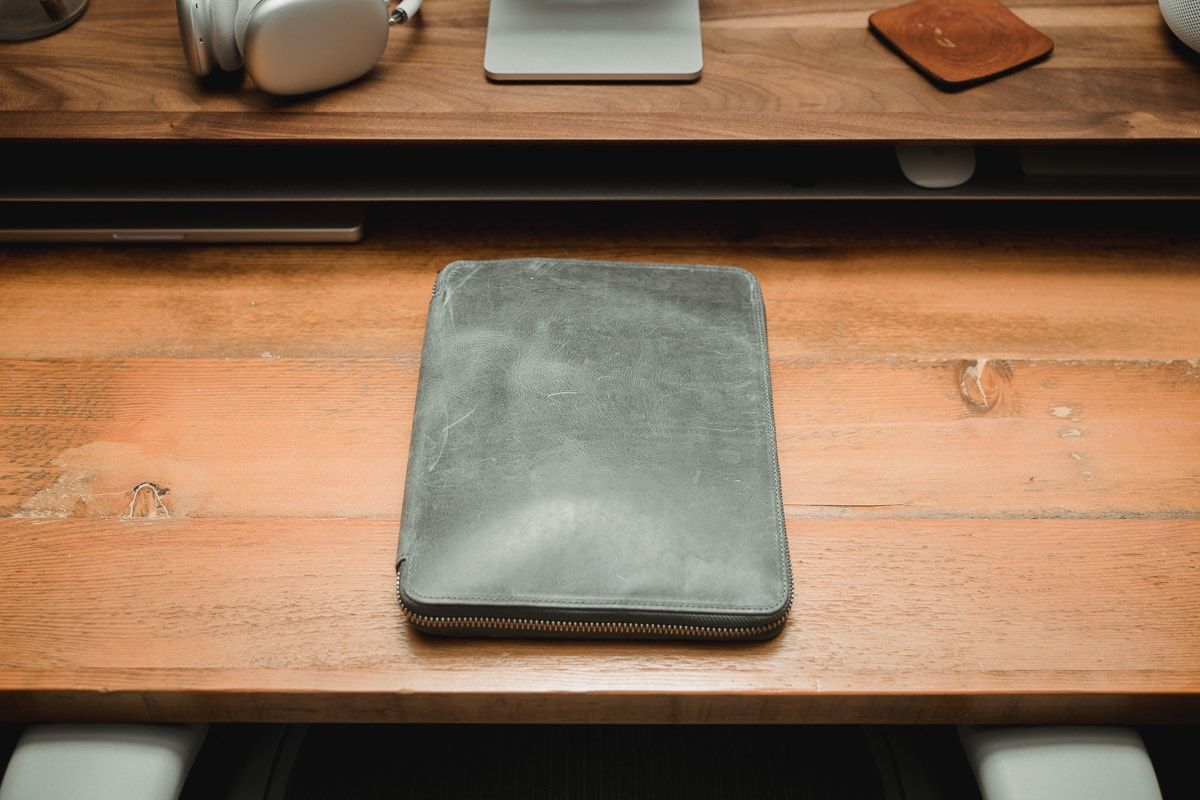 It's clear, even based on Galen Leather's own product photos, the Zip Folio can carry quite a lot and is an ideal candidate for traveling into and out of a client's office.
Miscellaneous Thoughts on the Zip Folio
I have a few anecdotes for using the Galen Leather Zip Folio after a few months.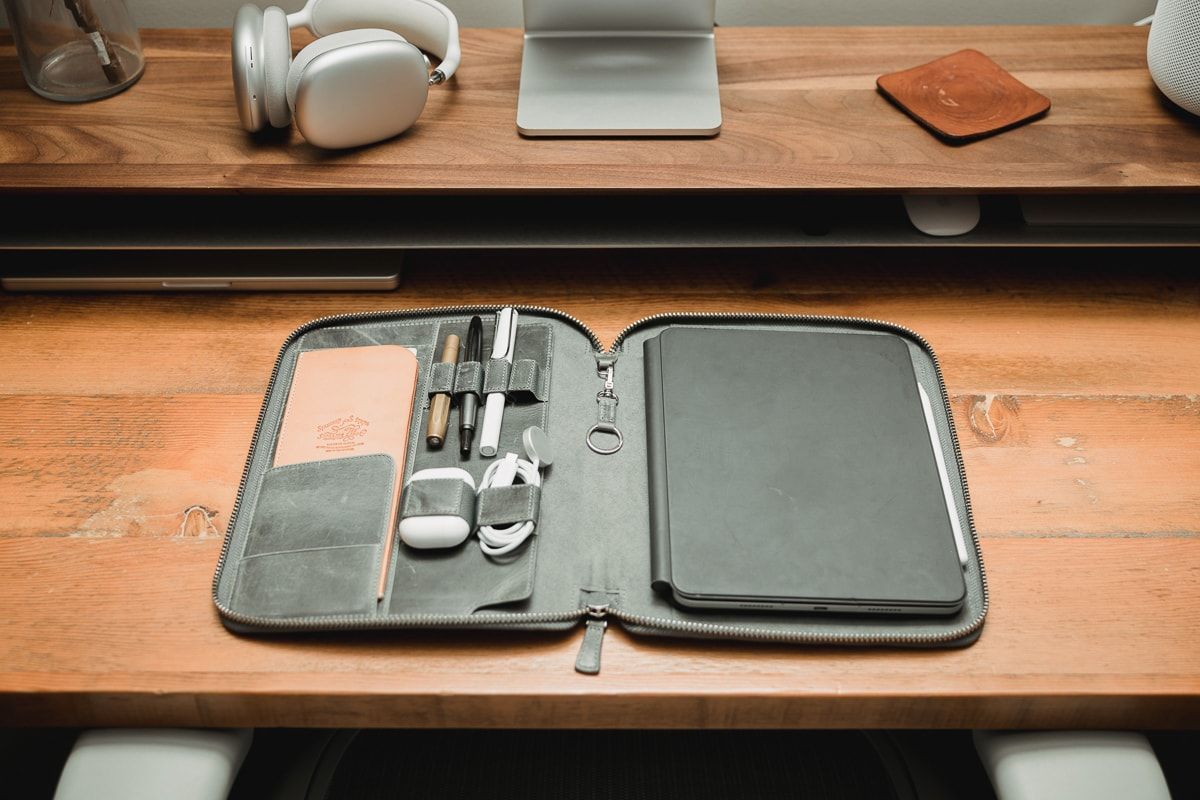 I really appreciate the way the Zip Folio lays flat when open. It lays flat — truly flat. There's no fold-back whatsoever. This is awesome.
I also appreciate the right side's notebook slot being a diagonally-sewn slot rather than sewn on three sides. This makes sliding a notebook in and out of the slot quicker, easier, and incentivizes notebook changes. If you're a paper aficionado, the Zip Folio won't be a headache to work with.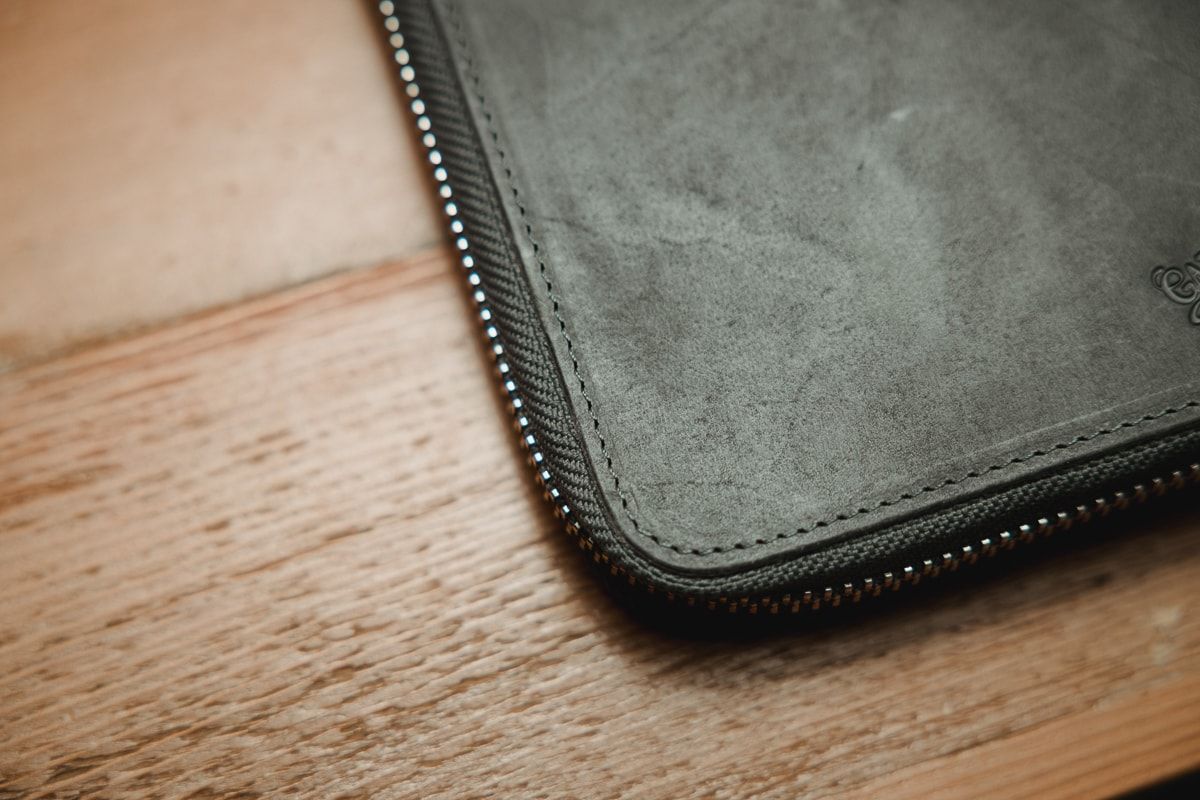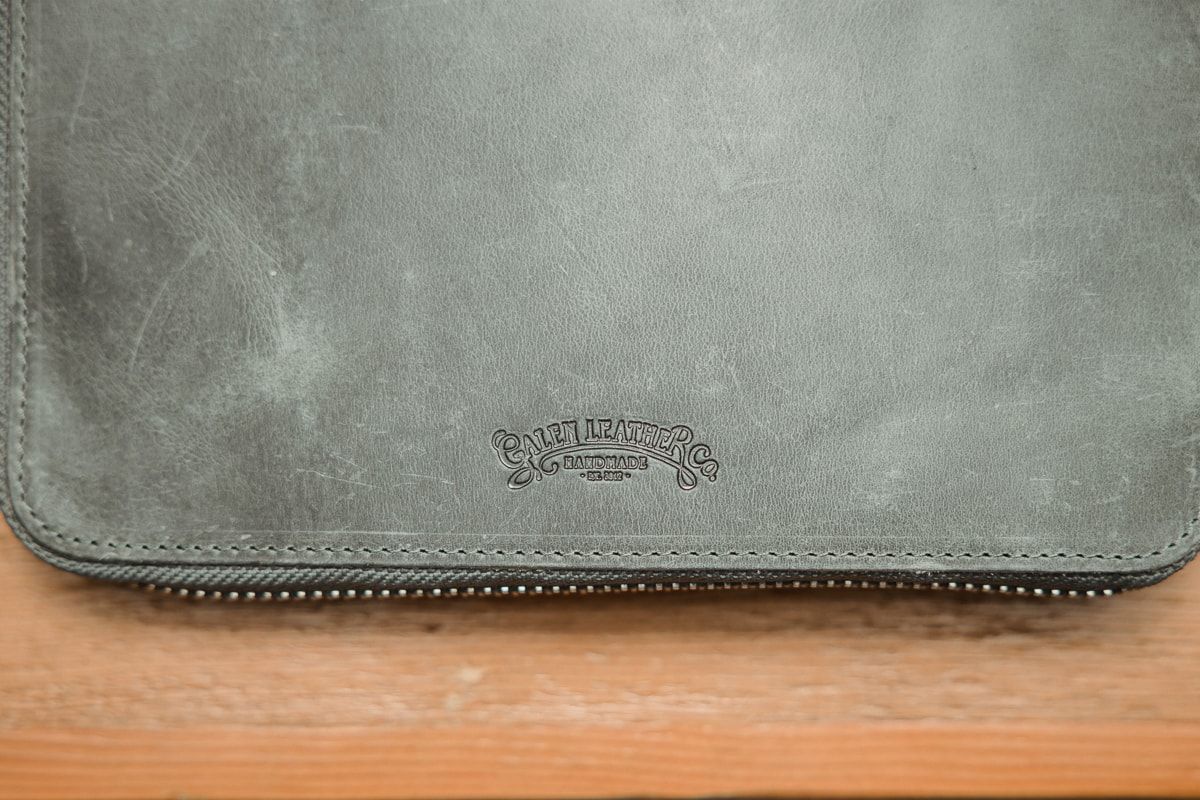 The Crazy Horse Smoky grey colour has a lot of character. It comes out of the box a variety of grain and colour changes. Normally it takes a long time for leather to look like this, but Crazy Horse has that character right out of the box.
Speaking of the box, Galen Leather's packaging is perhaps the best packaging I've ever seen. The Zip Folio came in a heavy cardboard box and was accompanied by a little baggie of Turkish goodies. There was a handwritten note in the bag as well. This kind of company character makes the customer relationship that much easier to create.
The Zip Folio's price is basically eyebrow-raising. You receive a really high quality leather good, great packaging, and extra Turkish goods all for only $200 CAD. This is one of the better priced folios I've come across.
Wrap Up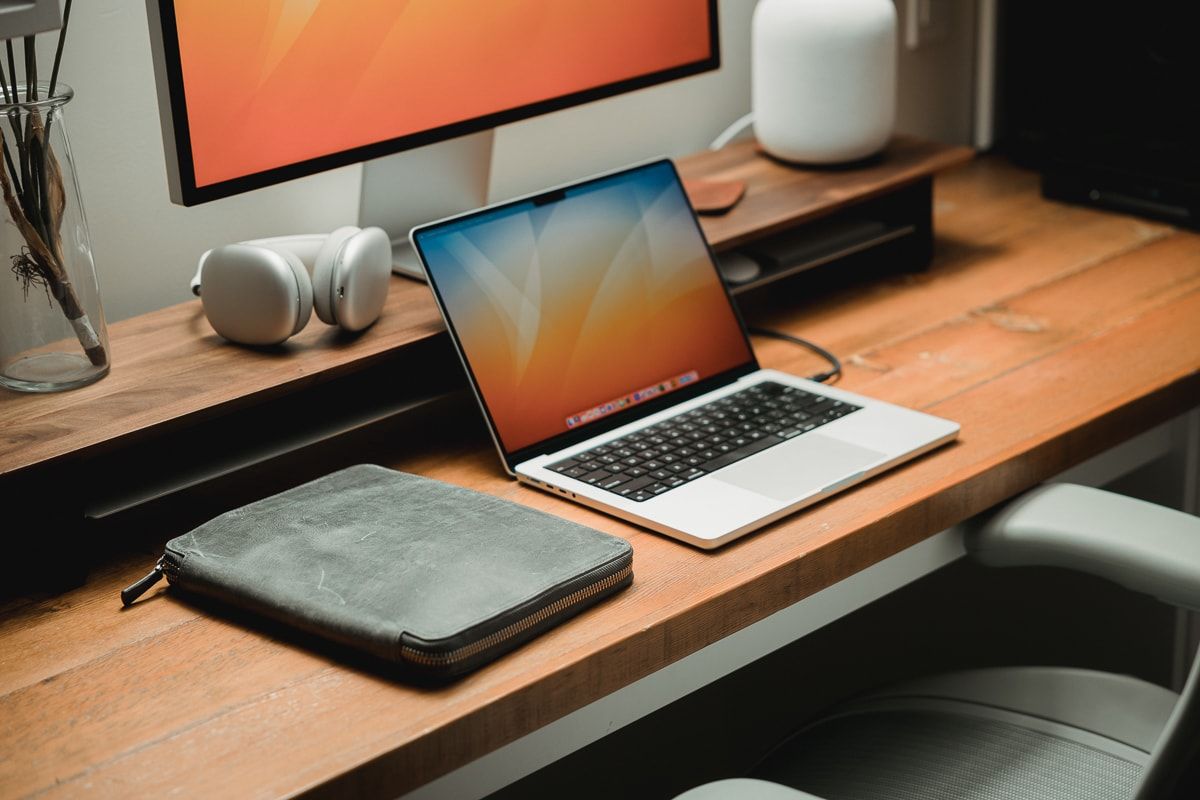 The older I get and the more products I have a chance to review, the more I find I need extra time to understand the product's nuances. I've had the Galen Leather Zip Folio in my possession for three to four months now and I still don't come away with a ton of extra miscellaneous thoughts. The Zip Folio advertises the promise of carrying your goods to and from the office or a client's office and this it does well.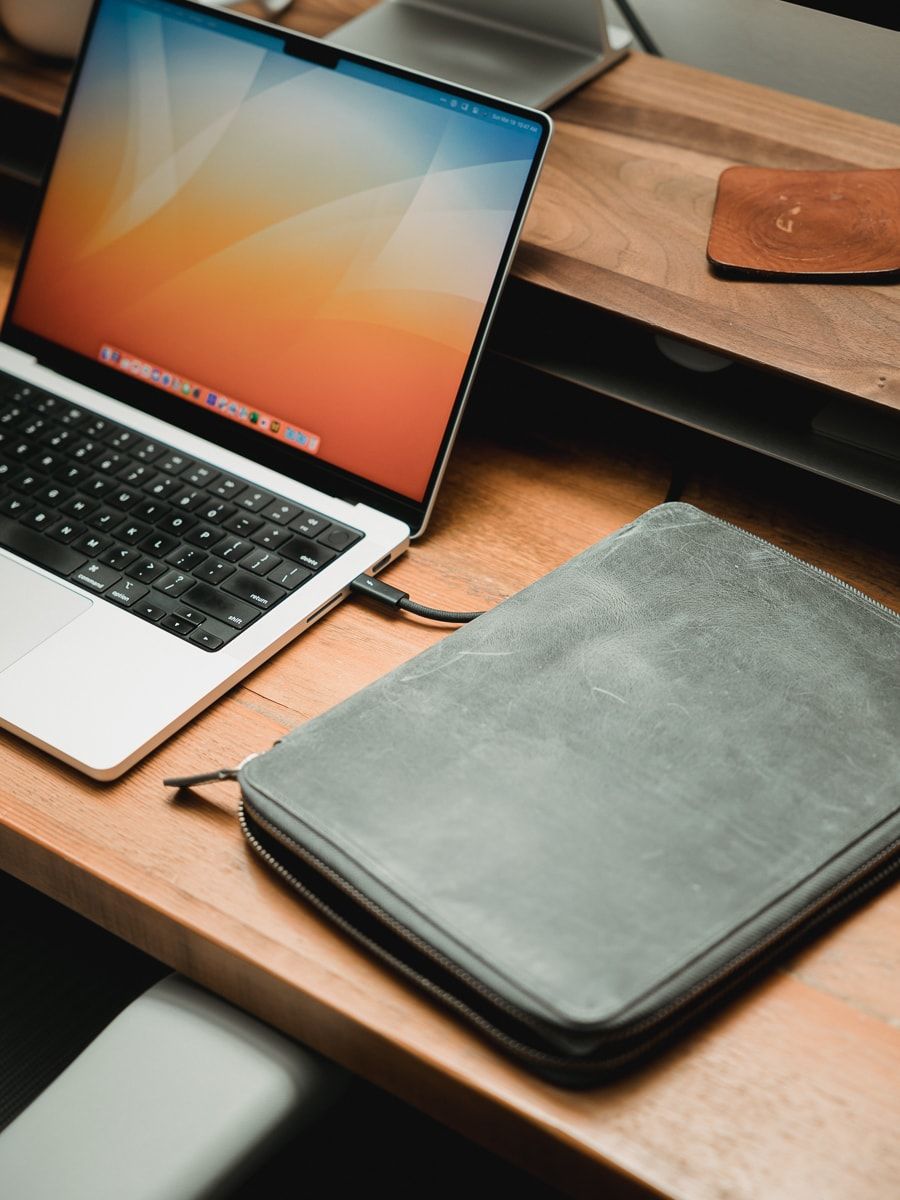 It does more, to be honest. I particularly like the Zip Folio's Crazy Horse Smoky Grey colour. The leather is firm, sturdy, and lays flat. The leather is nice and understated. Galen Leather's logo is on the back, not the front.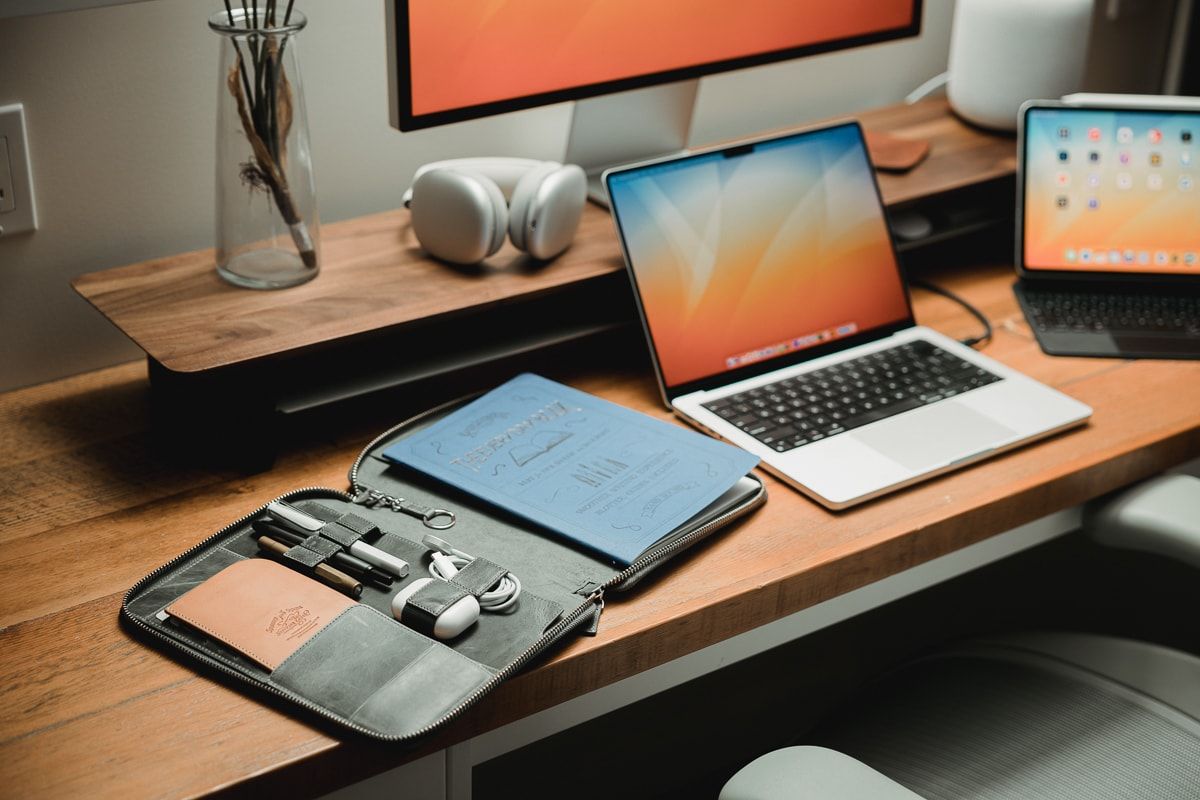 The Galen Leather Zip Folio is a great folio option at a great price. If you don't need much for everyday carry, this could well be the only thing you need to tote around. If you need a bit more, then this is likely not the right category to be looking at entirely.
My sincerest thanks to the Galen Leather team for reaching out and giving me the chance to review the Zip Folio.