I picked up an iPhone 13 Pro last week Wednesday — not my original plan, actually, but I think the better choice after all — and it's been a fun weekend of testing. I haven't felt this big of a year-over-year upgrade ever. Serious — the Mini-to-Pro upgrade has been substantial and has little to do with feature-set improvements between the iPhone 12 and the iPhone 13.
I generally setup new iPhones as new iPhones. I don't restore from an iCloud backup and I didn't pull off the apparently-magical new iPhone setup process in iOS 15. I just setup as a brand new iPhone and download apps as I need them.
The process for setting up my new iPhone is usually pretty simple:
Clear the home screen of all unused stock apps. This is a little better now that I can banish them to the App Library and never think about them again.
Download 1Password to ensure I have logins for all required apps.
Plug in the iPhone to a Mac and install Cleartones.
I cannot believe installing custom ringtones still requires a Lightning cable and a Mac after all these years. I'd put this up there with 5GB of free iCloud storage. And the muscle memory isn't there either — a plugged-in iPhone now shows up as a connected device in Finder rather than inside Music (iTunes) like days of old.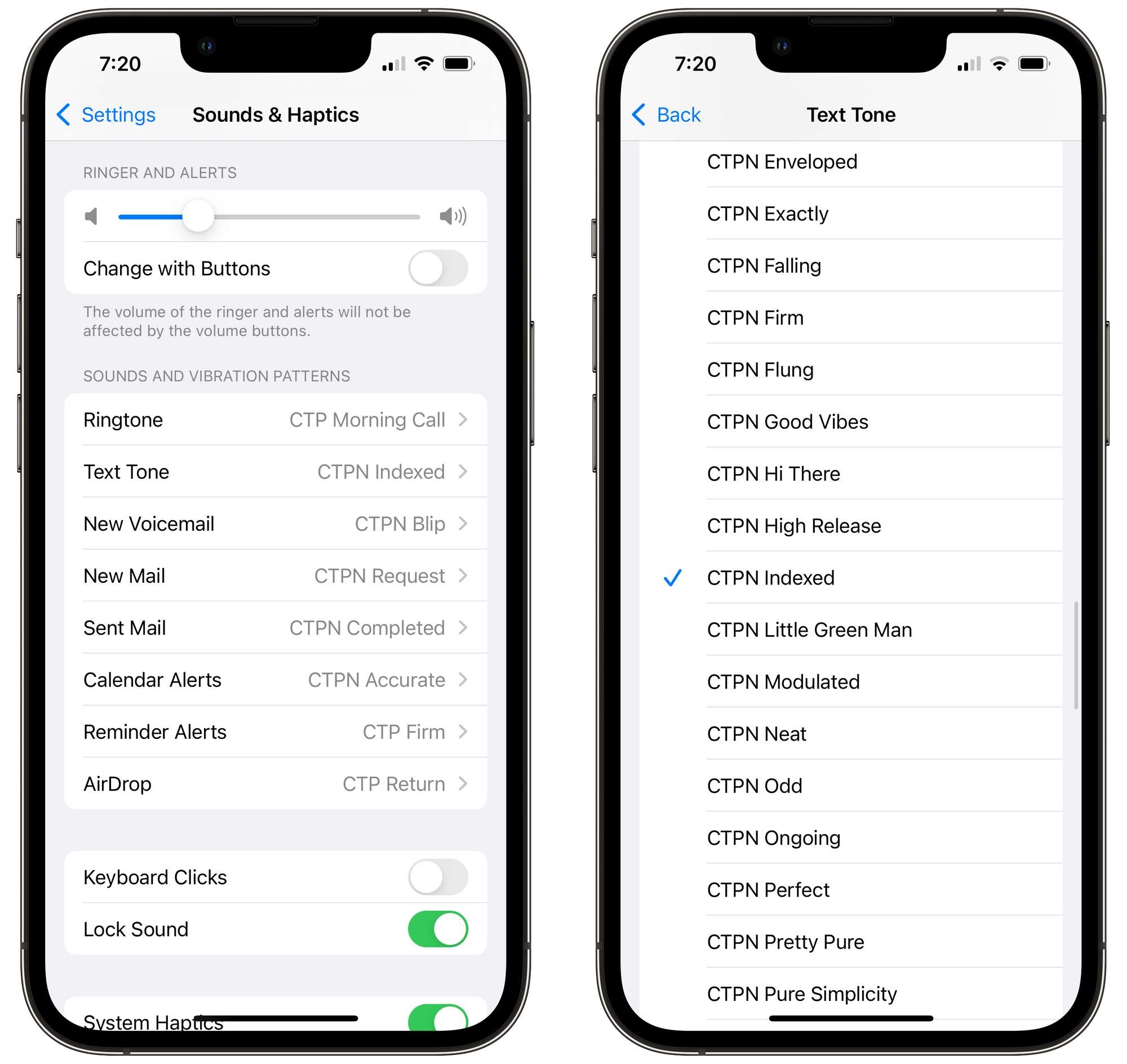 Nonetheless, Cleartones. Cleartones are awesome. They're simple notification tones and ringtones made with simple instruments. To me, these are the ringtones Apple would make if they, you know, made better ringtones.
I currently have the following tones chiming from my iPhone:
Ringtone: CTP Morning Call
Text tone: CTPN Indexed
New voicemail: CTPN Blip
New mail: CTPN Request
Sent mail: CTPN Completed
Calendar alerts: CTPN Accurate
Reminder alerts: CTP Firm
AirDrop: CTP Return.
I own Cleartones Pure. If you're looking for something extra, extra simple, look at Cleartones Organic. Pure has just a little more nuance to the sounds, to my ear. Classic has some great options as well. If you're curious about what each of the packs sounds like, there are nice previews on the Cleartones site. There's even a free trial set if you tweet about them.
If you want Pure, Organic, and Classic — 300+ custom ringtones — the entire package is only $35. I bought these over 5 years ago and I've received great value in having something unique to my iPhone.
My iPhone isn't my iPhone until Cleartones are installed.
And after 1Password is installed, of course.