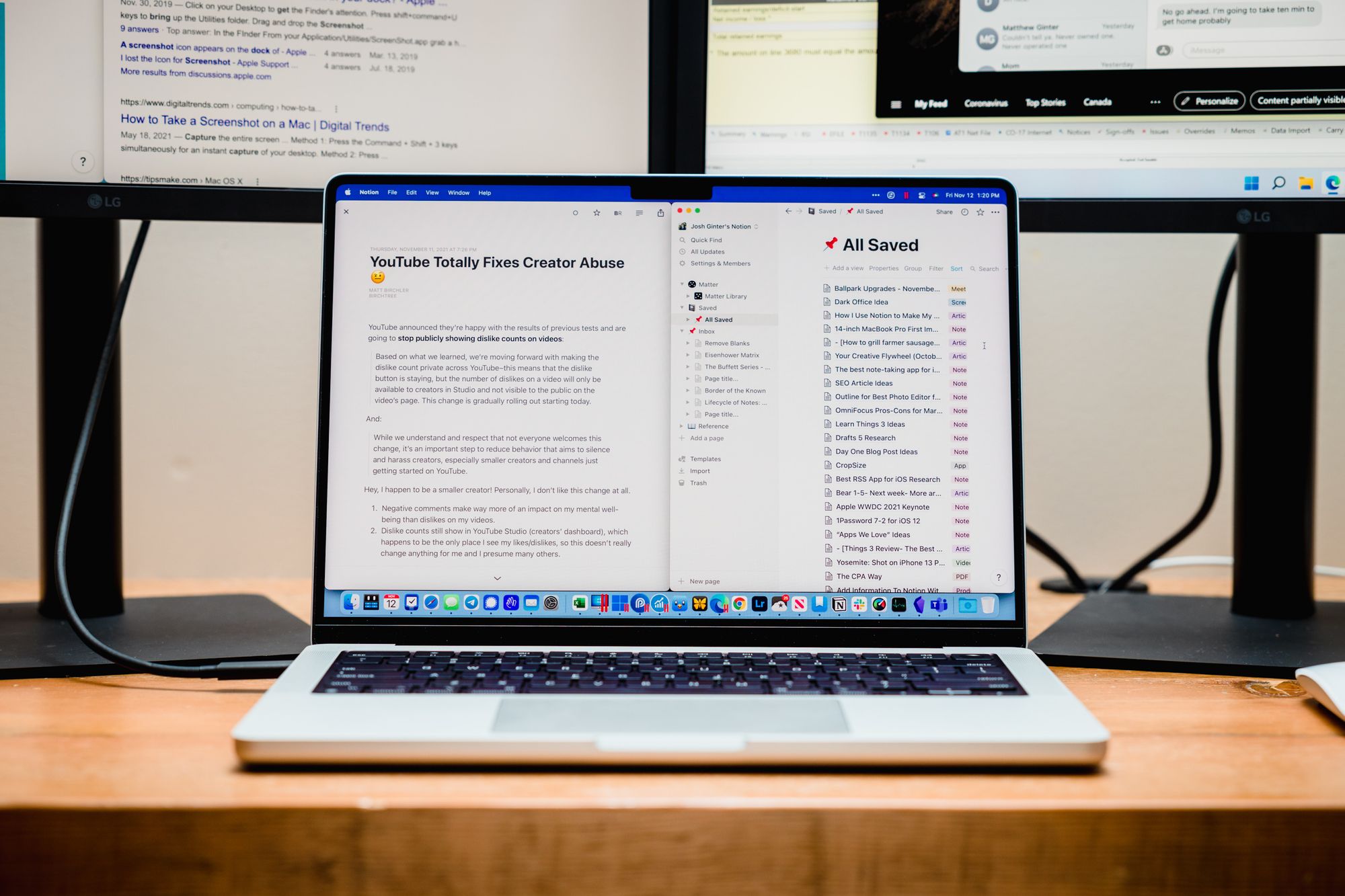 I am far from the most qualified person to discuss 2021 MacBook Pro performance. Spreadsheets aren't the most taxing (ha!) pieces of software available. Web apps aren't particularly gruelling. And I don't think accountants are in the "power user" category Apple refers to in its marketing campaigns.
But that's OK — my particular want was a laptop that could drive two external displays and could handle RAM-hungry apps inside a Windows 11 virtual machine in Parallels.
There may be Windows PCs that can do this without the virtual machine requirement. But that's OK, too — I don't want to work on a Windows PC.
So here we are.
On my desk now sits:
14-inch MacBook Pro
M1 Pro 10-core CPU, 14-core GPU
32GB RAM
512GB SSD
Two (2) x LG 24-inch UltraFine Displays
This setup has met every want and need I discussed a month ago. It has the graphics power to drive loads of pixels. It has the RAM capacity to handle two operating systems running semi-intensive apps at all times. It's thin and light and capable of being transported between the office and my home office. It also happens to have ports and magically-endless battery life.
Today, I'll talk unofficially about performance. Specifically, how the extra power under-the-hood has affected my work this last two weeks.
My Totally Professional Reviewer Workflow for Testing Performance
My workflow involves using Windows inside a virtual machine via Parallels. I have 24GB RAM in my iMac at the office. It runs Windows 10 in a Parallels VM effortlessly. When testing, I could open 15 tax returns inside Intuit ProFile, 5MB-10MB Excel spreadsheets (not overly big, I recognize, but they certainly make a computer sweat when you search for a specific term), 5 Sage 50 accounting files, and every piece of Mac software I could ask for.
Realistically, there's nothing this iMac hasn't handled with ease.
But the iMac isn't a laptop. If I wanted to work from home during tax season, I'd have to setup all that software on a laptop or I would have to beam into the iMac via Screens 4. Beaming into an iMac regularly was not my idea of "productive".
So laptop it is.
Next, I tested the M1 MacBook Air with 16GB RAM and 256GB SSD. For this, I had to use the Windows 11 for ARM Insider Preview in Parallels 17. Build 22454 was reasonably solid and allowed me to extensively test the above workflow on the M1 MacBook Air.
The MacBook Air could handle most of what the iMac could handle, but it stuttered a little when I reached 10+ tax returns and a few Sage 50 files open at the same time in the Windows 11 VM. Whether this was RAM limitations or memory bandwidth or flash storage speed, I'm unsure.
Also, the M1 MacBook Air can only drive one external display.
As a further reference point, I used to work full-time on a 15-inch Lenovo ThinkPad T570. That laptop had the best laptop display I had ever used until I unboxed this M1 Pro MacBook Pro. I really liked my time with that ThinkPad.
The ThinkPad was upgraded to 32GB RAM and had a pretty small 128GB SSD (I don't need much onboard storage to do my job). It could open 6 or 7 tax returns at once, 2 or 3 Sage 50 files, and only 1 large Excel workbook. At that point, I would run into RAM issues inside Intuit ProFile and I would have to restart the computer before moving forward in any tax return. And this didn't include running any Mac software on the side.

The M1 Pro MacBook Pro can handle the most strenuous workflow above and then some. I gave up when I reached 20 tax returns, 5 Sage 50 files, the biggest Excel workbooks I could find, Adobe Lightroom CC on the Mac side, a Chrome window filled with a bunch of surprisingly-hungry CaseWare RCT tabs, and more. The MacBook Pro handled all this while connected to two 24-inch LG UltraFine Displays. I couldn't find any hiccups other than Safari bouncing twice before opening. The MacBook Pro became cozy warm after the workday.
Two small differences with my former iMac workflow and this M1 Pro MacBook Pro workflow are noteworthy:
The iMac runs Windows 10 inside Parallels 17, which is both acceptable and practical. The M1 Pro MacBook Pro is running Windows 11 for ARM inside Parallels 17. Windows 11 for ARM is beta software right now and there isn't a licensed way to run Windows 11 for ARM on the MacBook Pro.
Microsoft Office apps require beta versions of Office to run on an ARM processor. So on this M1 Pro MacBook Pro, I use macOS versions of Microsoft Word and Excel. On the iMac, I run those two apps inside the Windows VM, as I prefer Office apps for Windows.
RAM, RAM, RAM
I think the key terms here are "unified RAM", "memory bandwidth", and "flash storage speed". Between these three elements, the M1 Pro MacBook Pro seemingly doesn't break a sweat.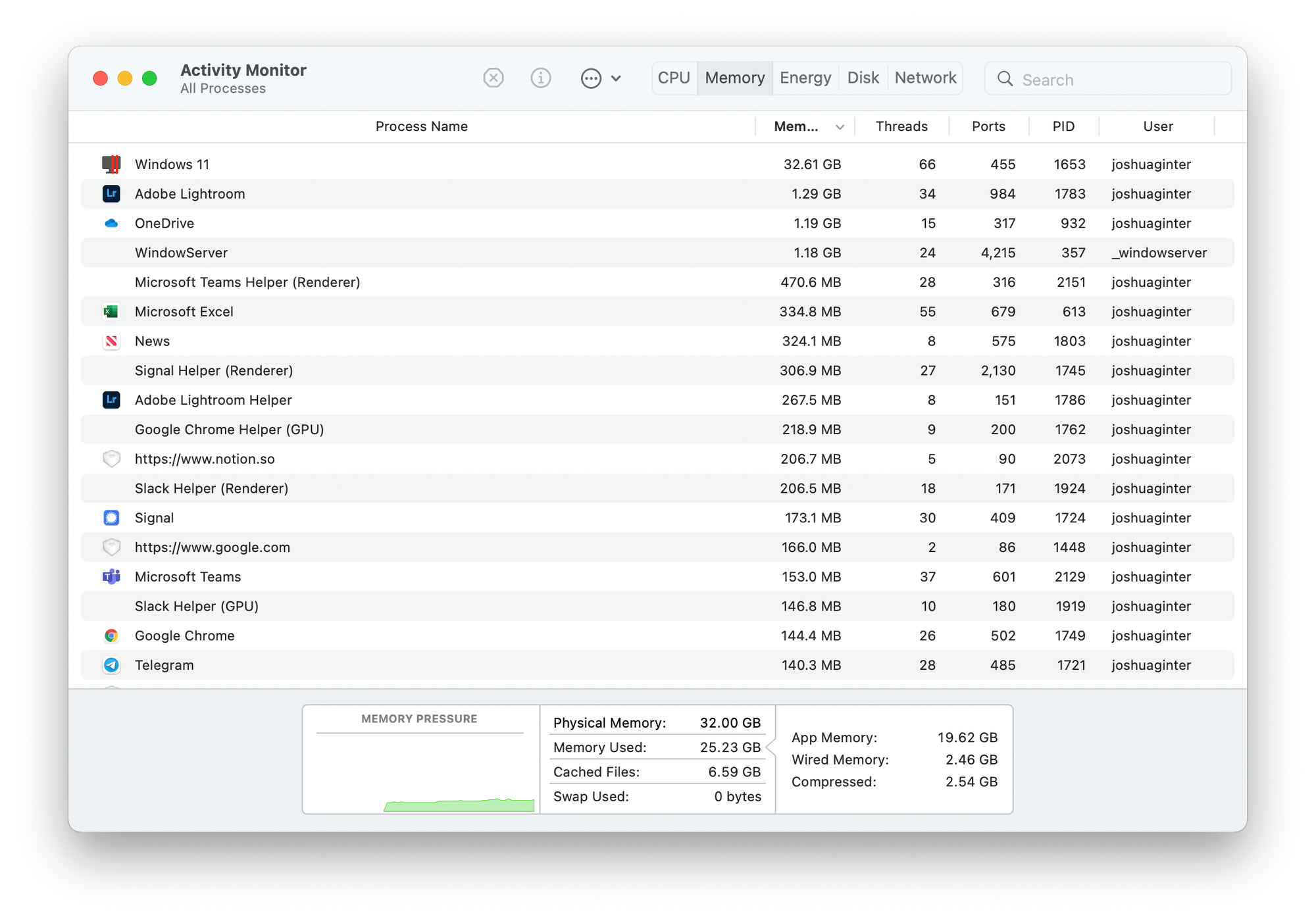 It's interesting to see how the M1 Pro MacBook Pro handles RAM usage, swap, and so on. I've used manual hardware settings in Parallels to allocate 16GB RAM to the Windows 11 VM and I've allocated the recommended 4 CPU core option. Interestingly, the Windows 11 VM still snags all 32GB RAM onboard the M1 Pro MacBook Pro, leaving (supposedly) nothing for macOS. (In fact, the total memory allocations inside Activity monitor far exceed 32GB RAM.)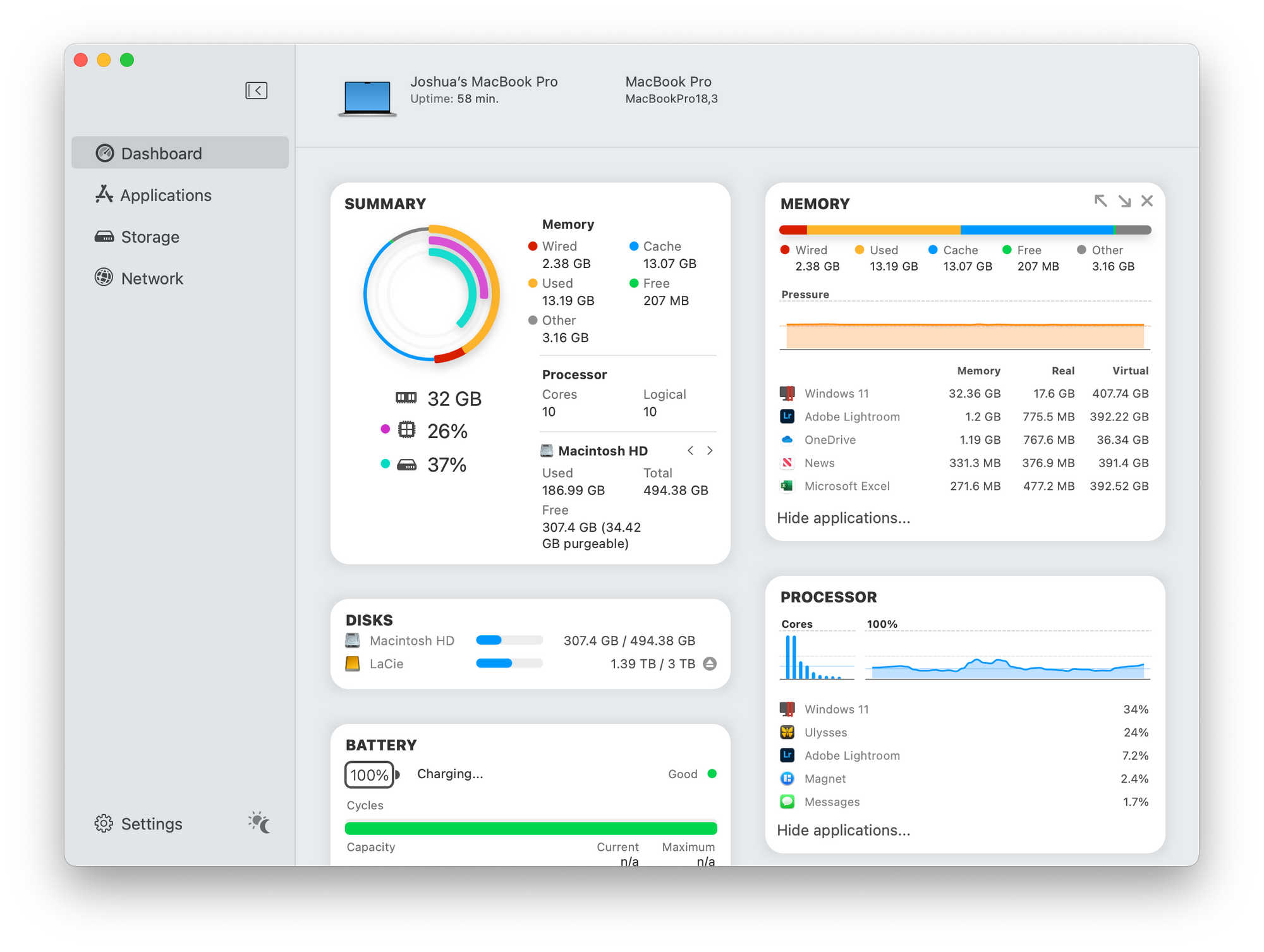 I'm sure there's something else going on here — a friend figured it was showing RAM allocation rather than RAM usage. This would make sense.
Even still, there's no noticeable effect to the MacBook Pro's performance on either the Mac or Windows 11 side. When working in Coherence Mode, every Windows 11 app behaved as though it was a Mac app, and all Mac apps operated seamlessly with no noticeable hit in performance. All this while using an unreasonably small amount of battery life — I could get through an 8-hour workday working at my regular pace in both Windows 11 and macOS.
Wrap Up
Considering how macOS handles unified memory and SSD swap, I'm not sure I have any leg to stand on when saying "I need 32GB RAM in the new M1 Pro MacBook Pro." Whether the limited number of tax returns on the M1 MacBook Air is due to memory bandwidth, SSD speed, or actual amount of memory is beyond me. I'm sure someone wiser would be able to quickly diagnose the reason. Given my experience with the 16GB RAM M1 MacBook Air, I'm still comfortable with my 32GB RAM decision.
With that in mind, all the reasons to justify this powerful M1 Pro MacBook Pro would be to drive two external displays at once. That's a piddly reason. Knowledge workers benefit from loads of screen real estate. I guess I may qualify.
I've noticed a difference this week while working from home though. With all the horizontal screen real estate, it's unquestionably easier to have multiple PDFs open beside multiple spreadsheets and not have to CMD + Tab to reference data from the PDF. This cuts down on transposition errors and cuts into distractions. Further, by having the dock down on the MacBook Pro display, I don't constantly see badges or bouncing apps or open apps. Again, a nice cut into distraction. I've noticed a boon in productivity this first week with everything setup.
All in all, chalk this M1 Pro MacBook Pro as a giant "nice to have". One that boosts productivity and, long run, cuts down on annual capital expenditure for the office.