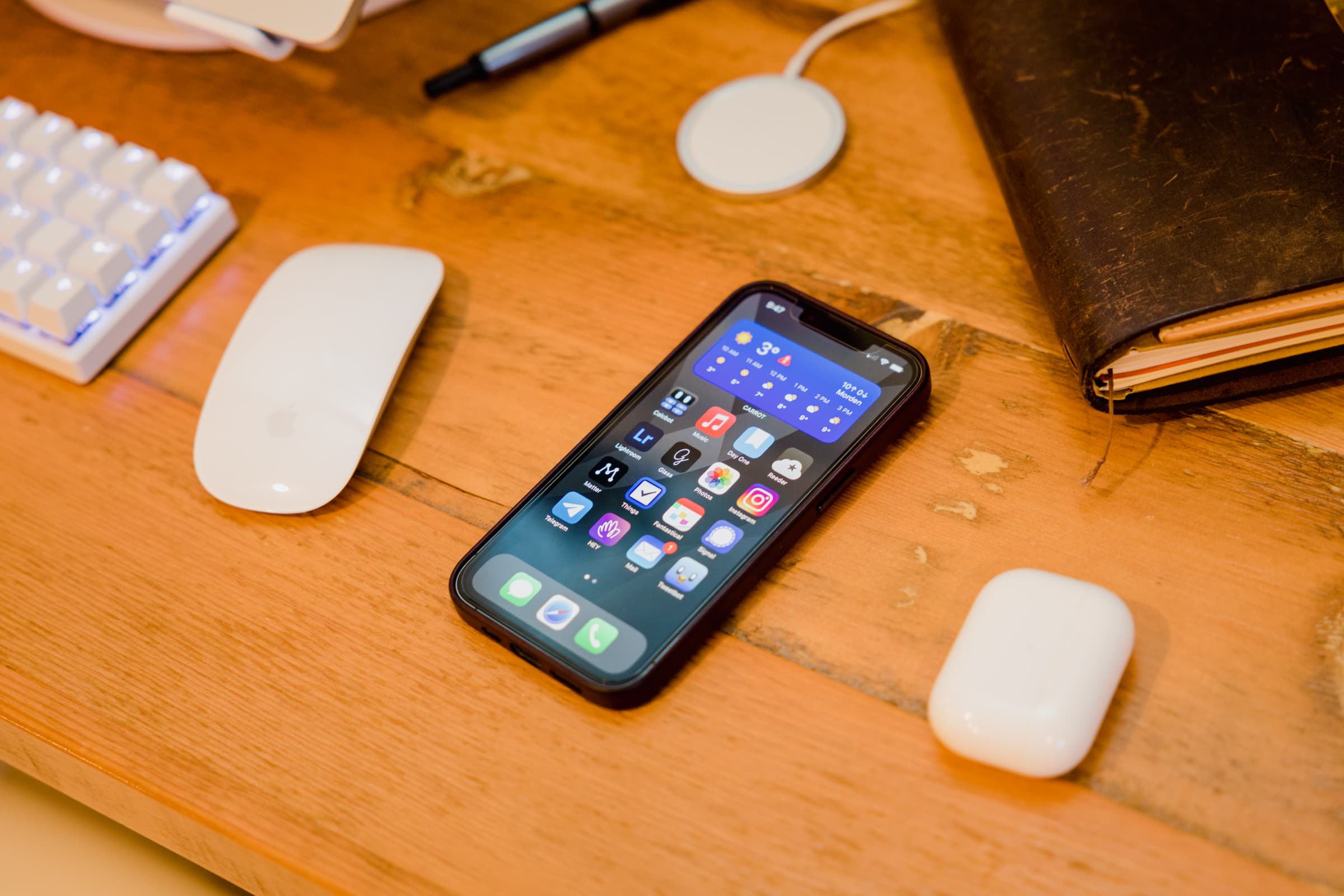 I risk writing about my home screens too often. The last time I published something, I rounded out all three of my devices in February 2021. Lots has changed since then — I have an M1 11-inch iPad Pro instead of the 2020 11-inch iPad Pro, I have an iPhone 13 Pro instead of the tiny iPhone 12 mini, and I've now consolidated all my Mac'ing to a 14-inch M1 MacBook Pro. Take a guess which is my favourite device of the year.
In the spirit of everything new, I figured I'd list out my iPhone 13 Pro home screen apps once more. There are a few changes. And then there are the mainstays. On the whole, there are three specific apps that have made their way onto my first home screen which I've grown very fond of.
So here's the list.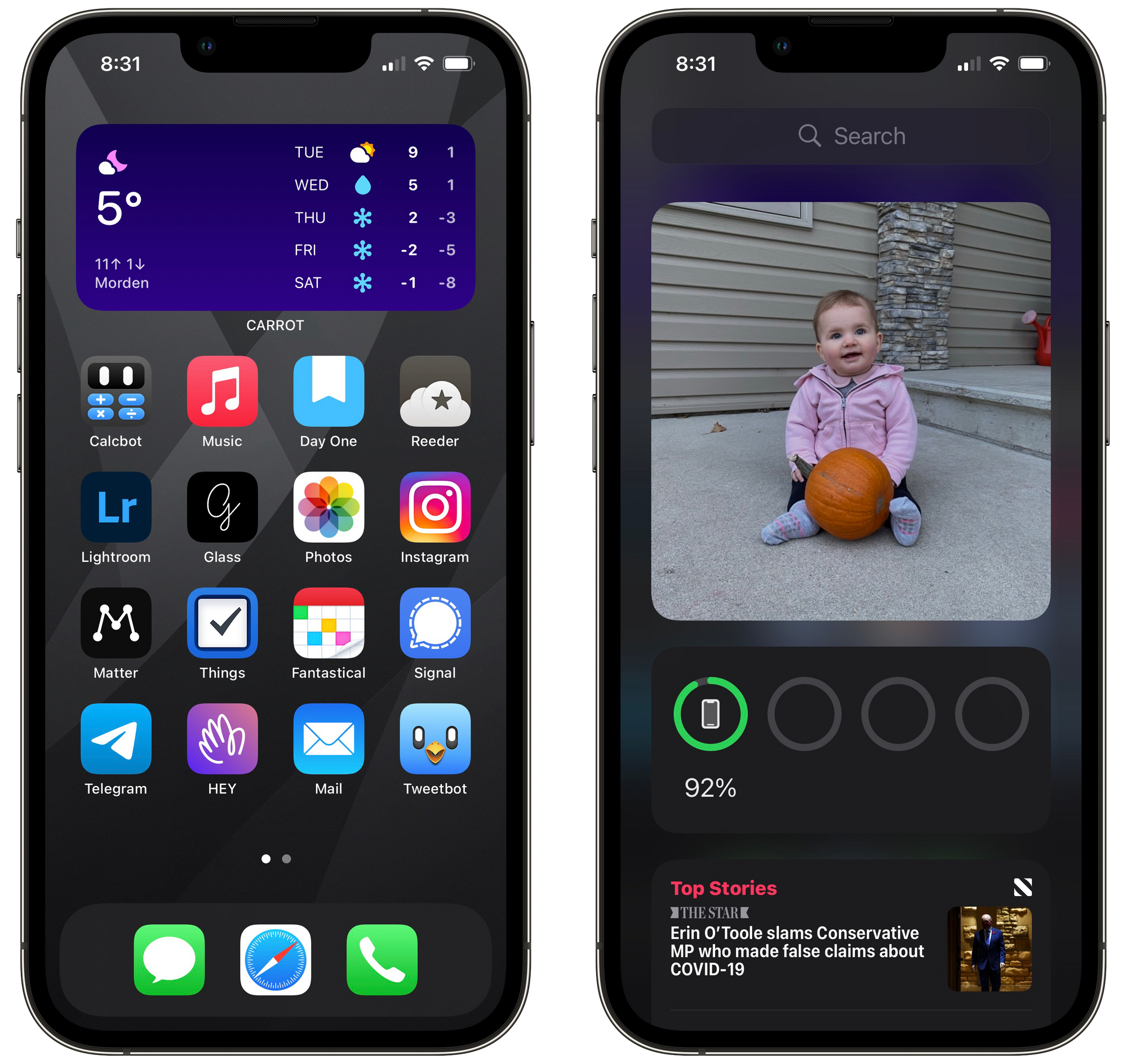 The wallpaper continues to be Aqueux. This time around, I am sporting the deepest black Aqueux wallpaper available to match the Graphite iPhone 13 Pro.
Up top is a widget stack. I have tried all sorts of widgets in here — calendars, GTD lists, journaling prompts, and email lists. I've settled on two completely unrelated widgets: Photos and CARROT Weather. Photos finds a home because the widget does a great job of bringing a smile to my face each day. And CARROT Weather because it's an easily glanceable widget at the start of the day.
To me, widgets are best when they are glanceable. If you have to focus on any particular element, I think it's better to just launch the app and get the job done.
The rest of my home screen apps include:
Calcbot — You have to have a calculator app on your iPhone home screen at all times and Calcbot has the most whimsy of them all. I use it to convert units and currencies quite often as well.
Music — I'm curious where others tend to listen to their music each day. On the iPhone? On the Mac they're working on? I tend to use Music on the iPhone to control music playback on the Homepod, while actual music listening via headphones is done on the Mac or iPad.
Day One — My quote book for my daughters is growing by the day. It's a fun time in the Ginter household.
Reeder 5 — Last time I wrote this article, I spoke about Unread 2. Unread is probably an overall better app than Reeder, but I was having a hard time paying $20 a year for the service. All told, Reeder 5 is great, and it's a one-off purchase that you never have to think about again.
Adobe Lightroom CC — Last time around, Adobe Lightroom was on my home screen for exporting photos only. Now, I use Lightroom to edit photos fairly regularly on the iPhone 13 Pro. I'll often touch up a photo here or there to give it a current slate of personality before sharing on Instagram or Glass.
Glass — Oh Glass. How I adore thee right now. This is one of my favourite apps of the year. The simplicity and serenity of the app is unmatched right now. Discovering new photographers is still probably easier on Instagram, but I feel much safer to experiment on Glass. If you want to see a photographer take chances, check out Glass.
Photos — The iPhone 13 Pro is a camera with a phone built in. So Photos has to be on the home screen.
Instagram — Why did Facebook — erm… Meta — get rid of that awesome classic Instagram icon?
Matter — Another one of my favourite apps of 2021, Matter is the best read-it-later app available on the App Store right now. It'll cost money at some point in the future, but it'll be wholeheartedly worth it. From reading experience to highlight syncing to Notion, I spend more time in Matter on my iPhone than in Reeder these days.
Things 3 — I've tried to leave Things 3 a few times and I just can't. I've gone through phases of experimentation and I always come back to this app. Perhaps I shouldn't experiment anymore.
Fantastical 3 — This is one of the most expensive subscriptions in my arsenal, but it's quickly becoming one of my most used and trustworthy apps on any device. I time block each day in Fantastical. I propose meetings and event times in Fantastical. I even tend to use Fantastical's weather features almost as often as CARROT. Overall, it's an expensive subscription, but the proposed meeting time feature may be one of my favourite new discoveries of the year.
Signal — And so begins the communicative segment of my iPhone home screen. I'd like to use Signal with more people, but getting folks to adopt a new messaging app is difficult. Signal is great, simple, and secure.
Telegram — Messaging app number two on my home screen. Telegram probably has the best messaging stickers on the App Store. They are so fun. There are constantly new sticker sets to download and enjoy. And they look phenomenal on the ProMotion display in the iPhone 13 Pro.
HEY — I re-upped for the year for my personal email and I don't know if I'll look back. There may be a time in the future where my entire life revolves in and out of my work email. But for the time being, I still like having a personal email address and HEY is just handy enough to keep me around.
Mail — I've jumped back and forth between Spark and the stock Mail app for my work email a few different times. I'm not sure which I like more. I tend towards Mail if only for the Apple-first design ethos. Overall though, I'm not sure it's better than Spark.
Tweetbot — Twitter continues to be my guilty pleasure. It's become a happier place in the last six months or so. Be that better understanding COVID, a change in presidents, or a realization that Twitter had become a hellhole, I'm not sure. It could be that I unfollowed anyone that gave me a pit in my stomach. Nevertheless, it feels lighter, brighter, and full of better ideas right now.
And in my dock:
Messages — Messages is my messaging app of choice and I spend a lot of time in this app each day. From client messaging to personal messaging to an increasing amount of transactional messaging, Messages gets the job done. For most readers, Messages is probably the default. But I have it on good authority this is very much not the cause throughout the rest of the world.
Safari — I am still trying to understand Safari Extensions on the iPhone and iPad. Specifically, 1Password. Sometimes it provides that beautiful little pop up, like it does on the Mac. Sometimes it doesn't. I don't fully get Safari Extensions on the iPhone. I hope they provide some value in the future.
Phone — Something I've learned about phone calls: If you're going to call someone out of the blue, you can't expect them to have any answers for you. There is too much information in the world for someone to remember a specific detail about a specific event if you call them willy nilly. I really like it when folks tell me they're going to call me (via Messages or something) and give me an "RE:" or concerning line. Why are you calling? If you tell me why, I can be prepared.
In the above set of screenshots, you'll note I shared my Today widget view. I don't know if anyone else uses this screen at all. I've found it's nice to have a bright pop to my day, an easy place to check battery power of anything connected to the iPhone, and a quick hit list of major news stories. Do I jump into these widgets from the Today view often? No. But it's here because I'm tired of there being an empty screen every time I swipe left.
---
All in all, there are not many changes in the last 10 months. But, there are some major changes. Matter and Glass have found their way onto the home screen, which is no small feat. And Reeder has usurped Unread. Only because of price though — I still think Unread is the better of the two apps, quality-wise.
My iPad home screens have changed a lot since that last February posting as well, so keep your eyes peeled. And whenever there's an easy way to mockup this new M1 Pro MacBook Pro home screen, you can bet I'll be sharing.