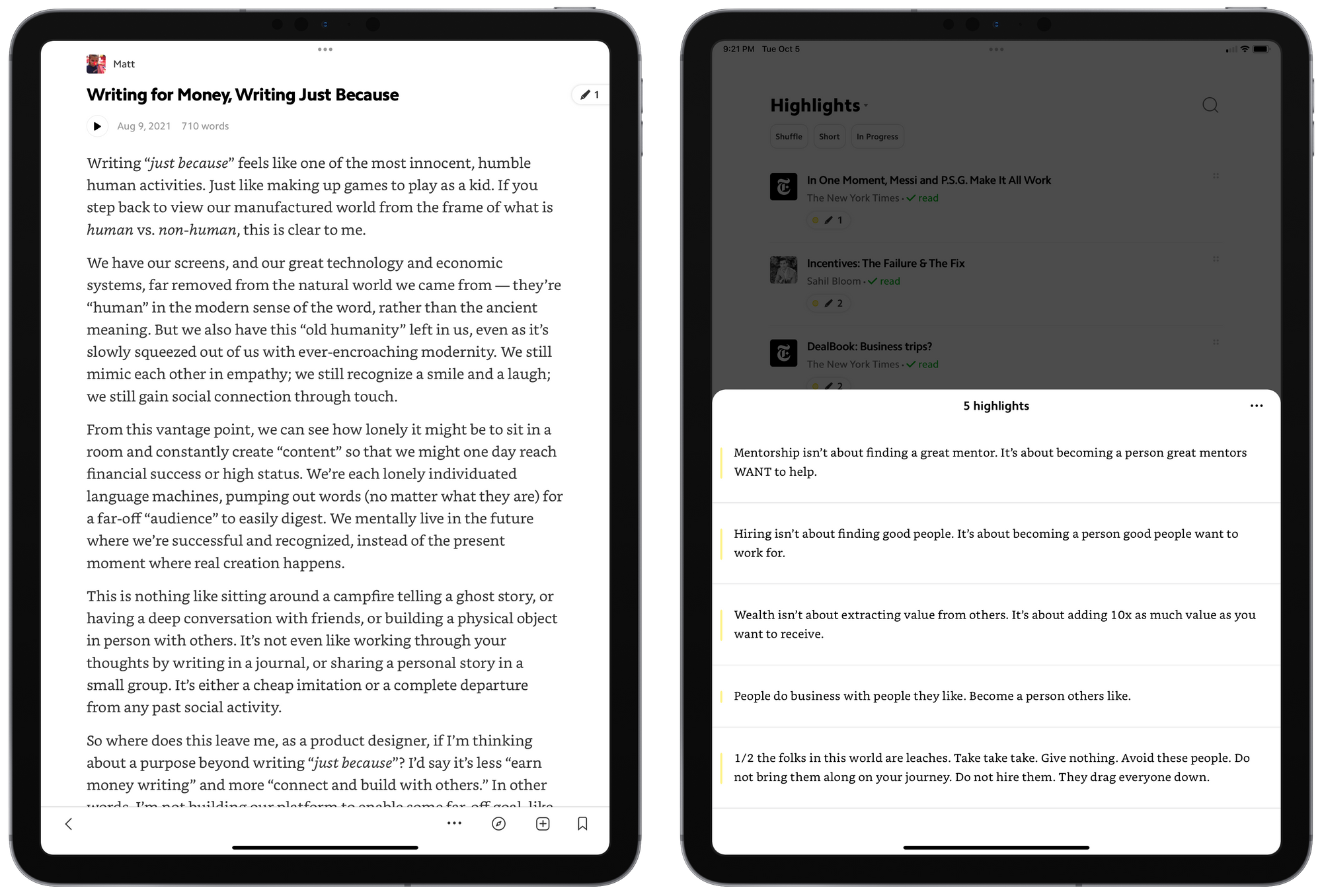 This app has sort of caught me off guard — I've been part of Matter's private beta thanks to an invite from a friend and I've been testing the app for a month or two. Private betas usually mean you should keep your mouth shut about the app, so I've kept as many thoughts as possible to myself.
Then Matter entered public beta yesterday, and I feel certain all bets are off. Now it's time to beat my chest about the best app of 2021.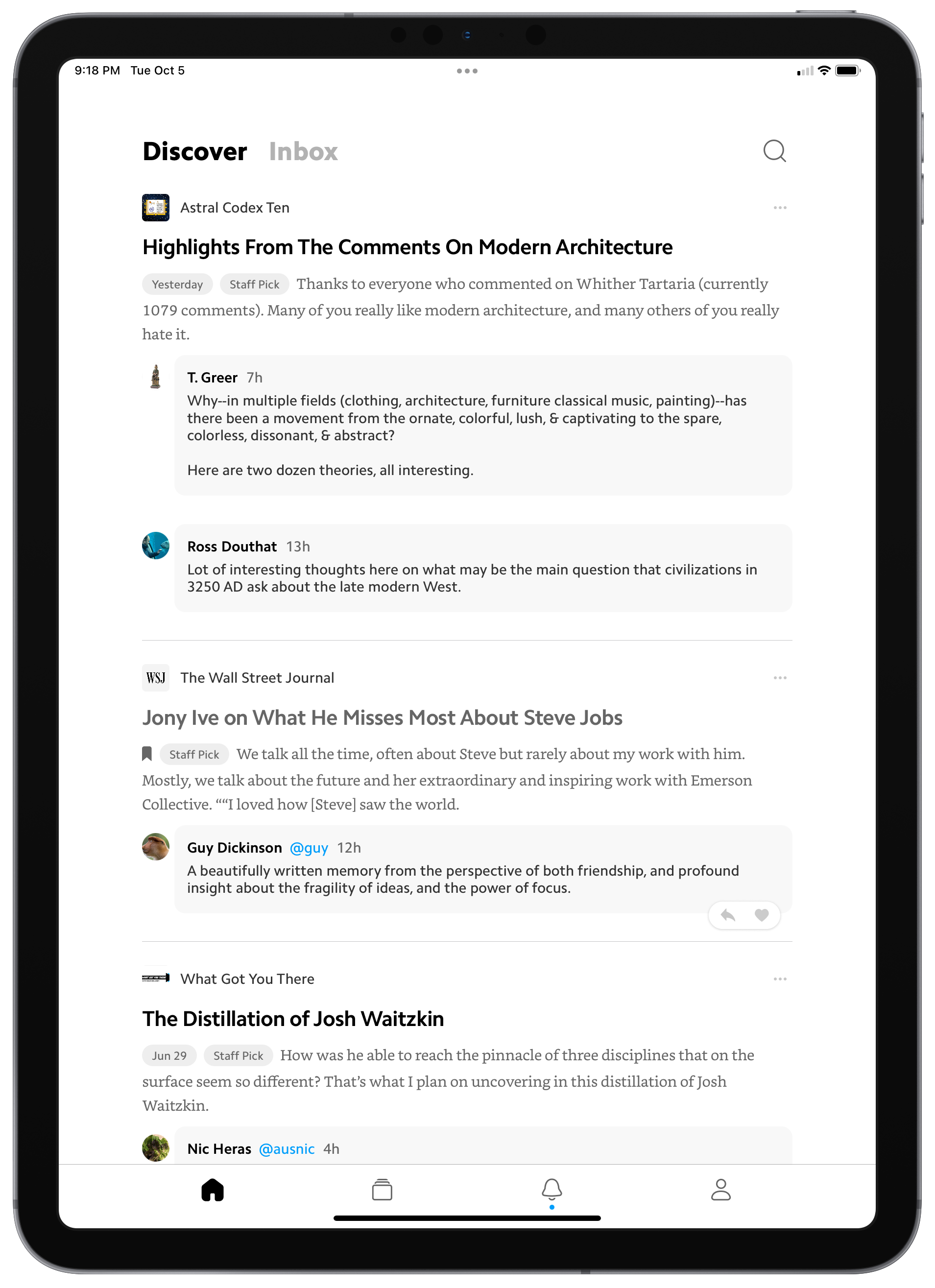 Matter is my favourite new app of 2021. This app exudes elegance. It's the best reading experience on iPadOS for all written content. There's a built-in social element which has been so unbelievably good for discovering more great writing. You can forward all your favourite newsletters to the app and rid them from your email inbox. And you can save your highlights for future reference.
Matter is the absolute best read-it-later app on the App Store.
I won't get too in-depth on Matter here today. I haven't had enough time — this public beta seemingly came out of nowhere. Keep your eyes peeled for my Matter thoughts over on The Sweet Setup in the next week or two.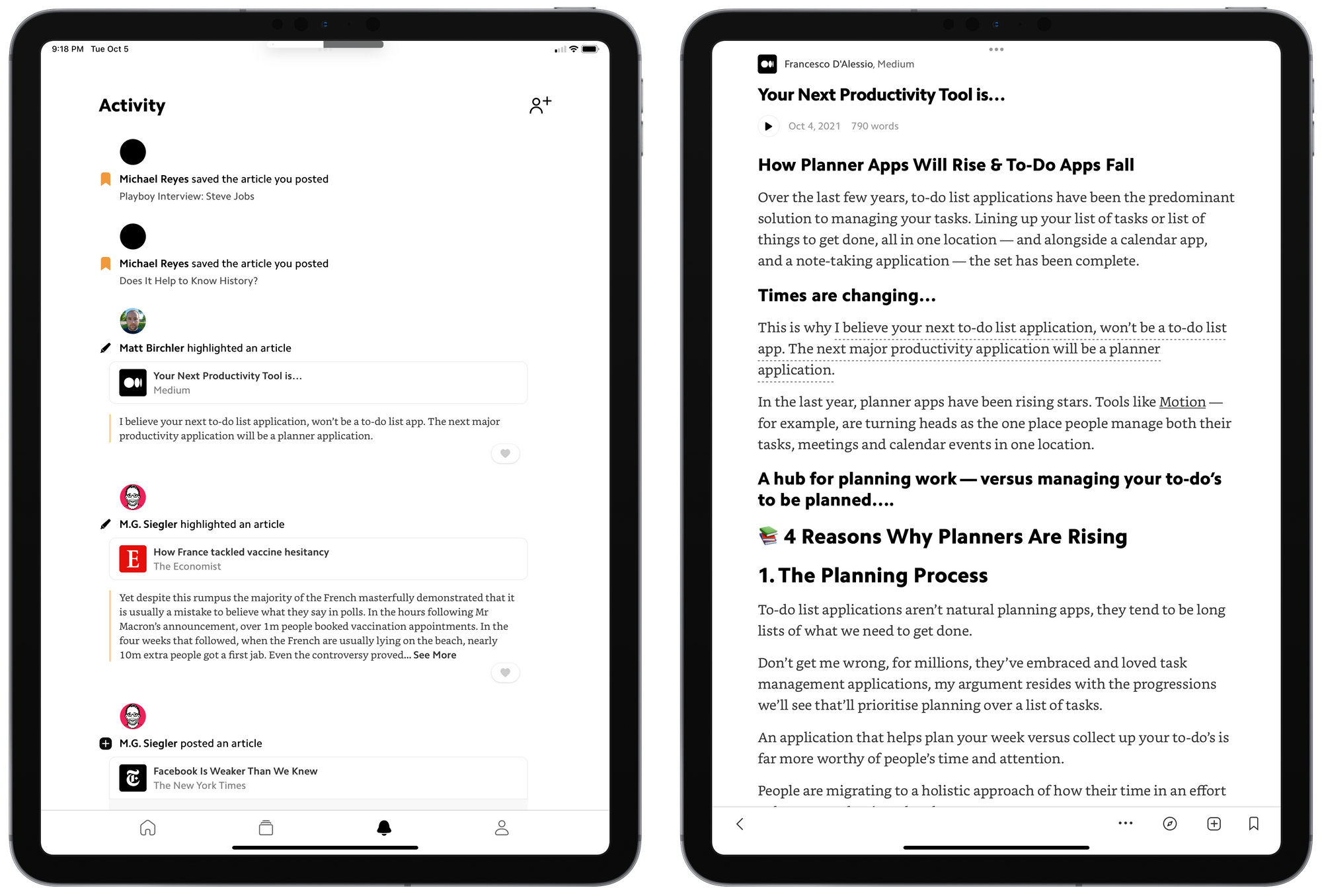 In short, here are the three main reasons why I love Matter so much:
1. Design — Matter is more than beautiful to look at. The app also operates beautifully. Little details, like the ability to double tap the home button in the navigation bar to jump between the Discover and Inbox tab is brilliant. I'm also giddy about how your saved highlights slide in from the bottom of the screen in your Highlights tab. So, so delightful.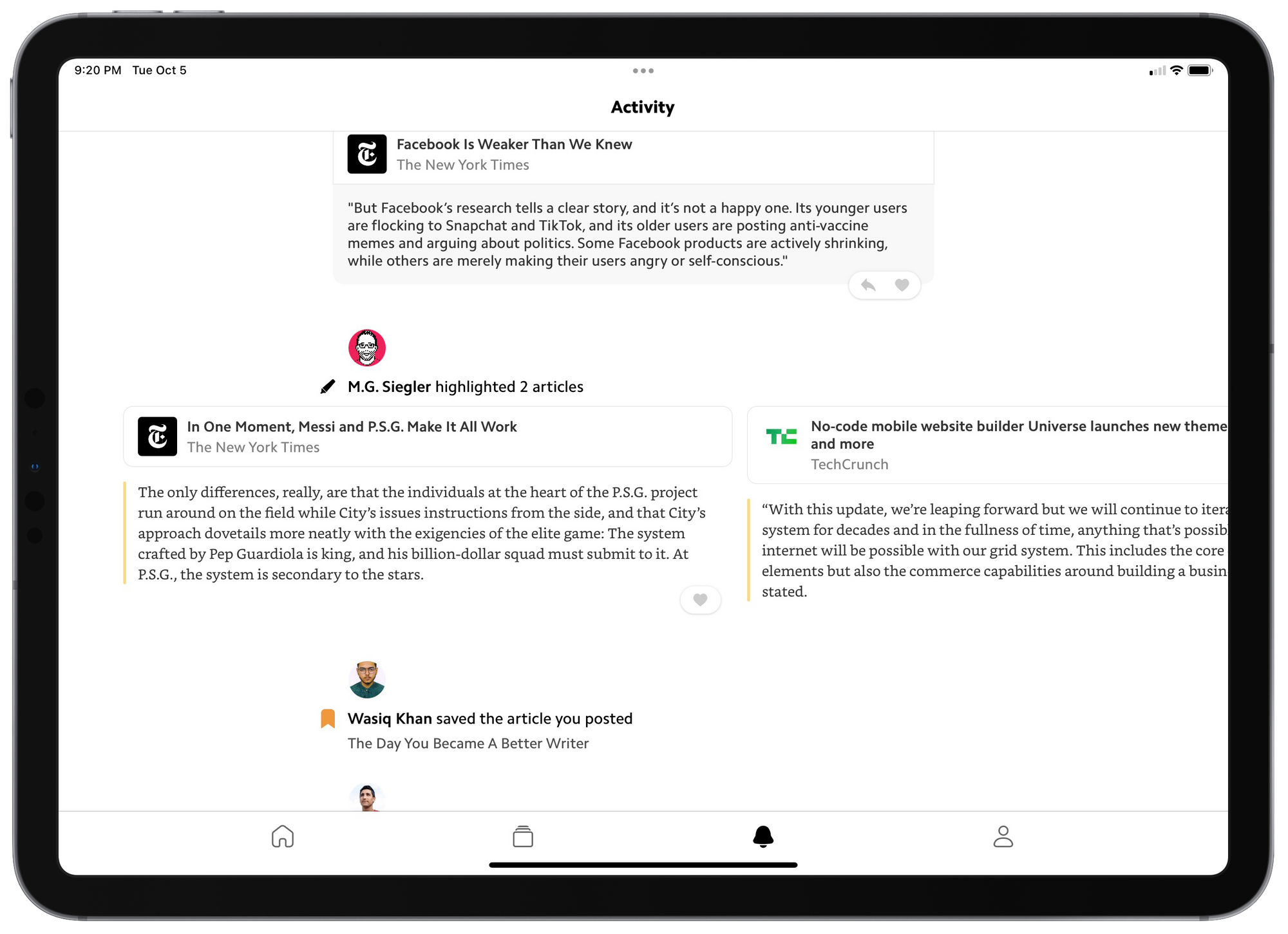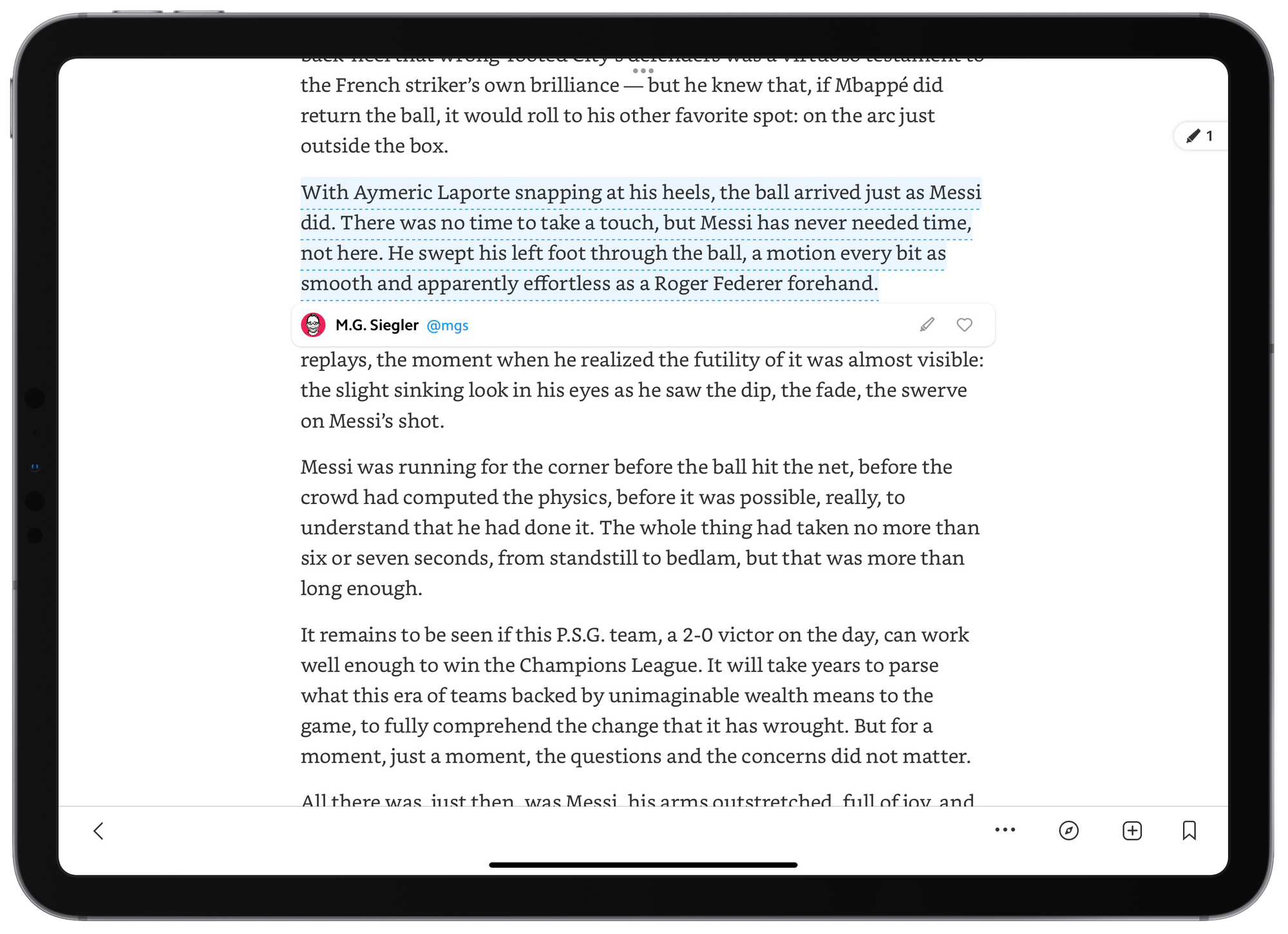 2. Social — Matter is more than a read-it-later app — there's also an underlying social network built in. The ability to follow other Matter users and to see their comments and highlights is invaluable. I have discovered so much great writing thanks to other Matter readers. If you need a reading-freak to follow for great technology and Apple news, follow M.G. Siegler. The man reads articles. It's insane.
3. Your highlight archive — I presume Matter will cost money after the public beta closes. Readwise is a great app that costs $10/month and archives all your highlights from across a variety of reading services. Matter has the same capabilities (for the most part), so I expect a subscription fee in the future. Nevertheless, I've been adding things to read in Matter so I can properly highlight the things I want to recall and have them resurface in the Highlights tab in Matter. If I want to create a summary for myself, I simply highlight summary-like parts and then recall the highlights in the profile tab. This is a great way to get a short-form version of the article for properly recall.
Again, I'll dig more into Matter in the coming days. It's my favourite app of the year. It's one of my most used iPad apps of the last few months. This is the read-it-later app of my dreams. I implore as many people as possible to jump into the public beta to see what it's all about.